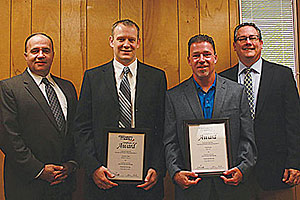 From left: Security Supply's Kim Willey with presenter of the year honorees Andrew Fiess (Kolstad and Fiess), Fred Purdy (Moen) and Security's Brian Fowler. Photo courtesy of Security Supply.
Selkirk, N.Y.-based Security Supply recently held its 12th annual training day at its corporate headquarters.
On a Saturday morning, 77 associates from 12 branches arrived to take advantage of an opportunity to strengthen knowledge and skills across a variety of topics.
During these Security training sessions, manufacturers and manufacturers reps present products and answer questions, enabling associates to better serve their customers. This year's event included manufacturers from M&G Duravent, Honeywell, Fujitsu, Moen, 3M-Cuno, Oatey and Sharkbite.
Moen's Fred Purdy and Kolstad and Fiess' Andrew Fiess won the presenter of the year honor. Together, Purdy and Fiess provided updated knowledge on the line of Moen Commercial facuets and flush valves stocked by Security. Presenting the award were Security COO Kim Willey and Vice President of Operations Brian Fowler.
---
HELPFUL LINKS: