Last month, 2021 ASA-Supply House Times distributor roundtable interviewees discussed overall business conditions, labor concerns, supply chain disruption and how vendor and customer relationships have adapted to these conditions. If you missed Part 1 of the annual roundtable discussion, check it out here.
Buckle up for Part 2 as participants get into the nitty-gritty of technology, top threats to wholesale-distribution, plus the next-gen's effect on the marketplace and consolidation.
The folks coming up
E-Commerce was the first hot-topic brought to the table when asked about next-gen consumer buying habits.
Texas Plumbing Supply's Inventory and Purchasing Manager Jeremy Fuller said eCommerce is a prominent focus for the Houston, Texas-based distributor. "Manufacturers are talking about eCommerce constantly," he said. "Some are saying the next generation of consumers just want to order through an app on their phone, not having to deal with customer service agents or in-person interactions."
Contrary to what some manufacturers are insinuating, Fuller, along with other distributors at the table, noted he doesn't necessarily think buying habits have shifted that drastically quite yet.
"We are investing in eCommerce and making it a higher priority as time goes on," Fuller continued, "but we still believe the education and service aspect of the PHCP-PVF business is where distributors shine, and I don't think the need for that is going away."
Debbie Gorra, profit center manager for Weinstein Supply, a northeastern division of Hajoca, explained she believes there are different types of customers out there, and both approach ordering in different ways.
"Your customer who does mechanical plumbing is always going to want to have a contact at the shop," Gorra said. "The general contractor who only does a little bit of plumbing here and there, may opt for a quick, less interpersonal ordering option. To me, it's all about where you focus your resources; I'm focused on my top 10-to-20 customers."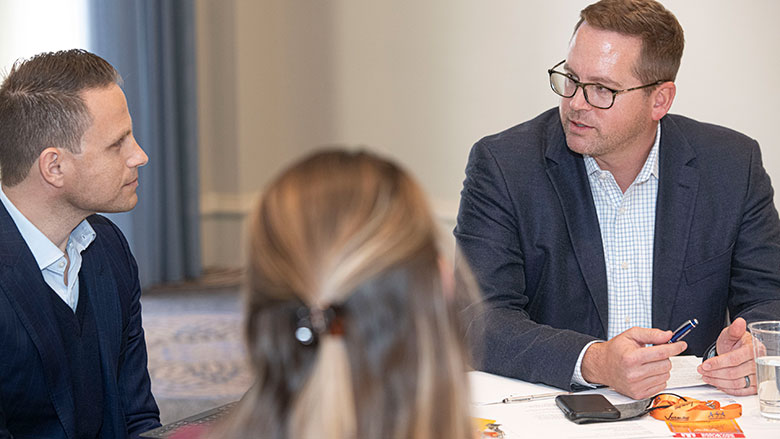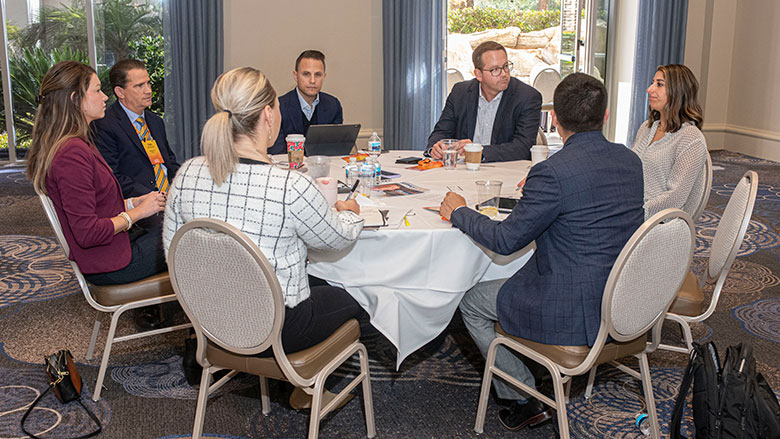 With that being said, Gorra pointed out that Hajoca does offer plenty of ordering options for customers — phone, email, text, online or smartphone app.
The distributors agree that larger or more complex projects are where contractors and/or designers will always need the expertise of the distribution channel, while the market of finished, more standard plumbing products is where retail and online competition can infringe on the independent distributor's business.
Seth DePuy, chief strategy officer at First Supply, echoed the previous point that consumer utilization of eCommerce largely depends on the product type. "First Supply launched our eCommerce platform in Fall 2019 and it has really taken off since," he said. "We've found that certain segments of our business tend to gravitate towards eCommerce, most notably HVAC, while others might be slower to embrace this new way of conducting business. By utilizing our eCommerce solution, customers have instant access to spec and submittal information, weights and dimensions, product availability and more right at their fingertips."
Shifting to a discussion on how the next generation is affecting internal business, distributors said there aren't too many positive impacts to report yet, as much of the interaction with the next generation has been trying to hire them in today's incredibly difficult labor market, and moving one step further — getting them to stick around.
Fuller said he's been tinkering with the idea of an internal mentorship program.
"I try to walk the warehouse and get to know the young guys that are coming up because I want to see who those people are that can move up into leadership positions. I want to hear their goals and needs," he said. "My thought is to make internal groups consisting of of a company veteran, a 'junior' — someone who's been around for a few years and a 'freshman' — a new employee, where they can all get to know each other, feel supported and be heard."
The interviewees agreed that the younger generation coming into the workforce does not want to just feel like another employee; they want to know someone cares about them and their work.
DePuy said First Supply does have a rotational training program, incorporating a "buddy system" and a mentorship program for its employees. "The buddy system serves as an opportunity for associates in the trainee program to have an outlet to bounce ideas, grab lunch or discuss best practices with a more seasoned associate," he explained."While the mentorship programs linked trainees up with a leader in the company to review big picture, touch base on career goals and future aspirations. We utilize multiple levels within the company to make sure new associates are getting the support they need while creating the right foundation for a successful career at First Supply."
Staying with this theme, DePuy brought up the next-generation's desire for more work-life balance.
"The new generation that's coming in has different ideas of what a work schedule should look like. They want flexibility; not necessarily 10-12-hour work days," he said. "This generation certainly wants to make an impact with their work. It's not just about par; it's about work-life balance and the feeling of making a different for the company and the industry."
DePuy explained that aspect of the younger generation is a good thing. "We need to be attracting more people into our industry that want to make a difference," he said.
Consolidation is inevitable 

 
Mergers and acquisitions are nothing new for the PHCP-PVF supply chain, and these distributors agree there are pros and cons to seeing consolidation in certain segments of the market.
Fuller pointed out that seeing distributor acquisitions is concerning. "Distributor acquisitions don't negatively impact our business, but they are certainly a concern," he said. "Independents are healthy for the market, so the more that get acquired by nationals, the more concerning it is."
On the manufacturing level, DePuy said expanded product offering and increased production are perks of consolidation, but there are cons as well. "When none vendor acquires another and pivots into a new market, it can put pressure on a distributor to support them in an area where they are probably already being serviced. Just because one supplier acquires another, does not automatically mean a distributors are going to switch their purchasing power without vetting what this change means for the overall landscape of their business." 
DePuy noted that no matter what, taking care of the customer is most important. "Consolidation at the distributor and manufacturer levels are going to increase as we head into the future. Our job is to make sure our customers get what they need when they need it while providing superior experiences throughout the process."
The distributors discussed the role of relationships throughout these consolidations, and Fuller noted it's important to continuously reevaluate existing relationships.
"We buy from people, we don't buy from companies," he said. "We buy from people that we have good relationships with, but we have to constantly reevaluate those relationships and make sure it's still a healthy relationship; that we're still a priority for them and it's benefiting our business.
"When consolidations happens, it's an opportunity to reevaluate our strategy," Fuller continued. "Just because we've purchased from this company for however long, do we maintain that? Or do we start making a shift?"
Keep a close eye on the threats

 
What are the greatest threats to distributors' businesses right now? Jeff Wool, executive vice president of Wool Plumbing Supply, kicked off this conversation saying big-box retail isn't necessarily his greatest concern.
"I don't look at big-box retail as a major threat. I've always been a believer, from the data I've seen, that majority people who shop at those retailers are strictly there for a quick repair/replace sale; their toilet broke and they need a new one quickly, for example," he said. "Our showroom clientele tends to be a more discerning customer, focused on larger-scale multi-bath projects. They're looking for higher quality products and broader selection. I personally think online retail remains our biggest threat, as customers continue to demand quickly-shipped in-stock products delivered to their door. They want it now, and shopping from home is easy."
Wool alluded to online sites that are offering detailed information on product packages, remote design services and more. "That type of detail is where our expertise is usually needed," he said. "So the more of that information that becomes available online, the more of a threat those sites become."
The interviewees agreed that adding value is the key to battling online retail.
"People are shopping online more and more everyday," Wool noted. "It's about bridging the gap to make our in-person showroom experience as enjoyable and valuable as possible, offering the expertise and hands-on product view that people can't find online."
As mentioned in Part 1 of the roundtable discussion, Amazon continues to infringe on the distribution sector, but these distributors brought up interesting perspectives about Amazon's business, noting the company became successful by disrupting the marketplace in offering something that had never been done before.
"I'm not sure how far Amazon and other eCommerce sites will be able to infringe on showroom business," Wool said. "Years ago, we would have never predicted what's come of it, and years from now, there may be something completely different and new that's dominating our marketplace. As new technologies arise, we will have to embrace eCommerce and technology as an essential part of our business. Now more than ever, it's vital for distributors to monitor and track what's happening in the eCommerce world and with consumer buying habits."