The American Supply Association (ASA) works tirelessly to engage members and leaders to identify the greatest industry challenges and envision necessary resources for long-term success. Three strategic issues are posing significant challenges: Human Capital, Member Spectrum and Innovation/Technology. ASA leadership has set out to find visionary solutions to address these industry issues in support of its Building One Future strategy.
Addressing rapidly evolving customer expectations, business model extensions and technology embedded in products and processes throughout the PHCP-PVF industry will need to be continued goals for the foreseeable future. ASA has joined the Research Park at the University of Illinois Urbana-Champaign to do just that.
Research Park at UofI
UofI Research Park is situated on the southern side of the campus and is home to more than 120 companies; a mixture of Fortune 500 as well as startups that are commercializing technology. These companies employ over 2,100 people and hundreds of student interns for corporate research and development. 
Student interns from varied academic disciplines gain invaluable experiential learning and work participation while making real contributions to the companies they work for.

ASA gets involved, opening its new innovation lab
Seeking to address the issue of innovation and technology, ASA visited the UofI award winning Research Park where they found a thriving entrepreneurial and innovation ecosystem.  Inspired by the capability of interdisciplinary intern teams, ASA pursued a lab of its own. Heading up a strategically significant initiative such as opening a lab at Research Park was a significant role, so ASA acted purposefully, creating a new position, Vice President of Innovation. Beth Ladd, an experienced site director and innovation leader, was hired to lead ASA's new innovation function. 
"I joined ASA in fall of 2019," Ladd notes. "One of my first priorities was listening to our members and eliciting their ideas for challenges that could become initial projects at the lab.
"At the same time, I was preparing to select and design a physical space while simultaneously defining operations, processes and engagement with the UofI," she adds. 
From there, ASA's innovation lab at Research Park, to be called the Distribution Next Lab (D.NEXT), was officially underway. Ladd's next step was to find the perfect interns. 
ASA's D.NEXT lab provides comprehensive resources that enable members to invest in innovations that deliver customer-value solutions. The lab helps complete the association's three-legged strategic plan to address issues facing its members; the Building One Future initiative.
"I'm a one-woman show for D.NEXT," she says.  "I wrote detailed descriptions for the internships, attended career fairs and talked to numerous students." 
Ladd notes that the competition for recruiting great interns is fierce. ASA is in the mix with "big-name" companies that students already recognize. Her goal when speaking with students is to relate value in the PHCP-PVF industry.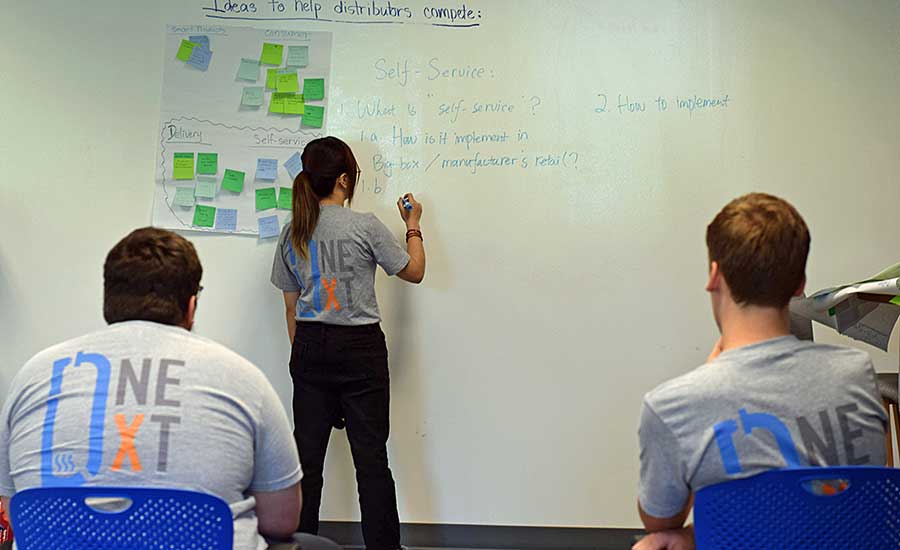 ASA's D.NEXT interns hard at work on plumbing distributor customervoice research. Photo courtesy of Beth Ladd.
"At career fairs, I talked with dozens of interested students for three or four hours," she says. "I have essentially one minute to convey an experiential opportunity. Here's who I am, here's what ASA is doing and this is what D.NEXT strives to accomplish. I present them with examples of industry challenges and invite them to help create solutions."
ASA received more than 75 applicants for its summer internship and Ladd selected six top-notch students to work alongside her. 
"We have a fantastic cross-disciplinary team," she says. "The D.NEXT team includes young folks of varying ages, backgrounds and academic levels."
Opening during a pandemic
As if planning and executing the D.NEXT innovation lab wasn't challenging enough, Ladd was faced with the added complexities of COVID-19. 
Perhaps one of the most impressive details of this story is that Ladd and ASA managed to open the D.NEXT lab on-schedule, despite the pandemic. 
"There were some delays throughout the process, as with any large undertaking, but we succeeded in our plan to open this summer," she says. "This was already an incredibly aggressive timeline, and the pandemic, of course, created logistical challenges."
D.NEXT lab put aside the normal, exciting grand-opening experience, and interns started work in June.
"The realities of COVID meant focusing on the need to protect the health of our new team, staff and members. So instead, I opened our doors without the usual ceremony to welcome our six interns; five of whom were on-site."
Ladd spent the first week doing orientation activities with the intern team. They learned about ASA, the industry and the companies they'd be helping. Then, their inaugural research project was immediately underway. 
Interns hard at work
Initially focused on plumbing, the interns spent hours listening to distributors' answers to questions like: What do you think your customers want, what valuable services do you provide, and what do you expect in return from your customers?
"The interns made more than 200 calls to distributors. Afterwards, they flipped to the customer side and talked to contractors and plumbers about where they acquire their products and what they value from suppliers," Ladd says.
In total, the interns reached out to over 350 industry professionals, gathering and organizing valuable responses into useful information.
"We gathered what is essentially a white paper that discloses what we heard and highlights differing expectations between distributors and their customers," Ladd says. "We created final presentations of our findings and are excited to present them to our board as well as to our members."
Ladd notes that throughout the entire project, the D.NEXT lab interns used a technique called "human centered design." 
"A lot of companies talk about the voice of the customer, but how do you elicit that voice constructively? You rarely hear from customers unless they're dissatisfied. We focused on providing information that will help distributors better understand their customers' needs and expectations," Ladd says.
A mission to spark interest and address industry challenges
Ladd explains that her goal is to move the needle for distributors using human-centered design, rapid ideation, primary and secondary research and prototyping to explore the roles, practices, perceptions, trends and technologies that power todays supply chain. D.NEXT interns may develop solutions to re-architect operating models or inform to transform interactions from transactional to experiential.
 "Every student that comes to talk to you at a career fair will tell you that they just want to do something that's going to matter," she says. "They don't want to be isolated in a cubicle or perform data entry. They want an opportunity to contribute and make an impact."
The challenge is to recruit college students who may not be aware that the PHCP-PVF industry supplies our homes, workplaces and municipalities with the pipes, valves, ducting and fixtures we rely upon to supply clean water, filtered air, energy and sanitation in our homes and communities.  
"My goal is to build awareness, communicate the importance of our distributors and manufacturer partners, and contribute information and solutions to address industry challenges simultaneously."