One way to look at the success of a company is by checking out its profit-and-loss ledger.
An even better way is to go straight to the source — the company's customers. So that's exactly what Supply House Times did in the case of suburban Philadelphia-based manufacturers representative ProLine Sales.
And the results do nothing but confirm what already is common knowledge in the industry. Six-employee ProLine Sales, through its above-and-beyond approach to service and a product and market knowledge like few others, is revered by the customers it serves and the rep industry in general — key factors in the Wyncote, Pa., firm being named the 2016 Supply House Times Manufacturers Representative of the Year.
"Everyone at ProLine Sales has a tremendous work ethic, a true passion for their customers, manufacturers, market and industry," Legend Valve Vice President of Business Development Thomas Huck says. "From their genuine and sincere effort to know our customers and what they truly need, they have fostered long-term relationships that benefit all. Year after year, ProLine Sales consistently grows our mutual business as a result of its steadfast commitment to business partnerships."
Legend President and CEO David Hickman adds: "I can assure you ProLine is 'second to none' in its relentless pursuit of market share.
Liberty Pumps hired ProLine Sales less than a year ago and quickly saw what others in the industry have known for many years. "During this year ProLine has displayed a wonderful network with distributors as well as contractors," Liberty Pumps Regional Manager Mike Carfagno says. "It is obvious to me they are a major asset in my region. I look forward to continued growth through their consistent work ethic."
Current Liberty Pumps Product Development Engineer Caleb Peterson originally hired ProLine Sales. "Their efforts to get up to speed quickly and efficiently have left a lasting impression on me. They have done everything we have asked of them and more. I expect them to be an invaluable member of the Liberty Pumps team for years to come."
ProLine has represented cast-brass solder fittings manufacturer Cello Products for close to 16 years. "I'm impressed by how well-liked they are by their customers and competitors," Cello Products Vice President of Sales-U.S. Frank Longenecker says. "They have continued to grow the business and add new customers on a consistent basis. They are very knowledgeable on all the products they represent and are good communicators."
The ProLine roots
ProLine Sales didn't exactly start as ProLine Sales. The company traces its roots back to 1960 as Henny-McLaren, a partnership between Bob McLaren (whose son, Greg, is ProLine's principal) and Don Henny. The two previously worked at Stasco (Standard Tank and Seat Co.) in Camden, N.J. Bob McLaren and Henny eventually asked for and received permission to take the line as independent reps and start their own agency.
In 1999, Henny-McLaren merged with Ledgerwood-Herwig, which resulted in what is today's ProLine Sales and the start of the company's representation of InSinkErator.
Greg McLaren, a 1984 Penn State graduate, originally worked for Norton Co., for six years selling grinding wheels and sandpaper. McLaren joined the company upon Henny's retirement in 1989 and assumed control of ProLine Sales in 1995 after the sudden death of his father.
"My dad went to LaSalle College in Philadelphia out of the Korean War through the GI Bill and worked nights at Stasco while he was in school," McLaren says. "He worked very hard. I have a lot of admiration for what my dad created."
In 2015, ProLine entered into a strategic alliance with New Jersey-based Efkay Sales' Curt Schad in order to ensure a smooth transition into the Liberty Pumps account. Today, ProLine Sales represents some of the most well-known brands in the PHCP and decorative plumbing genres. The firm covers eastern Pennsylvania, southern New Jersey and Delaware.
Looks are deceiving
ProLine Sales operates out of a house turned into a business on an Anytown USA type street in the Philadelphia suburb of Wyncote. ProLine Sales shares the space with a law firm. And it's on the first floor of this house where ProLine Sales and its six — yes six — employees create the magic that has long established it as one of the industry's elite.
McLaren's staff includes ProLine veteran Tom Rocks, who after spending several years in the tire-shredding and demolition business, joined the company in 1995, and Don Stark, who after working for five years at Ferguson, joined in 2003. Stark is based in Wilkes-Barre, Pa., and covers upstate Pennsylvania.
McLaren's wife, Carol, is the company's financial administrator, as well as the administrator of sales reporting. The third generation of McLarens, their son, Greg Jr., joined the company in 2014 after a stint in commercial lending. He's a 2010 Villanova graduate.
The staff is rounded out by fellow ProLine veteran Rashawn (Ray) Johnson who began her industry career with West Philadelphia distributor M. Schnyder. When it folded in 1999, Johnson joined the ProLine team (more on her in a minute).
"The passion and energy our team brings to the field each day is unmatched in our market," the elder McLaren states. "In a multi-line selling environment it is a challenge to make every manufacturer on your line card feel special. We accomplish this by setting small goals and targets with each manufacturer in each account where opportunity exists."
Having six employees and producing the results it does is something Stark calls "a badge of honor."
"We do have a relatively small group," the elder McLaren says with a laugh. "When you meet people, their No. 1 reaction is, 'I thought you were a company of 25 people,' and then they see how many people we have. We've created a strong brand."
The younger McLaren adds: "If you look at our line card and how small our agency is, it's pretty impressive that we represent the manufacturers we do."
ProLine staff members have no formal job titles, another aspect that speaks to the company's close-knit family environment where an all-hands-on-deck philosophy has produced impressive results over the years. "Everybody is empowered here," the elder McLaren says. "We all talk to sales managers every week."
Rocks adds: "At the end of the day we succeed because of the people here. We have some very different personalities but we come together. We all believe in the team concept. Our camaraderie and synergy helps us operate at a high level."
Upon joining the company, the younger McLaren, immediately realized why his father's firm has enjoyed long-term market success. "We all support each other and depend on each other," he says. "We play off each other's victories. There is a little bit of competition here, but we never lose sight of customer service and our customers see that. We follow through, solve problems and take obstacles out of the way for our customers."
That team atmosphere is a major part of what endears ProLine to its customers. "The most impressive thing about ProLine Sales is its culture," InSinkErator Director of Sales-East Rebecca Falish says. "From respect for the manufacturers to the commitment to their customer, each member of the agency lives the same fundamental values. Integrity and honesty are the keys to a solid reputation and ProLine possesses both attributes. We're proud to call them our rep."
But ProLine, Rocks says, wouldn't be where it is today without one person in particular — Johnson. "Ray is the engine that drives us," he says. "She keeps it all together. We can bounce so many things off her. She's wonderful with multitasking. She makes every person on the phone feel like they are the most important person ever. There have been a few times when she's been on vacation where I've never seen four guys scramble to keep things straight. We brought Ray to an event at a distributor and you would have thought we walked in with a celebrity. She's truly an amazing person."
To say the least, Johnson enjoys what she does at ProLine. "Not many people can say they love their job, but I can," she says. "Greg is a wonderful person to work for and is a great role model. I've learned so much from him and ProLine Sales since I've been here. I always tell people I work with my family because ProLine is just like my family."
Customer-driven
Company culture isn't ProLine Sales' only strong suit. The agency is relentless in its approach to not only be the best-informed it can be on the lines it represents, but also in making sure customers are equally well-informed and provided with the highest levels of service possible. To that extent, ProLine does lunch-and-learns with distributors, rotating small-group training and counter days. "Counter days help us train and build relationships with distributors," the elder McLaren says.
In terms of its contractor customers, ProLine utilizes pre-work breakfast meetings at contracting firms, jobsite visits and visits with contractor management members. On the showroom side, ProLine's go-to is morning product knowledge seminars. The agency also is known for its creative ice cream social events.
"Sometimes PKs are scheduled so far out that we find creative ways to move ahead on the calendar," the elder McLaren explains. "We'll buy ice cream and toppings and show up in the afternoon. In small groups we make sundaes and do quick training. It may sound hokey, and it is, but it works."
ProLine greatly values the relationships it has formed through the distribution channel. "The relationship with the distributor still is extremely important in our market," the elder McLaren says. "Several of our product lines are brand decisions being made at the distributor level. When we are promoting commodity-type items, we are promoting a level of service and a cost of doing business that cannot be matched by a poor-performing, lower-priced competitor. It's critical to the manufacturers we represent, who sometimes remind us, 'If I had the lowest price, I wouldn't need you.' Most of our distributors see the value in maximizing their inventory return on investment. This is a part of our success."
The elder McLaren adds the distributor relationship also is helpful when trying to move innovative, technical or value-added products through the channel. "If you are out among builders, contractors, engineers and architects creating a pull-through demand, you best be sure the channel is supporting the product or your efforts are doomed."
ProLine has seen the decorative plumbing side of the business change in recent times with the increased presence of the Internet in the channel. "The Web is a large place and any successful brand is bound to be discounted there," the elder McLaren says. "It is a hard place to police. Our trainings often center around selling strategies to remove the Web from competing."
ProLine also zeroes in on the after-the-sale experience with the decorative lines it has in its stable. "The biggest thing that sets us apart in this area is our quick response to any problem that may arise in the process or installation," the elder McLaren says. "We jump on it and quickly create a resolution so the situation doesn't sit and fester. We often tell showroom sales associates, 'We want you selling the next one. We'll handle the problem on the one you already sold.'"
Invested in the industry
If you are a regular on the industry distributor-rep circuit, you likely have run into a ProLine staff member, most likely the elder McLaren. ProLine is a member of AIM/R, ASA, ASPE and the Wholesalers Association of the North East (WANE).
"ProLine is excellent," says Gary Jones, marketing manager at Wilkes-Barre-based Eastern Penn Supply Co. "They always have represented high-quality product lines as well as lines that are very supportive of the industry. ProLine doesn't stop there. It has put its money where its mouth is by investing in our industry associations."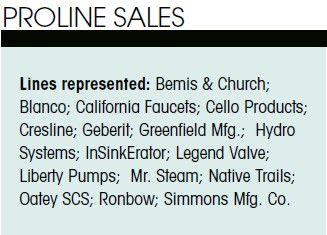 The elder McLaren is active in all those organizations, including a previous stint as AIM/R president. "We have always had the philosophy that giving back is essential to the good of the individual, the company and the channel," he says. "Too many are strictly takers. If we can keep our associations strong, our channel will remain strong."
Besides making sure its customers are well-informed on the products it represents, ProLine also makes sure it is investing in its staff. ProLine uses ASA University courses to train on general subjects such as product application, essentials of profitable distribution and sales. ProLine also takes advantage of technical trainings at manufacturers' facilities. "When you are calling on contractors it is essential you are the expert otherwise you can lose their attention pretty quickly," the elder McLaren says.
Moving forward, ProLine is focused on extending its reach into the hydronic heating market as well as the specification side of the industry. "We represent several manufacturers who give us a nice launching pad into hydronics," the elder McLaren says. "We also represent a set of manufacturers that offer several value-added features to what were traditionally 'or equal' items. In order to show value and differentiate these products, we are spending more time in front of the specifier in the architect/engineer firms in our market."
Oatey Co. Northeast Regional Sales Manager Patrick Aquino says ProLine's success is possible because "they understand their customers, product lines and market trends," he notes. "They add value to our business and assist us in achieving our objectives."
ProLine also has its eyes on the latest technologies that can help move the company forward, an initiative being spearheaded by the younger McLaren "One of our biggest challenges is finding a way to increase efficiencies through the technologies currently being offered," the elder McLaren says. "We are a relatively small, close-knit team. We speak to each other several times a day. As we grow in sales and personnel, this is becoming more challenging. My son is looking for the right products that combine the team's willingness to use them with the efficiencies they create."
But above all else, ProLine plans on continuing what it does best — making life as easy as possible for its customers.
"The greatest thing we bring our manufacturers is our relationships and the service we provide," Stark says. "At the end of the day we are here to help our customers conduct their business as efficiently as possible."And for more than 50 years, ProLine has been doing just that — and then some.
This article was originally titled "Less is more" in the June 2016 print edition of Supply House Times.