The final day of NetworkASA 2014 fell on the 13th anniversary of 9/11.
Throughout that morning the American Supply Association did an excellent job bringing to the forefront the significance that day will forever hold whether it was the speech Bradford White's Bruce Carnevale gave to open the Kohler breakfast or the two guest speakers that reminded us how important the men and women of the
U.S. military are to this country's continued well-being.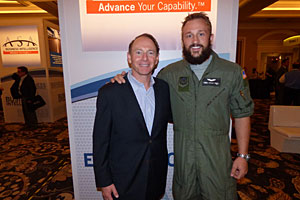 Michael Werner (left) and Kendell Madden at NetworkASA 2014. Photo by Mike Miazga/Supply House Times
Seal Team Six's Robert O'Neill, the keynote speaker at the Kohler event, gave attendees a fascinating look at mwhat it takes to be a Navy SEAL and the extreme danger those brave folks face on a regular basis while protecting our country.
We also heard from retired Air Force pilot Kendell Madden who was critically injured in an aircraft mishap overseas and forced to medically retire. His long journey
back from a laundry list of severe injuries (he ran down his injuries for me from toe to head in song form) has been aided by the Operation Rise and Conquer initiative that debuted last year.
Operation Rise and Conquer allows wounded American active duty soldiers and veterans to participate in a week-long, specially equipped outdoor adventure in Englewood, Colo. The program is guided by Adaptive Sports, which provides special equipment needed to participate in summer or winter activities, some of which include horseback riding, biking, skiing, rock climbing and fishing.
And the plumbing industry has played a major role in helping these soldiers. Gerber Plumbing Fixtures and Danze President and CEO Michael Werner, who
spearheads the industry-wide initiative along with ASA, told me at NetworkASA last month that our industry has raised more than $100,000 this year, which has allowed about 40 soldiers to go to Colorado.
"Our goal was to send 30 soldiers a year," he says. "The response from our industry has been phenomenal. We're giving back to people who have given so much for us. We're helping rebuild their lives."
Madden, who after speaking received a standing ovation from NetworkASA attendees at the A. O. Smith luncheon, notes his rehabilitation process has been trying. "I broke a lot of bones and had a traumatic brain injury," he says. "It was a rough go for me for quite some time, but I've made the most substantial progress the last
two years. It's been devastating. You have this calling and dream and then it gets taken away from you by external factors. I've had a lot of 'coming to Jesus' moments."
The 30-year-old Madden first went to the Colorado facility in February where, despite being a Rocky Mountain native, he learned to ski for the fi rst time. He returned in the summer to take part in the full weeklong camp.
"I can't say enough good things about being there," he says. "The right people were there helping us out in the right ways making sure we got what we needed out of it."
Madden notes one of the biggest benefi ts of the camp was being able to connect with soldiers who have gone through similar experiences. He struck up a friendship with a local soldier and gave him a ride to and from the camp.
"It's nice to go down the street and see a friend you have a special connection with," he says. "These guys know what it's like to deal with being away from your family and being stationed in third-world countries. You want to have something to connect to that encourages you to get back into the world you are used to. Since Operation Rise and Conquer, I have that sense of being and can go out and enjoy the things I used to."
For all the good the industry does, this program ranks right at the top. And my guess is the next time Werner gives an update on Operation Rise and Conquer's progress, many more soldiers and veterans will have benefitted from your generosity.
---
HELPFUL LINKS: