In 1874 Ulysses S. Grant was the president of the United States. That's also the same year Muncie, Ind.-based Knapp Supply was founded.
And 140 years later the plumbing, industrial PVF, kitchen cabinet and water-well drilling distributor still is going strong. Knapp Supply recently celebrated its milestone anniversary with a day-long gathering at its Muncie headquarters.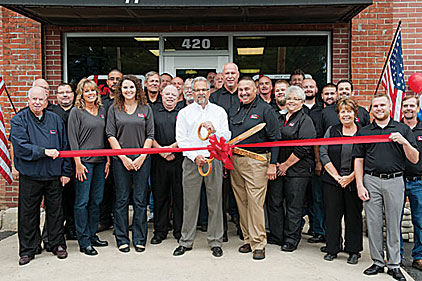 Knapp Director of Sales and Marketing David Stanley said the event was a major success, attracting more than 1,000 visitors, which included customers, vendors and invited guests. More than 30 vendors attended. Viega brought its show truck, while Sterling Water Treatment had a trailer, as did Franklin Electric.
"Usually, we do some smaller events, but with the 140th anniversary we decided to do a big blowout, Stanley said. "We got it done. We had a really good turnout and the vendor participation was great."
Stanley noted the celebration honored employees, customers and the city of Muncie alike.
"We wanted to give back to the many people that have worked at Knapp Supply over the years," he said. "These people worked hard — some back in the day swung heavy pipe and fittings by hand before there was any type of automation. We wanted to thank our contractors and mechanical and PVF users and the local community here. This is an industrial city that used to have a lot of industrial plants. We wanted to say thank-you to the city of Muncie. We couldn't have done this without you."
Family-owned Knapp Supply, which has 30 employees, covers a 125-mile radius around Muncie and delivers product five days a week to its customers.Jim Feick is company president. He took over ownership from his father, Louise. Jim Feick's son, Mitch, also works for the company.
"We're doing really well," said Stanley, who started with the company driving a truck in 1987. "We're concentrating on bringing in new business and we're still taking care of our customers with deliveries five days a week. We've done very well with well drilling irrigation here the last 10 years. We're always looking to add new product lines."
Stanley said the secret to the company's longevity isn't really that much of a secret. "The secret ingredient is our people," he said. "This is a family here. We have almost 500 years of combined experience. That's a lot of experience. Our leadership is great. They allow employees to make decisions on their own. This is a great company that will continue to grow and continue to be very reactive to our customers."
HELPFUL LINKS: