There's an undeniable sense of entrepreneurship that flows throughout the independent distribution industry. PVF master distributor Wayland Industries is a prime example, with 103 years of history behind it; for four generations now, members of the Kurstin family have started master distribution companies within the PVF sector.
It began with Peter Markus, great grandfather of Wayland Industries' current executive brother duo, Kevin and Andy Kurstin. Markus founded Jackson Markus Supply in 1917 — a brass, iron and stainless plumbing fittings manufacturer and distributor. In 1946, the Kurstin brothers' grandfather, Harold Markus, became head of Jackson-Markus Supply.  
In the 1960s, the family branched into manufacturing stainless steel and nickel alloy weld fittings under the leadership of Harold and his brothers Alvin and Arnold, creating Sun Weld Fitting Co. Fast forward to the mid-1980's, and Dan Markus (uncle to Kevin and Andy Kurstin) founded Calpipe Industries, which expanded the family's marketing and distribution expertise into the electrical industry.
The entrepreneurship doesn't stop there. In 1974, Ron Kurstin (Kevin and Andy's father) founded industrial PVF supplier RWK International. Ron Kurstin faced adversity when RWK International had to close its doors due to the 1993 economic crash, but it didn't keep him down long. Shortly after, he founded Smith-Cooper International, which goes on to acquire several PVF companies and continues to be a major importer and manufacturer of pipes, valves and fittings today.
Things come full circle in 2019, when Kevin and Andy Kurstin use their years of experience in the PVF sector and their family's entrepreneurial spirit to found Wayland Industries in 2019.
Kevin Kurstin is president of Wayland Industries while his brother Andy Kurstin takes on the CEO role.  

Building upon your legacy
With such a rich family history, Wayland Industries surely has many qualities it pulls from the generations of business before it. According to Kevin Kurstin, honesty and respect are the most important.
"I think there is certainly a sense of entrepreneurship that resonates throughout our family history, but more so, the success of each company has been founded on the same principles of hard work, honesty and respect," he says.
Todd Wilson, director of national sales and distribution, adds some other principals Wayland Industries takes from its history to succeed today. "We utilize the same philosophy of the earlier family businesses by investing heavily in inventory, technology, highly experienced employees, being laser-focused on the customer's needs, and the ability as a young nimble organization to adapt to the ever-changing dynamics of the market today. It all starts from company values of honesty and transparency," he says. "I believe customers have come to see us as reliable and trustworthy and this foundation has been important to our growth."
Of course, no family business can rest on its laurels. Andy Kurstin points out maintaining relationships is an ongoing feat. "As a master distributor, having solid relationships with suppliers is critical. We have been building these relationships with global manufacturers for decades," he says. "Continuing to nurture these long-standing partnerships have been critical to our success."
Wayland Industries is focused on the sanitary industry — with one of the most comprehensive inventories of fittings, valves, tubing and accessories in the industry. All items are applicable to the food and beverage industry, a sector many PHCP-PVF manufacturers and distributors are branching into today.
"We've got the breadth of inventory to supply the one-off odd-ball item, along with the depth of inventory to supply the large-scale project," Kevin Kurstin explains. "We ship over 95% of all orders the same day and have an order accuracy  rate of 99%, which is unheard of in the business."
In order to grow, the company is focused on expanding product lines and investing in its team.
"We're committed to being a one-stop-shop in the sanitary market, we continue to expand our product base, adding roughly 500 SKUs per year," Kevin Kurstin says. "We've continued to hire some of the best and most experienced people in the industry, even throughout COVID. It's truly our people that are driving our growth strategy, and we've got the best in the business."branching into today.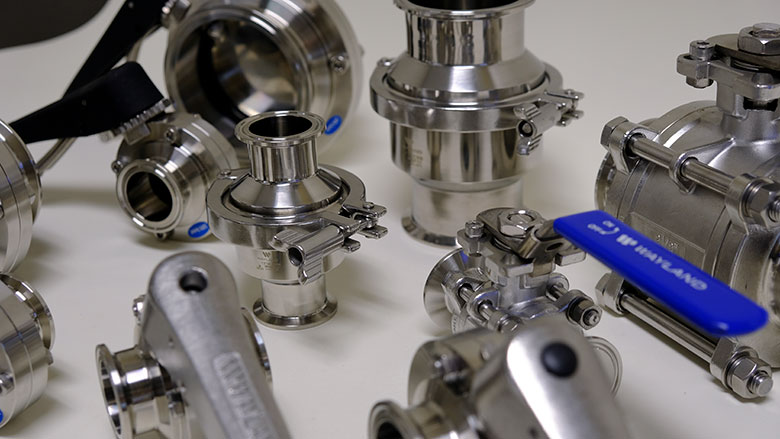 Right, fast and easy
Wayland Industries' mission statement is to run business the right way, offering customers the fast way and the easy way to buy sanitary products.
Kevin Kurstin notes the past two years have definitely presented plenty of challenges, but the company has overcome and managed to stay true to its mission. "We're not alone in that the past 2 years have presented many challenges, especially with the growth we've seen as a company. Keeping our employees safe and healthy was the priority. We've successfully opened two new branches over the past two years in the midst of COVID."
In the beginning of 2020, the company moved forward with its first expansion into California, which is now the corporate headquarters. The following year it expanded in the Midwest by moving the Wisconsin warehouse to a much larger facility.
"This facility has allowed us to stock a full line of sanitary tubing, increase our current fitting and valve inventory, implement in-house valve automation, and continued growth into new products in the near future," Kevin Kurstin says.
The company also took on new digital ventures in 2020.
"In the second half of 2020, we launched an online distributor portal," Wilson points out. "This gave our customers the much-needed flexibility to check our stock, pricing, enter orders, shipment tracking and account history 24/7/365 from anywhere on the globe, keeping with our core mission: 'The right way, the fast way, the easy way' to do business with Wayland Industries."
Wilson adds that Wayland knows how important it is to go above and beyond for customers, even in challenging times, and it has worked to increase its manpower throughout the pandemic in order to maintain the level of service customers are used to.
"We've continued to exceed expectations for our loyal distributor customers to ensure they have what they need when they need it, expediting shipments and covering the excess costs associated with the supply chain disruptions," he says. "We've been able to maintain inventory levels despite supply chain challenges due to always maintaining adequate safety stock and expediting incoming shipments."
The progression of master distribution
It's no secret keeping inventory on the shelves is much easier said than done these days. Wilson believes supply chain disruption has further reinforced the importance of master distributors' role in the supply chain.
"I believe master distribution plays a critical role in the supply chain reinforcement now more than ever as we have seen the collateral effects the pandemic has had on the global supply network," he says. "It was the master distributors who saved the day with their long-standing commitments to heavy inventory investment which gave wholesaler-distributors the ability to continue supplying to the contractors."
Although the particular set of challenges the PHCP-PVF industry is facing today is new to many, Andy Kurstin points out that from its generational history in master distribution, Wayland knows disruptions can happen anytime.
"We've seen these types of things before, we know from many generations of master distribution, there can be delays with production, port delays, labor strikes, etc.," he says. "We are fortunate that we have invested heavily in our inventory and consequently it has paid off.  Our commitment to our customers is a priority, and we make sure we are ready for these types of situations."
According to Wilson, it hasn't always been easy for distributors to purchase sanitary tube, fittings or valves from manufacturers in the states. "Years ago, original sanitary producers cut out the local distributors, choosing to work exclusively with installers, making it almost impossible for distributors to break into certain markets," he explains. "Wayland has been working aggressively with local distributors and wholesalers to grow their respective market share in the sanitary sector from inception and will continue this mission as we are currently looking for new distributors throughout the U.S., Canada and Mexico to partner with."
Andy and Kevin are a part of the next generation of PVF professionals, helping them to understand first-hand what next-gen consumers and potential hires are after.
"My brother and I are the next generations, we understand what our peers are looking for in a career. It's the opportunity for growth and advancement, autonomy and flexibility," Andy Kurstin says. "We're able to offer a competitive salary and best in class benefits, coupled with a tight-knit family culture that has been instilled in our family's companies for over 100 years."
On the consumer front, Andy Kurstin points out that Wayland is dedicated to staying ahead of technology. "Master distributors must continue to evolve to match consumer buying habits, right now that shift is towards digital marketing and online purchasing," he says. "Consumers are used to going on Amazon and purchasing with one click. That's the type of experience we want our distributors to have on our online portal, where they're currently able to see real-time stock and pricing information and place orders seamlessly."
Wilson agrees, pointing out that virtually any business should be embracing emerging technologies.
"I believe embracing emerging technologies such as machine learning and robotics, remote working and virtual meetings, social media marketing and digital advertising are critical to the longevity of an organization whether you're a master distributor or any other business," he says. "You must always continue to question your organization's methods and continue to explore new ideas that are out there ahead of the curve."
While working to embrace the ever-changing market, Wilson says a master distributor should always be an extension of a distributor's business. "We see ourselves as a seamless extension of our distributors' business, integrated into their sales, purchasing, and systems infrastructure which allows us to provide the best possible service."
The two brothers have big plans for Wayland Industries, but maintaining the entrepreneurial spirit and family culture is one thing they have no plans to change.
"The key is to maintain the family-oriented culture throughout periods of growth," Kevin Kurstin says. "You have to remain dedicated to the core foundation of family values that our families' companies have instilled, while also being nimble and adaptable to the ever-changing global landscape."