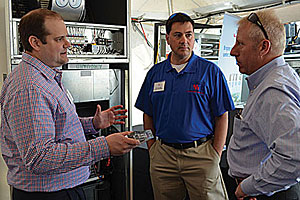 Mechanicsburg, Pa.-based manufacturers rep H&H Sales Associates recently held a customer appreciation product show and open house attended by about 175 customers. Photo by John Vastyan/Common Ground
Mechanicsburg, Pa.-based manufacturers rep firm H&H Sales Associates recently held a customer appreciation product show and open house. The event drew about 175 customers. "We're in a people-to-people business," H&H VP Greg Hlatky said. "Fortunately, it was a great day to bring people together."
Ritchie Hall, H&H outside sales, added: "It's especially rewarding when we can provide a forum for customers and manufacturers to learn from each other. New products and technology and kicking the tires are important, but so is the opportunity to meet and interact in person." In addition to a product showcase, a variety of seminars were held including an HVAC acoustics and sound presentation by Modine's Engineered Products Sales Manager Joe Ellison. Other presentations included fan efficiency (Greenheck), natatorium design (Seresco), chilled beams, critical environmental control (Price Industries) and fabric duct design (DuctSox).
Greenheck brought a 53-ft.-long AirTour Learning Center exhibition and training trailer, while AQC Industries featured a towering display and told of the many benefits of the company's underground duct system. Marley Cooling Technologies showcased the latest light commercial cooling tower systems.
 "It was a great event and a day very well spent," said Alyssa Wingenfield, a commercial systems designer for Harrisburg, Pa.-based McClure Co.  "I was introduced to several new products, one of which – a Hubbell instantaneous water heater – I may incorporate into a school job I've been working on." 
Other companies on the H&H line card that sent products and people included Seresco pool dehumidifiers, Whalen Co., Hays Fluid Controls, Florida Heat Pump, Patterson Kelly Boilers, Neptronic humidifiers, Hubbell water heaters, and Cerus starters and variable-frequency drives.
"At events like this, it's all about the relationships," Hall concluded. "Learning from each other has so many advantages.  It's a win-win all the way around."  
---
HELPFUL LINKS: