Everything is under one canopy – the TORRCO canopy.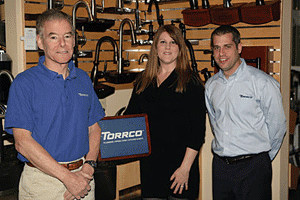 From left: TORRCO CEO and President Joel S. Becker, Directorof Marketing Michele Wright and Vice President of Sales and General Manager Chris Fasano spearheaded the company's name change from Torrington Supply to TORRCO. Photo courtesy of TORRCO.
After some aggressive business moves in the Connecticut, western Massachusetts and eastern New York markets, it was time for 95-year-old Waterbury, Conn.-based Torrington Supply to streamline its message so there was no confusion among customers.

Under the leadership of President and CEO Joel S. Becker and spearheaded by Vice President of Sales and General Manager Chris Fasano and Director of Marketing Michele Wright, Torrington changed its longstanding company name in 2012 to TORRCO.

Becker took some time recently to speak with Supply House Times about the name change and the company's outlook for 2013.
Supply House Times: What spurred the decision to change the company's name?
JB: In 2009, Torrington Supply purchased Litco Supply Co., and added six branch locations and three retail showrooms in northwestern Connecticut and western Massachusetts.
In 2012, we combined the three trade names – Torrington Supply, Litco Supply and Luxury Bath Center – to TORRCO. Combining these brand names enables us to define company-wide who we are, what we stand for, how we behave and the promise our brand represents. We want to make it easier for our customers to buy from us, easier for our team to sell and easier to create value for our customers and suppliers. 
Supply House Times: What are the risks and rewards involved with such a move, especially given Torrington Supply's long history in the industry? 
JB: The rewards far exceeded the risks. When we first considered changing our name we had two primary objectives. The first was to help us sell. In markets where we were known, the Torrington Supply name was an incredible asset and represented integrity, service and value.
As we moved farther from our home base, the Torrington name became only an identification with a town in Connecticut and not the highly earned reputational attributes we'd worked to build. After our Litco Supply acquisition, we were building three brands. In 2011, we hired Worx Branding & Advertising to help us analyze our brand and recommend how to go forward. The company interviewed numerous customers and employees and their findings were that we combine our three names into a single name and brand.
Supply House Times: What does the TORRCO name stand for today?
JB: We want to make it easier for customers to buy from us by removing perceived geographic barriers. We want to unify our staff so every employee is a member of the TORRCO team with the same training, performance standards and rewards. We want to clarify our service promise so all customers know what they can expect no matter where in the company they're doing business. We want to deepen customer, supplier and employee relationships across the company to remove social barriers. 
Supply House Times: How did TORRCO manage the Hurricane Sandy crisis?
JB: Although we have three shoreline branches, we were not directly affected by the storm with wind or flood damage. Many of the surrounding communities were severely hit. We quickly sold out of sump pumps and generators. We took away the same lesson we learned from the October 2011 snowstorm that knocked out power in Connecticut to more than one million homes for more than a week. We need to decentralize our data and voice processing and contract an out-of-territory backup for these business-critical services. We did not lose any data because of the storm.
Supply House Times: Where do you see 2013 heading?
JB: Whereas many parts of the country have seen a rebirth of the housing market and a return to lower unemployment, Connecticut has not seen an appreciable improvement to either since the 2009 crash. There is some private commercial work but it is very competitive. That being said, we do have more than inflationary growth built into our 2013 sales forecast.
Links: