✕
I have been on the road, and it seems that showrooms not solely focused on the ultra-high-end market have experienced a decline in business. Generally, I am hearing statements like, "We are busy but down by 10% to 15%."
Let's acknowledge that the overwhelming impact of COVID is subsiding, and the market is gradually returning to its pre-pandemic flow. Now is the time to proactively work on educating your target market about the exceptional value of your showroom and the expertise of your talented team in the year 2023.
Fundamentally, strong showroom businesses flourish when they establish and actively engage with a robust network. In the realm of decorative plumbing, a well-crafted and supported network serves as a beautiful framework of communication, influence and commerce.
While social media, advertising and vendor leads certainly have their advantages, relying solely on these channels means you are essentially banking on the hope that your loyal customers will continue to work with your showroom and choose you for their projects. No matter how much effort you put into calling and catering to them, it is simply impossible for any company, regardless of its size, to be present at every moment when influencers are contemplating, discussing and selecting decorative plumbing solutions.
Plumbers answer to builders, builders are interacting with designers, plumbers review designer's creative solutions and designers are always talking amongst each other while continually shopping the market. No matter which cog in this wheel is your key customer, not actively interacting with each team network you will likely miss and lose opportunities. But, if you and your sales consultants are this group's go-to decorative plumbing source, you just might see and sell it all. I suggest we work to make your showroom the most know showroom and an irreplaceable tool for this team and all of the other similar plumber-builder-designer team networks in your market.
This is how most showrooms look at this network of premium and luxury plumbing team networks: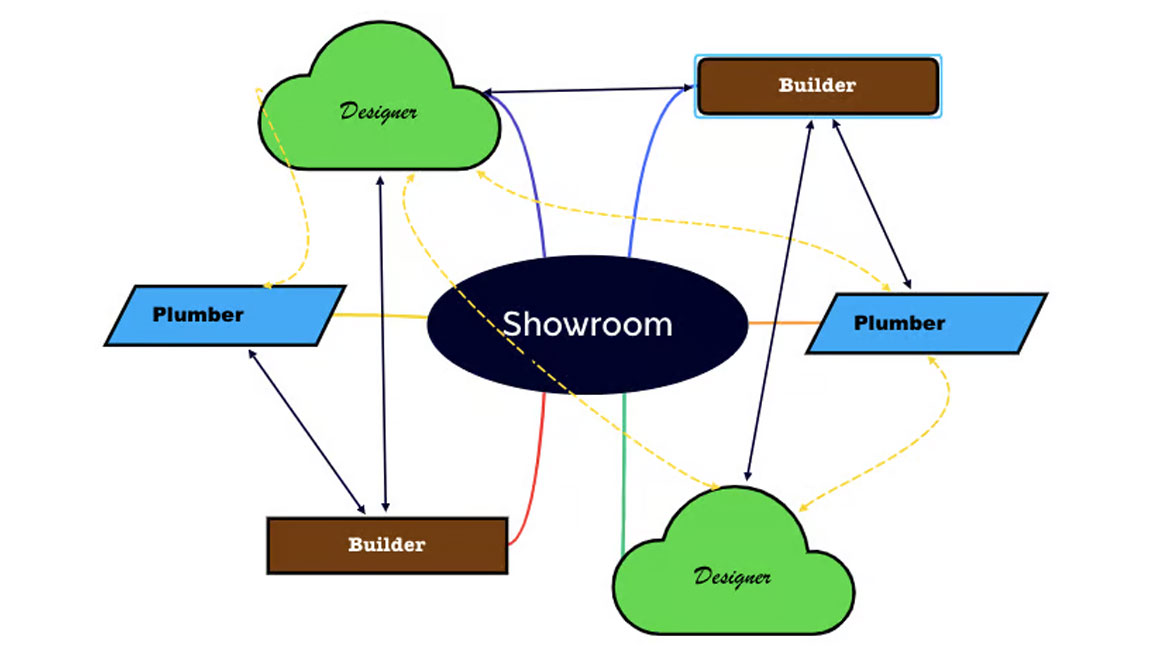 In the simple network diagram above, we see two plumbing design, build and install networks centered by a showroom. We know that all of the parties are constantly communicating with each other, and the showroom might be a part of those discussions but they are on the outside of day-to-day conversation and only spoken with when their input is needed. During these creative, bidding or install discussions, topics will fly around and they are not always beneficial to the showroom. That is why the showroom must be a solid member, not simply a source, in this small and active network.
A quick side note, I am sure you have noticed that the architect is not in this group. That is for two reasons. Good and, or Influential architects have a strong relationship with the builders they partner with and prefer to communicate primarily through them. Win the Builder, win the architect. The second reason is that if the architect does have a design team in their office that will replace the designer in these networks.
For the purposes of this article, let's assume the plumber is your primary customer. It's important to note that the plumber is often considered the weakest member of this team, as their involvement primarily revolves around the plumbing aspects of the project, while the builder and designer handle the project as a whole. Additionally, there are instances where the plumber might not be engaged until the bidding stage, long after the selections have already been made. However, establishing a strong relationship with any team member usually opens the door to connect with other members of the team.
To start learning your plumber's networks ask each of your showroom consultants and outside salespeople to list their good plumber accounts that work in the premium and luxury home building and remodel markets. Then ask them to interview them asking who the builders and the designers that they work with. Then simply list them in a table like shown below: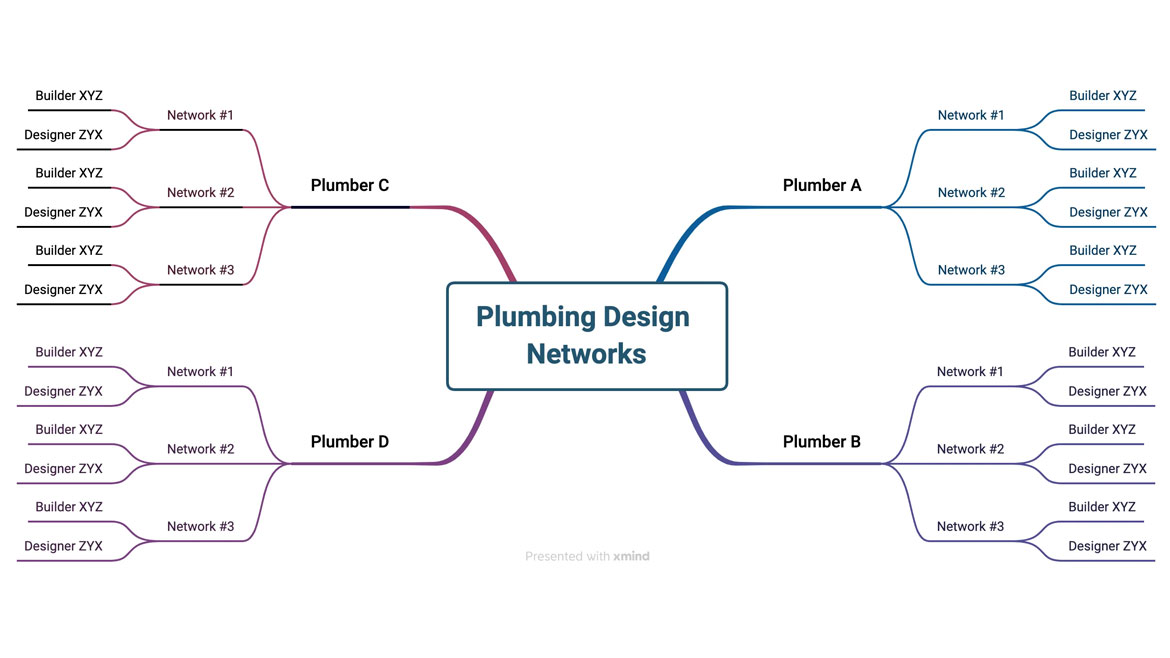 "Networking is an investment in your business. It takes time and when done correctly can yield great results for years to come."
—Diane Helbig
This is not an easy task and will require a high level of perseverance from your team. Design and build professionals must also create and maintain their own networks to ensure a continuous flow of jobs and market information. However, they are not always eager to share their hard-earned connections. Trust plays a pivotal role in this dynamic. If they have confidence that you and your team will provide support within these networks, they will be more inclined to embrace your presence in their design-build team. Conversely, without trust, forging connections and expanding your network will present greater difficulties.
This might seem illogical to spend so much energy to simply join such a tiny section of your overall market. Your market network is full of these active teams and for one showroom to win them all individually is not a realistically attainable goal. It seems so simple to simply blanket your market with brand-building word-of-mouth, supported with some social media and aggressively following up on vendor and market-created leads. Correct?
Now, consider the influence of Instagram influencers and apply that concept to the idea that one person can have an impact on everyone they come in contact with. If your brand establishes strong connections with three, four, or five teams, imagine how those respected professionals will speak of your brand in their client meetings, within their teams and in society. What you are witnessing is the power of your newly joined teams within their entire life network.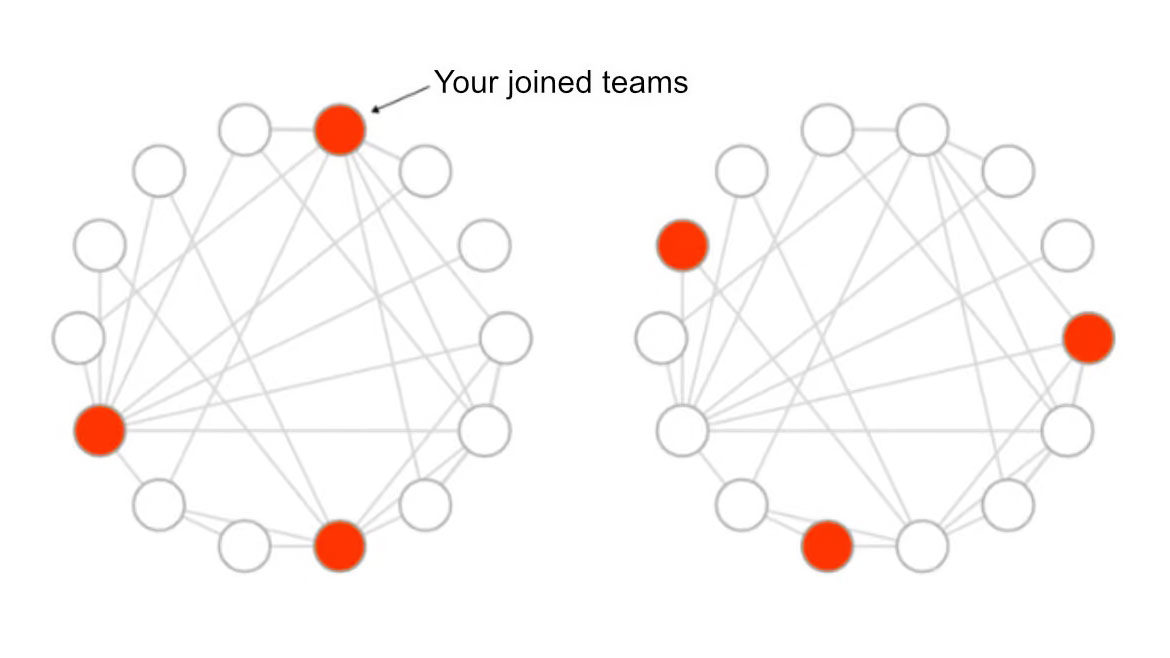 Taking the time to become an appreciated member of small, talented teams is a foundational move for your brand. Each interaction requires you to actively participate, as simply providing quotes, products, and support is insufficient. Your team members need to engage with these individuals consistently. It is this level of involvement that they will share with their own networks. As a result, the true power of networking amplifies, and your brand extends its reach.
In a later article, we will delve into actions to help you and your team discover, gauge and enhance these important team, network nodes.
If you would like to discuss this further, please reach out to me on LinkedIn or through the network-building team of Supply House Times.