✕
The showrooms of the past featured mostly universal displays filled with uninspiring designs and minimal product mix. That was until the design revolution of the 1980s when forward-thinkers started sourcing inspiration and product from Europe. Among these design pioneers is Andy Wilkinson, second-generation leader of Raleigh, North Carolina-based Wilkinson Supply.
Wilkinson Supply started out as a six-person operation selling plumbing supplies in Raleigh, North Carolina. Bill Wilkinson, the company's founder, established a commitment to a customer-first mentality fueled by hard work and dedication. This commitment has carried Wilkinson Supply to growth for nearly 60 years. And the company's unique showrooms filled with exclusive product have earned it the 2023 Supply House Times Showroom of the Year Award.
Today, siblings Audrey Loder, president, Courtney Kane, director of showrooms, and Drew Wilkinson, vice president, all co-own and run Wilkinson Supply's five North Carolina locations: Raleigh, Durham, Carrboro, Wilson and Fayetteville.
A LASTING FIRST IMPRESSION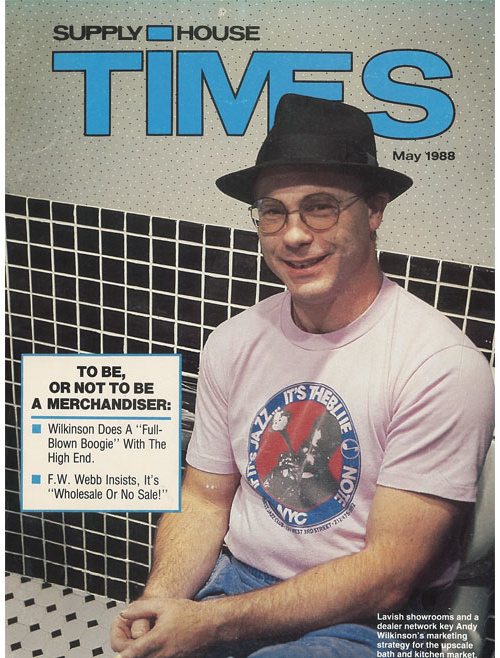 Wilkinson Supply doesn't wait until customers walk into the showroom to "wow" them. Pulling into the Carrboro location you'll immediately notice a show-stopping mural painted along the exterior of the building. The company worked with a local community artist, Loren Pease, to paint the building — and the investment truly paid off.
According to Michael Tuck, showroom manager at the Carrboro location and Wilkinson employee of more than 25 years, first impressions are everything. "Our building used to look like your basic warehouse," he says. "People would walk in and be surprised that we had a nice showroom inside. Now, we have the 'wow' factor before people even enter the building; they're impressed and they know they're in the right place."
The 'wow' factor carries throughout the entire showroom floor. Staying true to Andy Wilkinson's keen eye for design and commitment to stand out, Wilkinson Supply showrooms carry products customers can't find just anywhere.
"What I love about Wilkinson is our ability to show customers brands they've never seen before," Tuck says. "We can get brands like Dornbracht and Fantini — and customers will tell me they've never heard of those brands before, which is exactly what I want to hear. We bring the value of showing them product they wouldn't find at a big box store or from many of our competitors."
According to Loder, the exterior mural is a perfect representation of the company culture. "It's playful, fun and part of our community here in Carrboro," she says. "Our core values include: Bright Ideas, Positive Influence, Glass Half-full, Customer Focus, Community and Teamwork, and I think the positivity and innovation are noticed immediately when people arrive."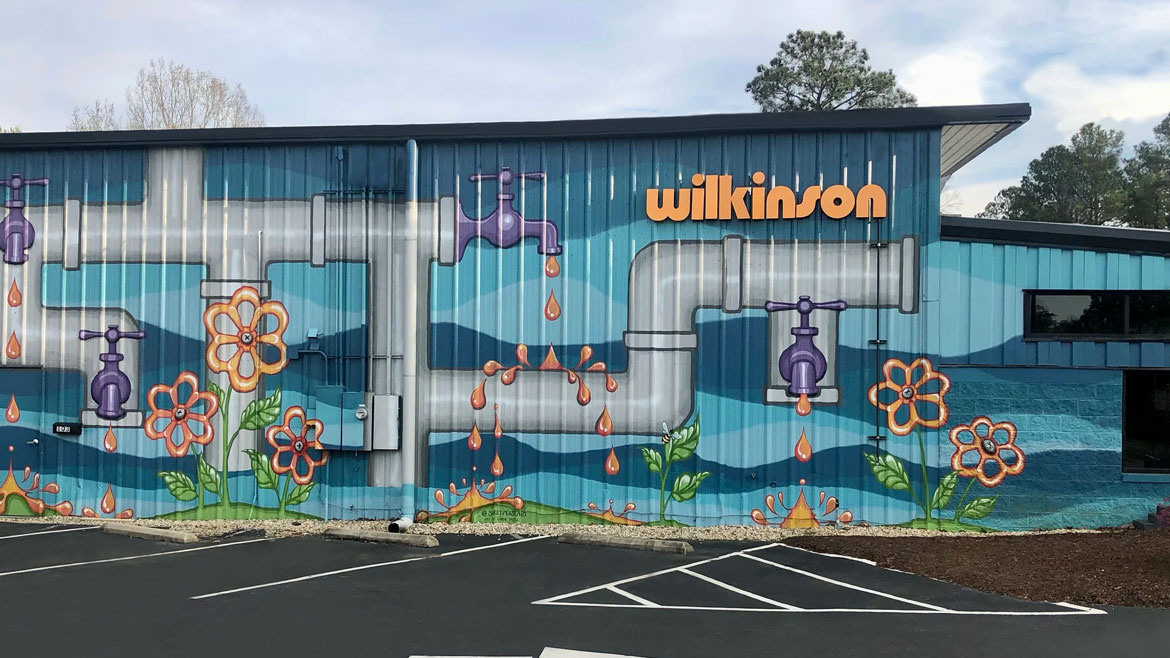 The value of innovation comes directly from the family history. "Our grandfather and father instilled the importance of innovation in us from the start," Kane explains. "We were taught to always be innovative in our business and showrooms."
Another key family value the third generation of Wilkinson's credit to their predecessors is strong relationships with employees. "Being there for our most important asset — our team — is the number one thing," Drew Wilkinson says. "We have numerous employees with more than 20-year tenures with us which means a lot. Developing those strong family-like relationships naturally creates a healthy and fun company culture."
Close relationships run internally and externally throughout Wilkinson Supply. Loder notes that investing in customer relationships is another key pillar the Wilkinson family founders established that the company still holds true to today.
"Everyone talks about customer service, but I truly believe we live and breathe it daily," she says. "Many of our customers are 20 or 30-year customers. Our commitment to both our employee and customer relationships is what has gotten us this far."
Among those 30-year partners is Mr.Steam Systems. Dan Reinert, vice president of sales, says working with Wilkinson is great because they are on the forefront of technology and innovation. "Wilkinson Supply has a seasoned team of showroom associates who are open to upselling a project with top-of-the-line products which has helped us grow our sales in their respective areas significantly. Having the next generation of family running the business has made it easy to partner with them," he says. "They are partnered with the top brands in plumbing and they create a fully immersive experience when you visit their showrooms."
LEADERS IN COMMUNITY
Not only was Wilkinson Supply a pioneer in bringing the next generation of bath and kitchen design to the U.S., but the company is also a founding member of both of its buying groups — Forte Group and The Commonwealth Group.
"The Forte Buying Group has been integral to our success in the showroom division, just as The Commonwealth Group (formerly Embassy) has been integral to our success in the wholesale division," Loder says. "As a small, independent brick and mortar, it has proven invaluable to connect with the brilliant minds in our industry to share best practices and ensure our relevance as the industry evolves."
Outside of the plumbing world, Wilkinson is also a leader in its North Carolina community by being involved with numerous organizations including the local Home Builders Association, the Professional Women in Building Council, The Boys and Girls Club and several community nonprofits. "It's our mission to positively impact and be involved with our community," Loder says.
The company is passionate about donating to their community and they encourage employees to be involved as well. "Every year, we sponsor a family for Christmas through the Salvation Army. We collect donations of clothing and jewelry for Dress for Success, an organization helping women who are trying to get into the workforce. We are donating all the light fixtures for The Green Chair project, a local non-profit that reuses essential furnishings to help neighbors in need. We look anywhere we can lend a helping hand," Loder adds.
Since Wilkinson Supply is female-owned, the company is particularly passionate about supporting and helping women and helping women in business. "Our hope is that consumers find value in local, family-owned business," Loder says. "We are also proud to be a certified women-owned and historically underutilized business."
LOYALTY IS KEY
Wilkinson Supply knows the greatest challenge for brick-and-mortar showrooms today is competing with online retail and big box stores. This reality, coupled with its commitment to immersing customers in unique, state-of-the-art products, leads the showroom team to hold vendor relationships as a top priority.
"We are strategic with our vendor partnerships and the merchandise we display," Loder says. "The vendors that protect independent showrooms and the ones that have MAP policies are the vendors we want to be closely aligned with."
Kane adds that a huge piece of carrying those unique brands is developing exclusive partnerships with vendors. "It's key for us to have partners that want to set us up to stand out," she says. "They don't saturate the market; they give us exclusivity and protection and we in turn place preferential treatment on those brands."
View the Showroom
Click on the "+" to view the photo gallery.
Tuck explains that the showroom team has built decades of loyalty with its customer base by educating the customer. "The marketplace and how people do business continues to evolve," he says. "As it's changed over the years, we have been committed to staying educated to make sure we're providing the best service possible."
Product and supply chain knowledge, exclusivity of product and design expertise all come together to create the great customer service recipe Wilkinson Supply is known for. "We have an advantage being a showroom that's attached to a wholesale business," Kane explains. "We have the trust, confidence and expertise of our plumbing contractors."
Tuck agrees, pointing out that this expertise is the ultimate value add keeping Wilkinson competitive to online retail. "There are numerous reasons our great customers choose to come into the showroom vs. shopping online," he says. "But ultimately it's the knowledge and service we can provide. When there is an issue, we'll be there immediately to help find a solution. You can't say the same about big box or online retail."
The importance of loyal vendor partnerships is taught to every salesperson at Wilkinson showroom, Tuck adds. "These vendors have endless places they can sell their product. We value the ones that choose to protect us and not sell direct," he says. "When we're in a sales consultation with a customer, it's not about them buying a brand, it's about them buying into us."
The displays in Wilkinson's showrooms reflect this commitment to showcase vendors that support independent distribution, which in turn makes for unique, show-stopping displays full of product you don't see every day.
"One of my favorite things about Wilkinson Supply is that when you walk into a showroom you get the impression you can buy anything you want here," Tuck says.
Buying anything they want isn't very far-fetched, either. Wilkinson Showrooms have expanded to carry much more than plumbing products; appliances, cabinetry, hardware and lighting are all product segments available in the stores.
LASTING REPUTATION
Wilkinson Supply has grown thus far largely due to its stellar reputation, which was established by the hard work and dedication to relationships Bill and Andy Wilkinson instilled in the family from the beginning.
"I'm proud of our reputation," Drew Wilkinson says. "Not everyone in our market has bought from us, but the ones who have typically come back and have great things to say about us."
As a showroom leader for more than two decades, Tuck says he's proud of the four showroom renovations he's overseen, the ability to take on new product categories and the ability to sustain the showroom experience that was established by Andy Wilkinson.
When it comes to the future, organic growth is Wilkinson Supply's goal. "Since we bought the business in 2017, we have had a season of incredible growth. We are grateful for the life that our company provides to our 87 employees and their families."
Loder adds that they want to grow, but not too fast. "I like knowing the names of every employee, their spouse and their children," she says. "We have dreams of growing and getting bigger, but we want to remain true to our roots."
Kane summarizes the current growth goals at Wilkinson Supply well. "We want to grow what we've got. We can grow our product mix with higher margin opportunities and add new product categories to complete our offering. We've got five great stores that we can reinvest in, always innovating along the way."