93-year-old Tigard, Oregon-based plumbing distributor, Consolidated Supply Co., was founded during tough times — in 1928 during The Great Depression. Both the company's distribution arm and its showroom locations (The Fixture Gallery) have continued to exceed expectations through many other challenges. Throughout the past year, The Fixture Gallery has launched a new website, opened a new location and pivoted operations to serve customers and keep employees safe through the unprecedented times of 2020. 

A family beginning
Entrepreneurial spirit E.A. Neupert began Consolidated Supply Co. in 1928. Years later in the 1980s, the late Karl Neupert — third-generation president and CEO of Consolidated and 1999 American Supply Association president — had a vision to open a decorative plumbing showroom. Neupert spearheaded this effort, opening a 4,000 square-foot showroom in Tigard, Oregon, and The Fixture Gallery was born.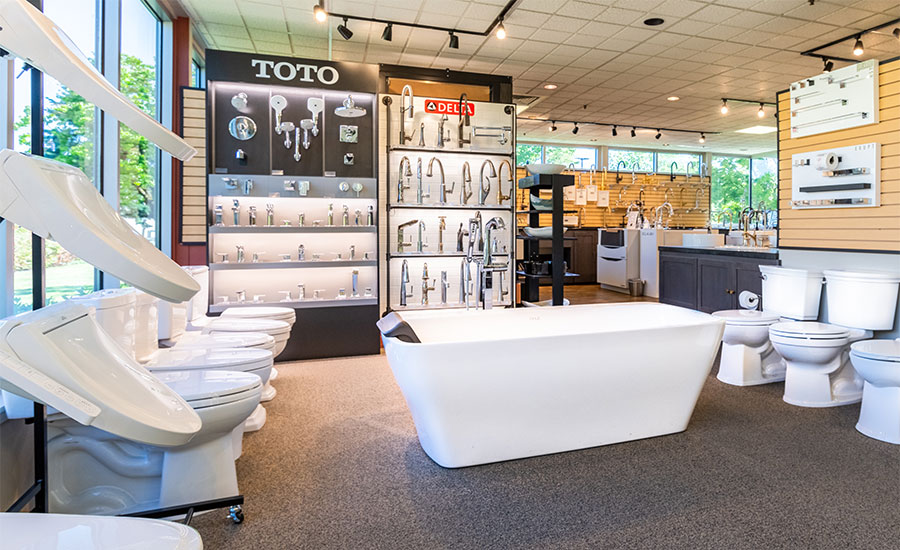 The Fixture Gallery's first showroom location in Tigard, Oregon. Photo courtesy of Mike Hiran Photography.
Since that time, the team has added nine other showroom locations across the Northwest. Today, Consolidated is led by fourth-generation Neupert family President, Karla Neupert Hockley, Senior Vice President and CFO Bob Bruce, and Chairman Karolyn Neupert Gordon. 
Amy Mack, corporate showroom manager, and Josh Spoklie, director of plumbing, continue to lead The Fixture Gallery to continued growth and success.

Consolidated culture, Consolidated STRONG
Consolidated Supply Co. has been voted one of The Oregonian's Top Workplaces for five different years — 2014, 2015, 2016, 2018 and 2019. The Fixture Gallery team of 28 showroom employees, across 10 locations, are fine representatives of this achievement. 
Mack credits the company's culture for these achievements. "I could talk about our culture all day long," she says. "Our employees like the fact that they're not just a number; Karla, Karolyn or Josh can walk into any showroom location and know everyone's name. Oftentimes, we spend more time at work than we do with our own families, so it's important that our team feels like part of a family, and the Neuperts do a great job with that."
"The Fixture Gallery showrooms have been featuring TOTO for more than 10 years. Their showrooms are a true destination where a customer can comfortably make their plumbing selections with consultants who are professionals and take time to learn about TOTO's industry-leading innovations. Each consultant takes ownership in the sales process and believes in the products they sell. The Fixture Gallery's consultants do a great job listening to their customers' needs and represent their company in a truly professional and welcoming manner." —Steve Mastrandrea, senior Northwest region sales manager, TOTO
Mack adds that while she's been at the company more than 11 years, she knew by week three that she was a part of the family. "Karolyn walked right in and gave me a hug, and now she knows all about my life," she says. "Even when there are opportunities for team members to work elsewhere, we stay because of the family culture. Karla coined the term, 'Consolidated STRONG' and that message runs deep throughout the company."
Spoklie agrees, saying everyone at the company knows that they truly matter. "The culture of Consolidated is the biggest driver for us," he says. "We count on our people every day and we communicate that to them. We do many things to show our appreciation for what they do. It's their expertise and customer service that sets us apart."
Spoklie points out that while there is a shrinking pool of candidates to fill showroom positions, The Fixture Gallery has been integrated into the existing part of Consolidated's business, which helps keep the team strong. "Our team has done a really good job of incorporating showrooms into the mainstream of our business; it's not this unique animal that sits on the side of our building," he says. "The entire team has embraced the showroom side and began to truly understand it."
Throughout the pandemic, The Fixture Gallery and Consolidated leadership were sure to show extra appreciation to employees with simple gestures such as a "You Rock Day!" to remind the team how vital they are to the company's success. 

Pivoting into new endeavors 
At the onset of the pandemic, Neupert Hockley says employee safety was the top concern. "There truly was a lot of fear," she says. "We did close our showrooms temporarily, shifting operations to an all-virtual format. I'm really proud that we kept every employee on the team."
Neupert Hockley adds that with remote working and the inability to physically call on customers, the company shifted its focus to education. "Education was the next best way to make use of our time," she says. "We focused on areas where we normally don't get enough time during the normal, busy work week. The showroom team did a great job making the most of this time."
The Fixture Gallery showrooms worked alongside vendors to create virtual trainings and events. "Our vendors wonderfully adjusted the training to be digestible, avoiding 'Zoom fatigue,'" Mack says. "We learned it was better to do multiple shorter sessions, about 20-30 minutes at a time."
Spoklie adds that the intention of the trainings shifted from what they were pre-pandemic. "We asked our vendors to focus on training our team how to sell the product, vs. just general product information; how do we sell it? What do we sell it against?"
Over-communicating proved to be necessary throughout the pandemic. The Fixture Gallery notes its vendor partners and manufacturers' reps were great about informing showrooms what was going on in the industry and being hyper-available.
"AD Decorative Brands members set industry standards every day. Now Consolidated Supply has raised the bar in so many admirable ways. Amy Mack, showroom manager for the Fixture Gallery, currently sits on our AD Decorative Brands Product Committee and her insight has brought so much to the table. She is always quick to share the new and innovative ways they are doing business for the benefit of fellow members." —Linda Hoff, director, AD Decorative Brands Division
"No one could travel, so the best way to stay informed was to call on our key relationships," Neupert Hockley says. 
In the midst of chaos, The Fixture Gallery had an exciting project developing — a new showroom website.
After a couple of years of planning and development, The Fixture Gallery launched its new showroom website in 2020. The new site was a collaboration between Bravo Business Media and Consolidated's Director of IT and Marketing Rod Sanders and e-commerce Manager Dave Pelgorsch. 
"Our team and Bravo Business Media did a phenomenal job making the site beautiful and helpful to potential customers," Mack explains. "We have more than 600,000s skus and full product catalogs available online. There are also virtual tours of each of our showrooms and a planning guide for customers that will go live soon."
The goal for the new website was to be both user and staff-friendly. Users can create wish lists, see spec sheets and finish options, and compare products, while staff can quickly create a picture-book portfolio of products to send over to customers throughout the designing processes. 
"The site is so versatile and well-balanced," Mack says. "We just got a report the other day revealing that the new site has already exceeded our IT teams' expectations, which is really exciting."
Spoklie says that The Fixture Gallery team knew it had to step up to customer expectations of digital services, especially as the pandemic hit. The eCommerce team is continually working to enhance the digital capabilities of the site.
Although foot-traffic and beautiful displays are key for showrooms, The Fixture Gallery recognizes the need to stay up-to-date digitally and listen to the changing customer-base. 
"E-commerce is certainly something that has changed in a big way over the decades in the showroom world," Neupert Hockley says. "If you aren't in on it, you're not keeping up with demands of our customers; not just in this industry but in virtually any industry."
When speaking on the balance of e-commerce with personal relationships and foot-traffic, Neupert Hockley points out that the need and desire to gather in person is not going anywhere. "Our company is multigenerational, and each generation of customers and employees that comes up is more and more comfortable with their lives being online," she says. "But at the end of the day, people want to gather and they want interaction.
Educated experiences will always be a part of what we do as a distributor and in our showrooms. The home — especially now — is a sanctuary. Helping people select what makes it their own is a personal experience; it's the core of the showroom and it's not going anywhere."

Investment in the future
Another new project for The Fixture Gallery recently came to fruition on June 3, as its newly relocated showroom — Coeur d'Alene — located in Dalton Gardens, Idaho, held its ribbon cutting celebration. The new location now offers a 2200 square foot showroom to one of the fastest growing communities in the US.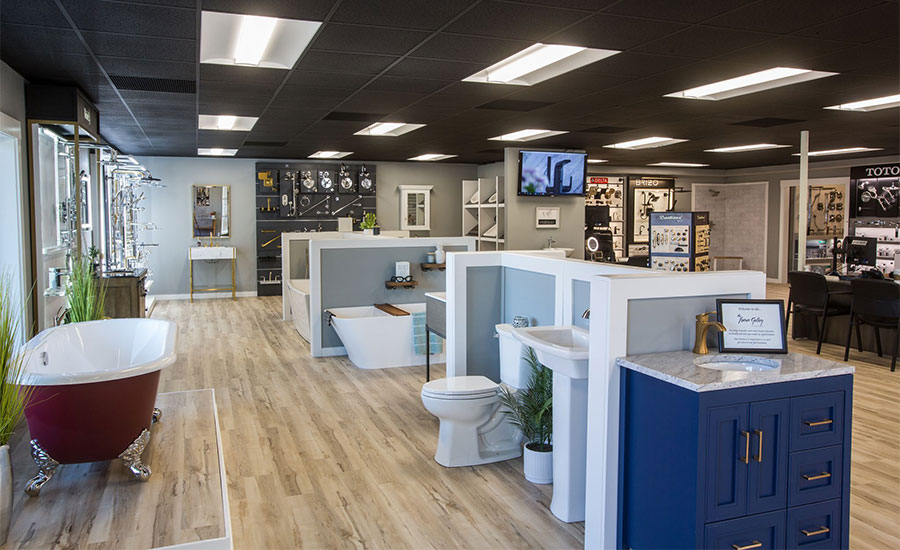 The Fixture Gallery's newest showroom, Coeur d'Alene,  located in Dalton Garden, Idaho. Photo courtesy of Mike Hiran Photography. 
"When people walk into our showrooms, I want them to feel welcomed," Mack says. "They should feel comfortable and not rushed. They're now a part of our Consolidated family and our many repeat customers definitely feel that way."
The Fixture Gallery invests in beautiful, working displays to best represent and sell products. "We work closely with our reps to hear what's needed in certain markets so we know what displays and products need to be included," Mack explains. 
Spoklie adds that it's all about staying-up-to-date with market demands. "We're always making sure we're current with technology trends," he says. "AI and LEED certified products are currently high demand items we are featuring in our displays."
Spoklie also notes that more open-concept showroom floors are popular now, opposed to showrooms years ago that were all about fitting the greatest amount of product on the floor. 
"Karla and the Consolidated Supply team are always setting high bars for excellence. This recognition is another example of how they achieve success. They have been an exemplary member owner and bring a model expertise that is highlighted on our Plumbing Divisional governance. It is easy to see how they have not only stayed successful but also thrived for the past 93 plus years. We are pleased to be part of their journey." —Jeffrey Beall, president, AD PHCP Business Unit
Showrooms continue to battle online retail channels and big-box stores. Mack says The Fixture Gallery partners with vendors to display showroom-exclusive products to combat this challenge. "We try to avoid the situation where someone comes in to look at a faucet and then buys it online elsewhere," she says. "We work with our vendors to get showroom protected products with protected pricing."
Recently, The Fixture Gallery has honed in on relationships with designers and builders. "These groups are essentially influencers for us," Neupert Hockley explains. "They may not be the end purchaser, but if we build strong relationships with the specifiers, they will likely recommend plumbers to buy through us. Showrooms need loyal business relationships among multiple influencers in order to close the sale."
Mack points out that the expertise and problem-solving skills our showrooms provide is something customers will not get from shopping online at large retail. "If you buy through Amazon, you aren't getting that protected warranty you get when shopping in our showroom," she says. "Our customers have the comfort in knowing that if there are any issues, they can call us directly and we will take care of them. That benefit is something buying local will always provide over online retail."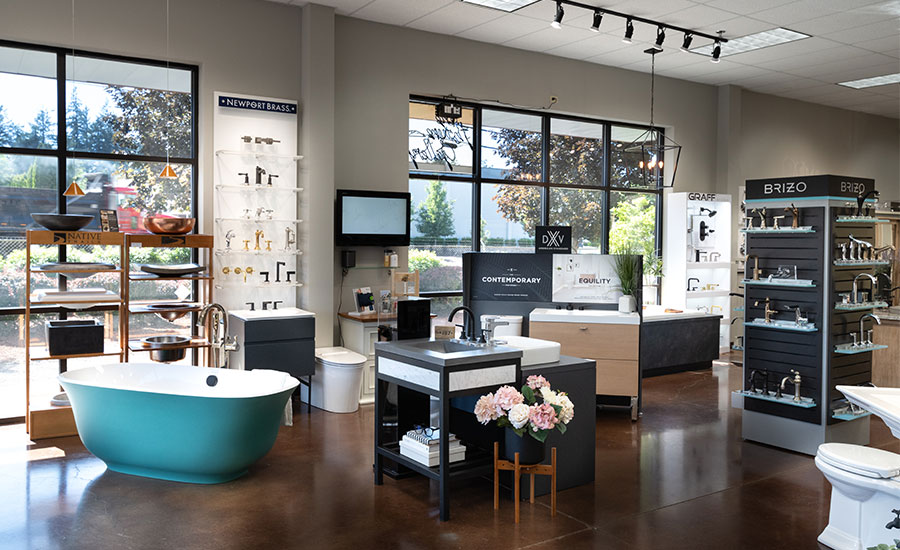 The Fixture Gallery Salem, Oregon, showroom. Photo courtesy of Mike Hiran Photography.
Neupert Hockley says the collaboration customers get from showroom staff is another great advantage. "When it's something expensive or permanent, people like to have a second opinion. Our team is there to collaborate and offer expertise to make customers feel comfortable with their decisions."
Spoklie adds that the showroom experience and expertise is what will drive success in the future. "The evolution of online shopping has really impacted the way we got to market," he says. "Focusing on the great experience and service aspect is what will continue to set us apart and keep customers choosing us."
Especially through times of disruption, Spoklie points out that an in-person interaction with a professional adds tremendous value for customers. "We've been able to help customers pivot and choose what they can get in a timely manner vs. waiting on product that's not available," he says. "There's nothing worse than waiting on an inspection for just one faucet, so we've been able to step up and solve that problem, moving the project along. And that's something an online apparatus can't do."
Mack notes that she regularly talks with showroom managers to hear what products are selling the most so The Fixture Gallery can get additional stock of those popular items for future customers.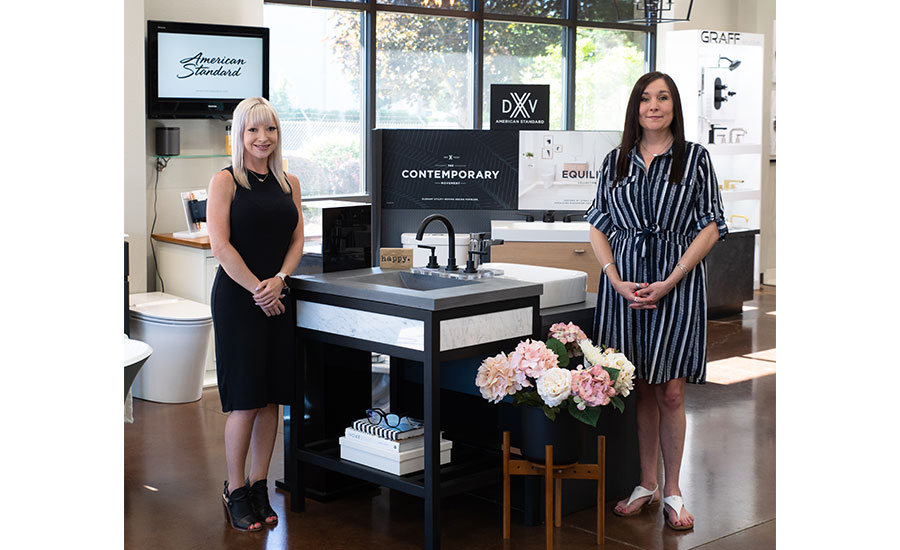 The Fixture Gallery's Salem, Oregon, showroom team. Left: Kayla Van Lydegraf. Right: Jodie Brandon.
Through the pandemic and supply chain disruption, Spoklie says he's proud of the showroom team for remaining resilient and positive. "They've done an incredible job shifting from in-person to virtual and then back to in-person," he says. "They've adapted to the challenges thrown their way and remained positive, being great ambassadors for Consolidated and our communities."
Neupert Hockley adds that Consolidated believes in continuous improvement. "We're going to be better tomorrow than we are today," she says. "This all goes back to the company culture. We attract the passionate, great people to our team and they reflect those characteristics to our customers every day. The bottom line is that we truly care, and people can feel that when they come to us."