When asked about the company's history, Republic Plumbing Supply explains that it was founded "by the plumber, for the plumber."
Bill Duggan, a partner in EM Duggan Mechanical Contracting, purchased the company out of bankruptcy in 1977. Duggan had a vision to create a place to show customers products prior to installation. This vision led to the birth of The Bath Showplace in 1983. Customers sent clients here to see the latest and greatest products available in the plumbing industry.
As things sit today, the second-generation leadership is passing reins to the third generation in the Duggan family, and the business has expanded into 10 locations across the state with five showrooms. The company recently rebranded its showrooms to "Republic's Collection."
Republic's Collection has about 20 showroom employees among all locations. Gary Cedrone, director of showroom operations, explains that Republic's employees are the number one asset, and investment in training is key to success.
"We have eLearning opportunities throughout the various manufacturers' websites. Sales reps are constantly making site visits to ensure our product knowledge is up to date. We also try and have staff meetings with a manufacturer or manufacturers rep at least once a month, sometimes even more frequently than that. LPG hit a homerun with its training platform, and we are excited to implement that as well," Cedrone explains.
President Tom Summers agrees that training, with manufacturers, reps and employees, is a top priority. "We strive to give our people the tools they need to fight and succeed against competition. Making capital improvements to our showrooms and investing in training are the backbone. From there, our employees are prepared and able to use their talents to bring people in," he notes. 

Standing out from the competition 
In this competitive marketing, making a showroom standout is an ongoing goal. Summers explains that design improvements to Republic's showrooms have been an important sales tool.
"We have made tremendous improvements to our showrooms over the last five years. Our displays feature everything from working steam, air baths, showerheads, kitchen and lavatory faucets, toilets and bidet seats so customers can see and feel the fixture prior to purchase.
"Since these days consumers can go online and pick out their product in the finish they want in 10 seconds, we have to focus on being able to show them how well it works, how it's installed and offer design help; making it worthwhile to come into the showroom and view products in person," he says.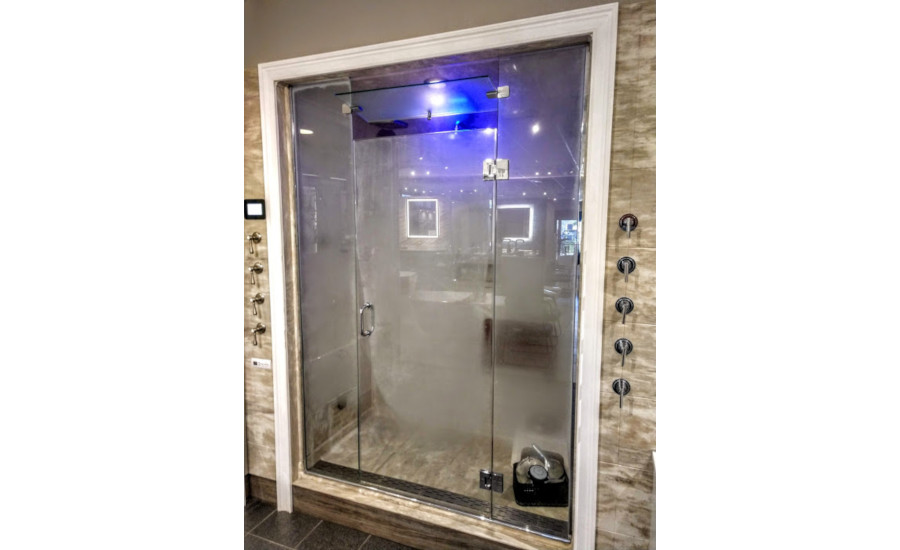 A working shower display in Republic's Norwood, MA showroom.
Republic has an intense amount of local competition, making it even more vital to strive to stand out. "We always try to hold the upper hand in regards to promotions and new product launches to keep us ahead of our competitors. We also lean on our strong personal and professional partnerships with our manufacturers reps to keep us ahead of the trends," Cedrone says.
In addition to strong relationships with manufacturers reps, Cedrone notes that the company has a longstanding base of loyal contractors, which has helped them get through recent tough times. "We have a loyal customer base of contractors who don't want to shop at the large retail home center; they want to come here. These contractors know that we will have products available when they need them, and they appreciate our diverse breadth of available products," he says. 

Ecommerce and branding techniques 
Cedrone notes that rebranding the company's showrooms to "Republic's Collection" has generated positive response. 
"The new name has been received very well. It kept the Republic brand, but made it more intriguing; 'What is the Collection? I want in!' We also decided to change the logo which has been a great change as well," he says.
Overall, ecommerce and the internet have drastically changed the showroom industry. Republic has implemented incentive programs and made enhancements to its websites in order to stay on top of these changes. 
 "The internet has really changed things. Contractors do not buy their own products for resale and there are no secrets regarding price classes. We have implemented the 'Republic Preferred Customer program' to partner with trade business, and have made significant strides to support and feature Minimum Advertised Price-protected products. We have launched a website for the showroom only and are trying to brand "Republic's Collection" separate from "Republic Plumbing Supply" for the marketing piece on the decorative side," Summers explains. 
The Preferred Customer Program provides designers, builders and plumbers with a business card that has both the trade company's information and "Republic Preferred Customer Program" on it. That way, when tradesmen have customers that want to come in and purchase product on their own, the builder, plumber etc., can hand the customer that card, and the salespeople in Republic's showroom know to record the sale under the specific trade company and give the customer a discount. 
The incentive program has been successful for Republic for more than six years now, and the company plans to keep it going. 
In terms of ecommerce capabilities, Summers notes that user-friendly improvements are on the way. "We are in the process of updating our order entry capabilities with better search functions. Also, our new mobile app is really exciting. Contractors can see everything we have in stock, specification sheets, pictures and more right from their phones," he says.

Luxury Products Group
Republic explains that becoming a member of LPG has been a great resource for the business. "LPG has been tremendous. The resources have been very helpful in our growth and evolution as a company and the annual conference provides great networking opportunities for our salespeople. Often, vendors attending the show will be represented by senior management. It's nice to see how much a personal interaction between the front-line salesperson and a company president or national sales manager can prove to be such an important 15-minute partnership meeting," Cedrone says. 
Cedrone is also a member of LPG's Advisory Group, which has proven to be a great advantage. "Knowing the direction that the buying group is going enables us to build a plan for the showrooms to follow," Summers notes. 

Strong vendor partnerships
With the ongoing challenge of competing with Amazon and other large chain retailers, Republic knows that strong and loyal vendor relationships are key.
"We rely on our vendor relationships as much as anything. We need to be able to trust that our vendors are going to send customers our way and support the importance of experiencing a product in person, vs. buying it online from somewhere else. 
"Our focus is on vendors that clearly want to support us; we spend time and energy on those relationships and try to steer clear of any vendors that want to focus solely on online sales," Summers explains.
Dan Reinert, vice president of sales for Mr. Steam, commends the experience and expertise of Republic's Collection. "Mr. Steam has had a long-standing relationship with Republic. Their team consists of seasoned veterans and talented newcomers who understand the concept of selling luxury products. They also command a tremendous following in the metro Boston area and enabled us to significantly increase our market share in Metro Boston.
"They have beautiful showrooms that display functioning products. Having both an enthusiastic showroom sales team and a great group of managers has allowed us to significantly increase our sales over the past few years with them. Mr. Steam and Republic make a great team," he says.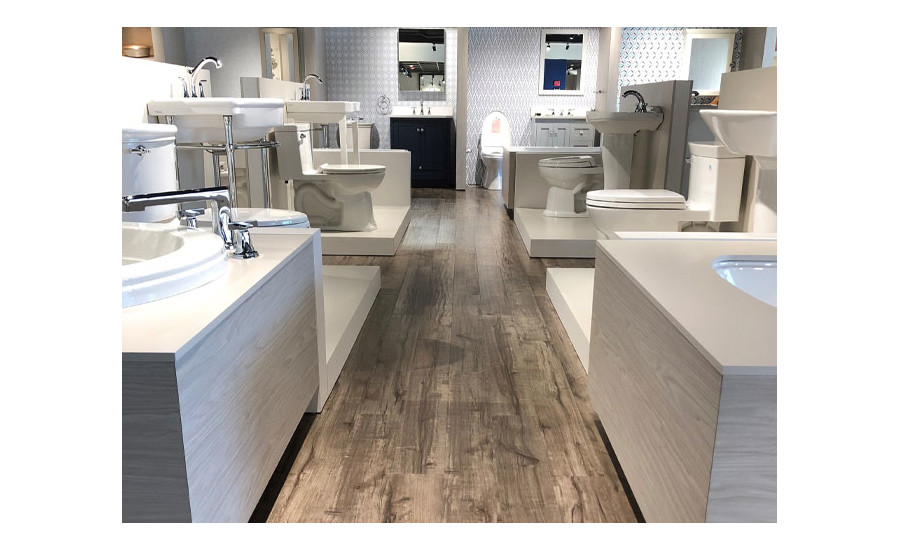 Republic's Collection showroom in Weymouth, MA.
Another longtime partner of Republic, The SH Group, explains that the company's next-level showrooms are what makes them successful.
"Republic's Norwood, Massachusetts showroom is two stories and features displays in well-lit windows, which has proven to be successful at attracting customers from the road. The focus for Republic is really on merchandise organization and branding, so customers can shop easily and grow their confidence in the brand. The strategic floor plan is another major focus; it is designed to increase customer purchasing and help staff sell more efficiently," explains Stephan Roy, president of SH Group, a custom display and design company that helped with Republic's showrooms.

Looking to the future
Although the near future is a bit unknown, Republic is optimistic for continued growth and has a solid foundation to build upon. "We have a great system in place and Gary does a fantastic job leading it," Summers says. 
"Over the next 10 years, we would love to open more locations and see continued growth. We plan to continue investing in our employees and focusing on building vendor relationships that will last. Staying involved with LPG is important and will help us learn more about our vendor partners and reach these goals."