Each year, Supply House Times editors receive thousands of product releases from industry manufacturers. The 20 products highlighted here have earned the distinction of being PM's Top Products of 2021 based on the number of page views on supplyht.com. Congratulations to those products on this year's list.
No. 20: Milwaukee Tool ACR press jaws
Milwaukee Tool's new Streamline ACR press jaws and ring made in partnership with Mueller Streamline is an addition to the company's FORCE LOGIC line of press solutions that allows users to complete refrigerant line installations with a flame-free, efficient alternative to traditional brazing, Milwaukee Tool notes. The jaws and ring are designed for the full range of Mueller Streamline ACR press fittings from 1/4" to 1 1/8" and are compatible with the MILWAUKEE M18 FORCE LOGIC press tools. Milwaukee Tool. www.milwaukeetool.com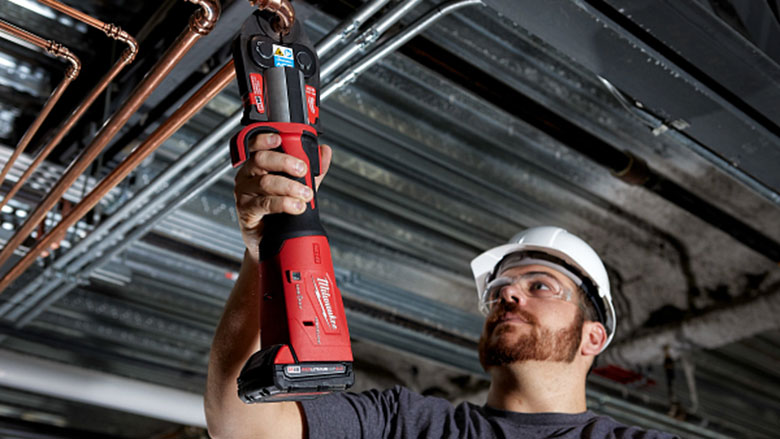 No. 19: Hitachi mini-splits
Hitachi's new line of mini-split systems feature vector DC inverters to achieve high performance energy efficiency, the company notes. These inverters cool with maximum capacity at start-up, then automatically slow down and operate at minimum capacity to maintain room temperature at a comfortable level. This reduces energy consumption by up to 62%* compared to non-inverter levels. A special microchip that is pre-loaded with the compressor's data will constantly monitor its operation while running. This helps the unit to adjust the amount of energy needed by sending accurate instructions to the compressor to achieve the optimal rotation speed and avoid unnecessary power waste, Hitachi adds. Hitachi. www.hitachi.com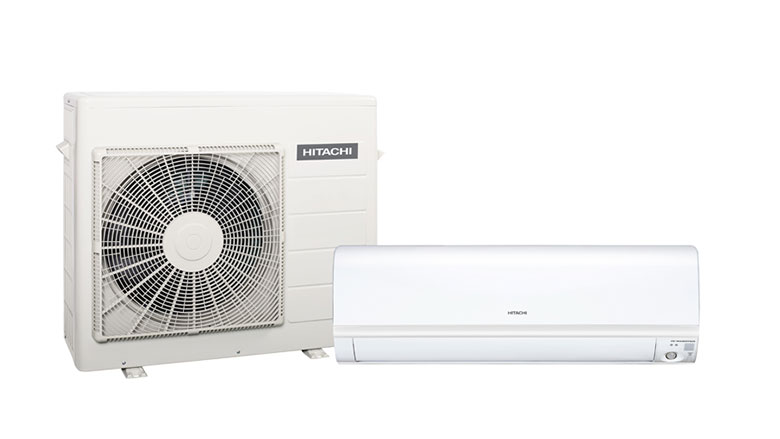 No. 18: Kohler Tone kitchen faucet collection
With clean lines and a soft teardrop base, the Tone kitchen faucet collection features a fresh take on mid-century modern style, Kohler says. The collection comes in several configurations, and combines minimalism and warmth, making it the perfect fit in any space, Kohler adds. The Tone Collection is also available in a new two-tone finish option. Kohler. www.kohler.com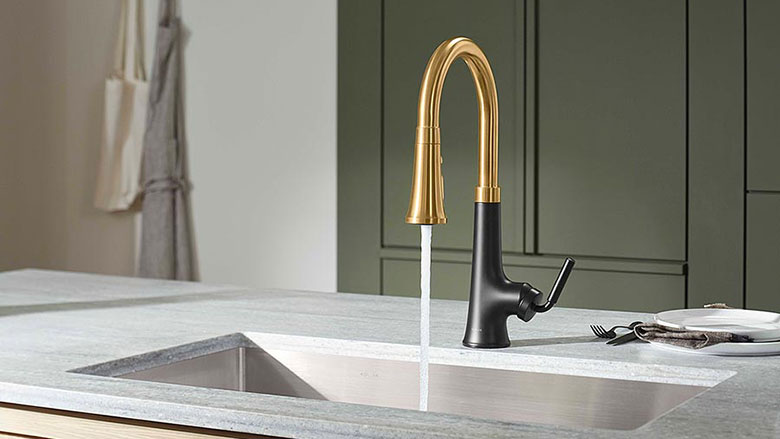 No. 17: Rheem ProTerra Energy-Star certified water heater
Rheem's ProTerra with LeakGuard is an Energy Star-certified water heater, and is the industry's only hybrid water heater with built-in leak detection and auto-shutoff that limits water loss from the tank to no more than 20 ounces, Rheem states. ProTerra is over 400% more efficient compared to standard electric tank-type water heaters available today, Rheem adds. Rheem. www.rheem.com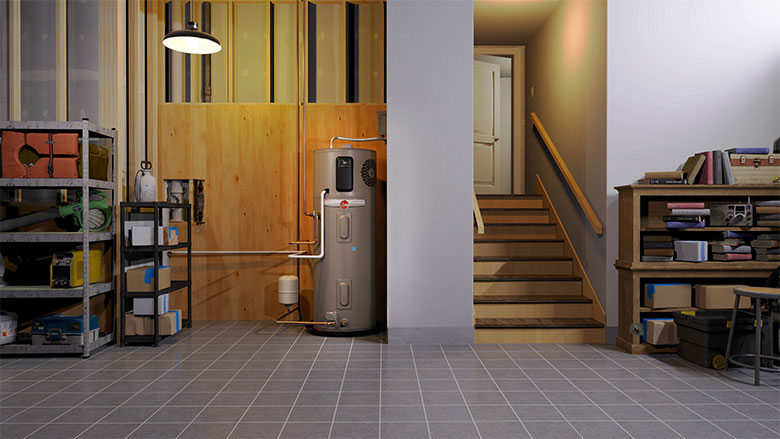 No. 16: TOTO Washlet 
TOTO's WASHLET C5 offers an elegant, clean-line design. Its easy-to-use remote control provides an illuminated touchpad. This electronic bidet seat uses pure, clean water – and myriad technological innovations – to make users cleaner and more refreshed than ever before, TOTO states. EWATER+ automatically cleans the wand inside and out, before and after each use. TOTO. www.totousa.com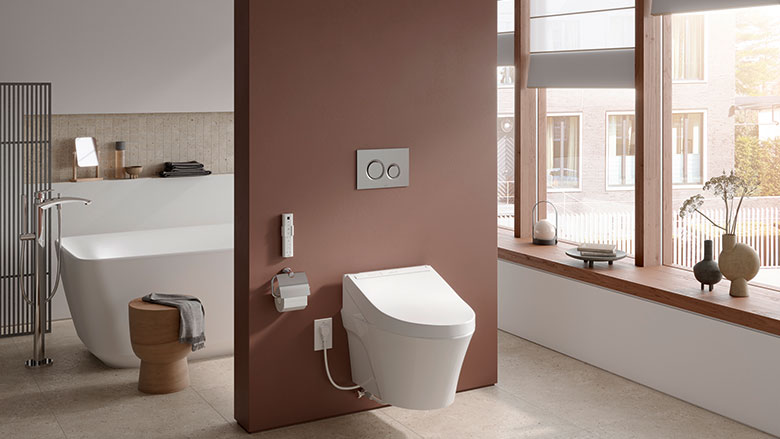 No. 15: QuickDrain shower bench
The new QuickDrain shower bench balances elegant style with universal design and accessibility, QuickDrain points out. The bench accommodates the ADA standards for height and exceeds ADA weight guidelines of 250 pounds. Available as a rectangle bench, and large or small corner bench. Custom sizes available upon request. QuickDrain USA. www.quickdrainusa.com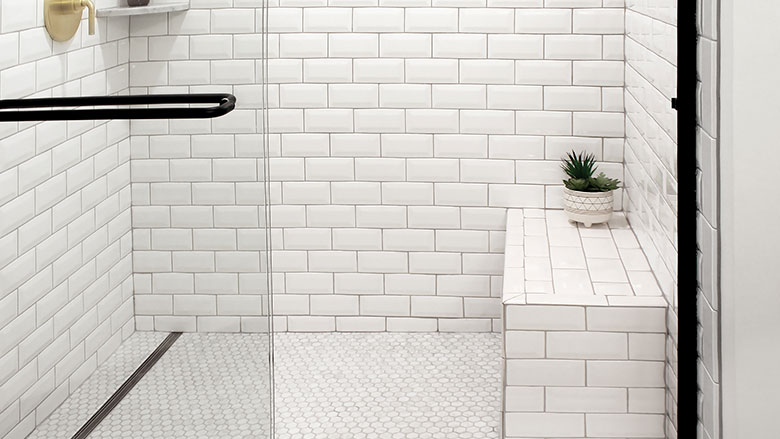 No. 14: Rinnai hydronic air handler
The Rinnai hydronic air handler systems connect seamlessly to select Rinnai tankless water heaters to deliver efficient home heating and domestic hot water simultaneously in one complete system. The system saves energy, compared to traditional furnaces, when integrated with Rinnai's highly efficient tankless water heaters, Rinnai states. The air handler can also be configured to work with AHRI-certified cooling solutions, including indoor cooling coils and outdoor condensing systems. Rinnai. www.rinnai.us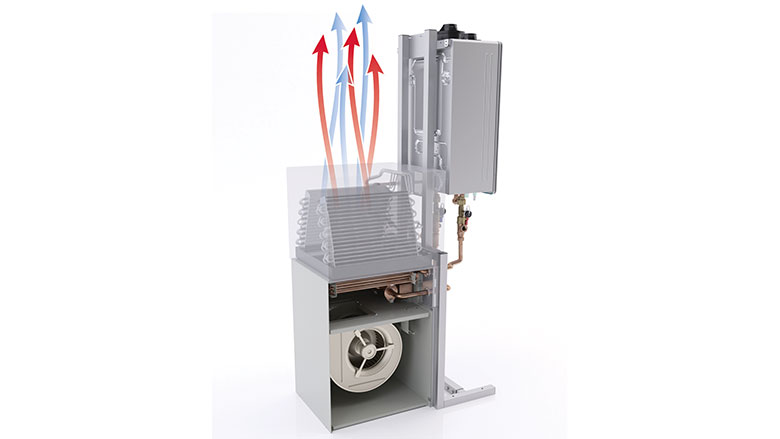 No. 13: Viega ProPress Copper line
Viega's ProPress Copper line offers more than 400 different fitting configurations and is approved for more applications than any other copper press fitting system. It is available in sizes ½" to 4". Three different sealing elements are available to use in ProPress systems to perform in hundreds of applications: EPDM, FKM and HNBR. ProPress also has Smart Connect technology which helps identify unpressed connections. Viega. www.viega.us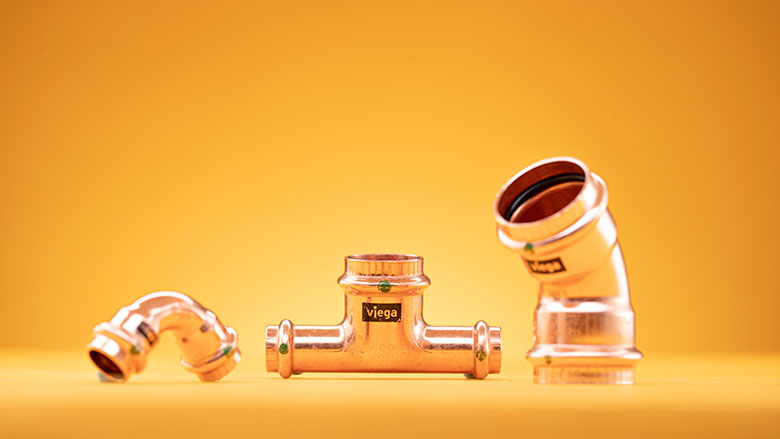 No. 12: Hilti cordless press tool
Hilti's NPR 32 cordless pipe press tool helps securely and efficiently connect large metal pipes, the company notes. With a long travel, it eliminates the need for an expensive and bulky booster when working with stainless steel or black steel pipes over 2". Designed with a well-balanced pistol grip and 350-degree head rotation, it offers convenience and maneuverability when working with large jaws in the most challenging of locations, the company adds. HILTI. www.hilti.com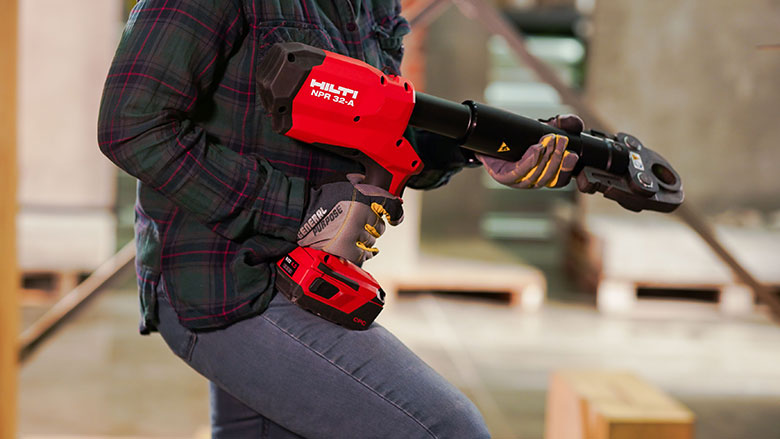 No. 11: Watts whole home filtration system
Watts has introduced its Big Bubba S100 complete whole home filtration solution. This certified point-of-entry system gives plumbing contractors a solution for homeowners concerned about lead, PFAS, cysts and chlorine taste and odor in their drinking water. Big Bubba is certified to reduce 99.62% of lead and 98.26% of PFAS in drinking water (at maximum of 4 gpm). It is also certified to reduce cysts, chlorine taste, and odors. In addition, a volumetric flow monitor alerts the user when filter cartridge changes are due, and a high-capacity 0.5-micron carbon block filter (84,480 gallons) is included. Watts Water Technologies. www.wattswater.com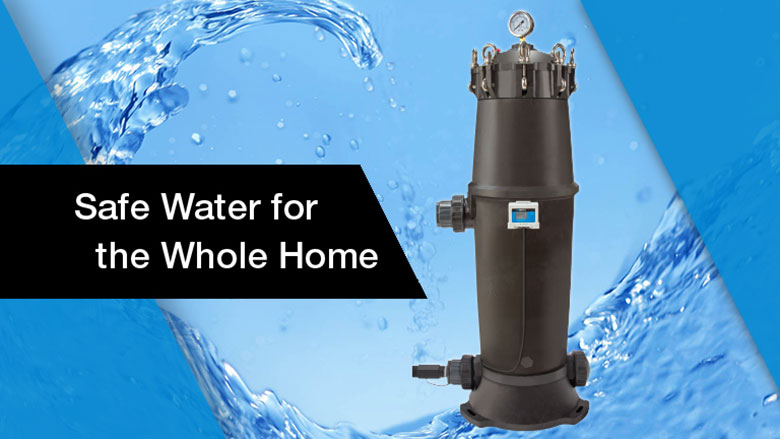 No. 10: Franklin Electric Little Giant Pit+Plus package
Franklin Electric announced the launch of its 16G Series 1 HP grinder pump configuration for the Little Giant Pit+Plus package. The Pit+Plus package provides an all-in-one solution for light duty wastewater management, the company notes. Each package includes a roto-molded polyethylene basin — the pit — combined with the user's choice of Little Giant pump. The addition of the 1 HP option joins the already available 4/10 HP and ½ HP sewage pump choices. The basin is available in two sizes: the 24x24 JR or 20x30 SR. Franklin Electric. www.littlegiant.com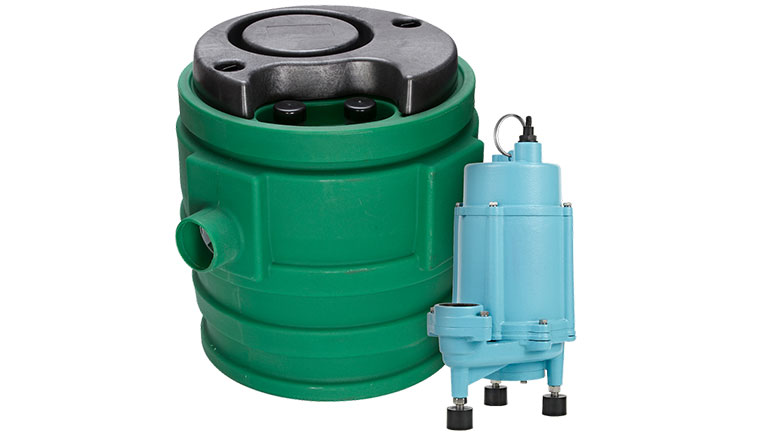 No. 9: Infinity Drain stainless steel shower base
Infinity Drain launched a standard 30"x60" Stainless Steel Shower Base for residential and commercial bathrooms. With over 42 SKUs for center or linear drains in a variety of drain placements, five finishes and seven styles – the Infinity Drain Stainless Steel Shower Bases can integrate for either curb or curbless (barrier free) showers, the company notes. The Stainless Steel Shower Bases are made from 304L 16 gauge stainless and arrive factory flood-tested and ready for installation with an integral drain, pre-sloped floor and primed for tile installation. Infinity Drain. www.inifinitydrain.com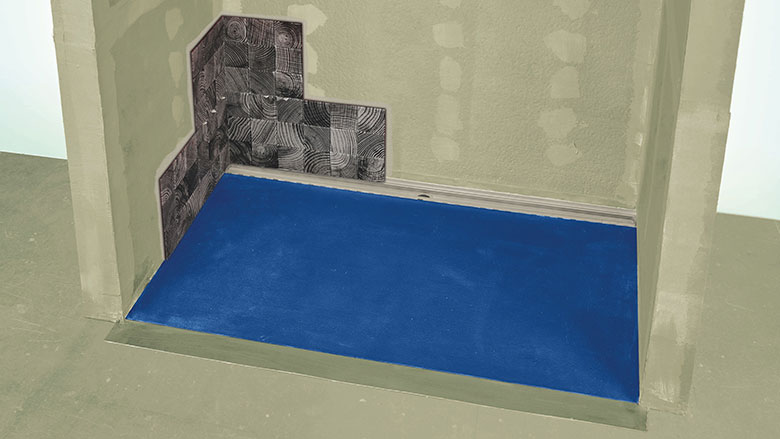 No. 8: Bradford White Infiniti L tankless water heater
Bradford White introduced the Infiniti L, the latest addition to the company's Infiniti series of reliable and easy-to-install ENERGY STAR-certified tankless water heaters. The Infiniti L includes venting and modulation, a 15-year heat exchanger warranty, Bradford White's Scale Reduction Technology, field gas conversion, integrated flush ports and top water connections, the company notes. The Infiniti L also comes with a built-in recirculation pump that provides instant delivery for an endless supply of hot water, which enhances the heater's efficient water use and reduces the time and materials required for installation, Bradford White adds. Bradford White. www.bradfordwhite.com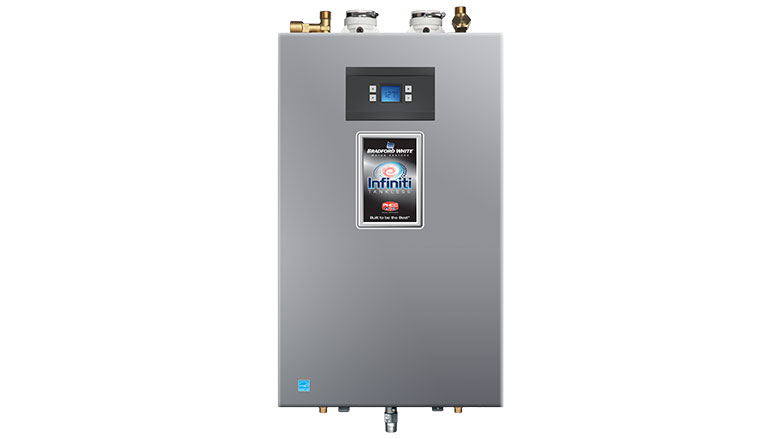 No. 7: Lochinvar reverse indirect water heater 
Lochinvar announced the introduction of the Reverse Indirect Water Heater to its expanding family of water heating solutions. This unit is currently available in a 125-gallon capacity for a variety of applications, both residential and commercial.
Providing up to 30 GPM of continuous hot water delivery, the Reverse Indirect Water Heater is designed for multi-family, commercial and large residential water heating applications using a hydronic system. Lochinvar. www.lochinvar.com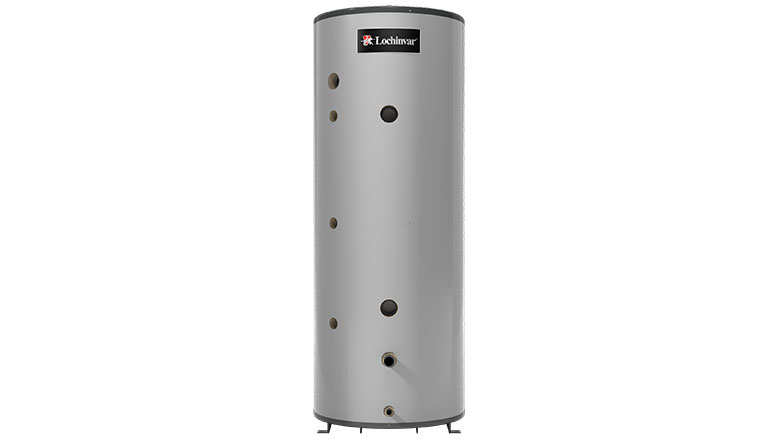 No. 6: MTI Baths' Adel freestanding tub
MTI Baths' newest freestanding tub, the Adel 2 features a design that fits into smaller spaces. This new tub not only makes smart use of limited quarters, it also offers an infusion of therapies, MTI Baths notes. The Adel 2 is a freestanding tub with clean, organic lines and a thin lip with integrated faucet deck. It is available as a soaker or air bath, both featuring ergonomic interiors for comfort and options to soothe the senses such as chromatherapy and thermal therapy. Measuring 57" x 31" x 22", the Adel 2 can easily fit into an existing 60" alcove. MTI Baths. www.mtibaths.com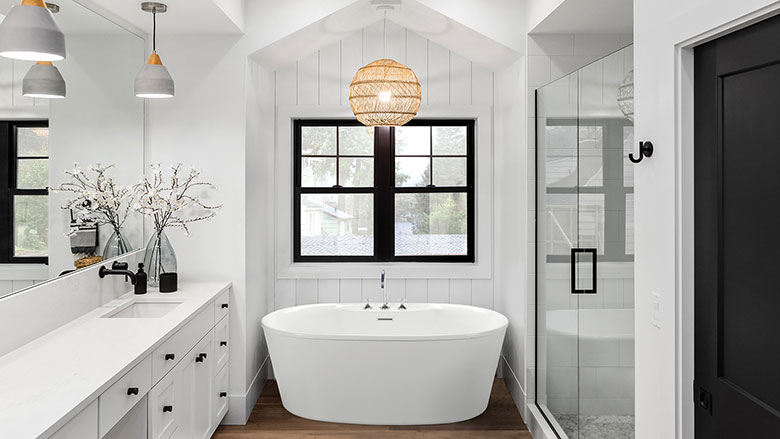 No. 5: Mansfield Plumbing Nyren bidet toilet
Mansfield Plumbing's Nyren is the companies first-ever toilet with a built-in bidet attachment. The toilet features an electronic seat equipped with a self-cleaning spray nozzle offering five adjustable spray positions. The toilet's washing functionality, including rear wash and feminine wash capabilities, reduces the need for toilet paper and offers users hygienic benefits not available with paper-only cleaning methods, the company notes. Mansfield Plumbing.www.mansfieldplumbing.com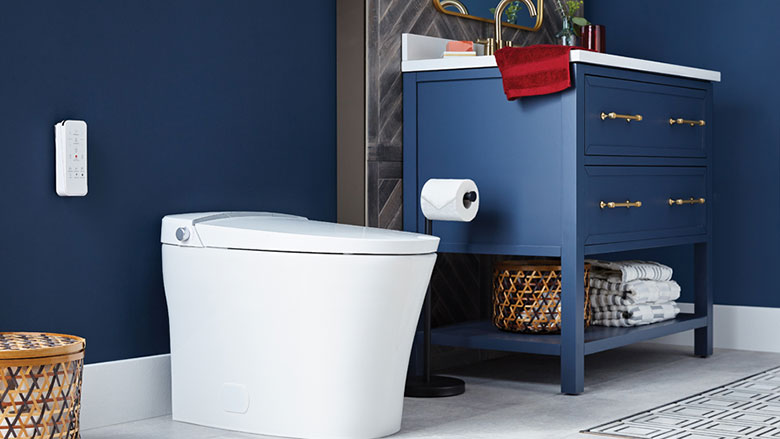 No. 4: Chicago Faucets' point of use system 
The new point-of-use water treatment system from Chicago Faucets adds a secondary defense to assist building water disinfection. Chicago Faucets BioArmor, a UV-C point-of-use water treatment system helps reduce the number of dangerous microorganisms such as Legionella in building water systems. The system is designed for long term, low maintenance performance with a lamp life rated for 3,000 hours or up to 5 years before replacement. Two independent chambers treat hot and cold water at the same time, up to 1.5 GPM, for convenience and efficiency, Chicago Faucets adds. Chicago Faucets. www.chicagofacuets.com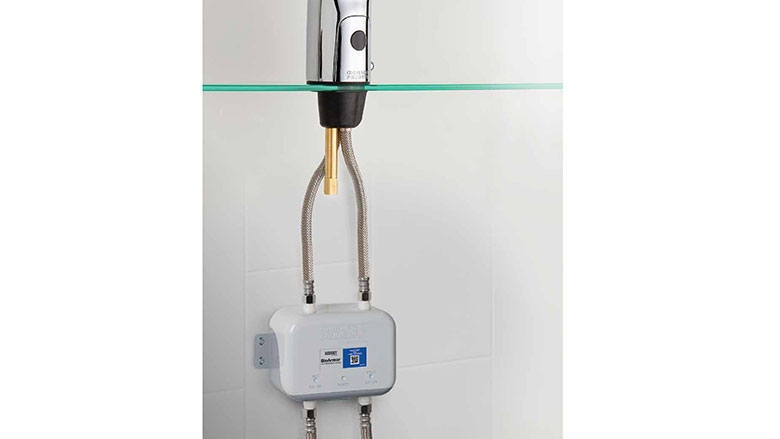 No. 3: Viega branded pressing tools
Viega now has its own branded pressing tools for use with its fittings: The Pressgun 6 and Pressgun 6 Picco. The tools, which are the first in North America to carry the Viega name, cost less than similar press tools from other manufacturers and are an affordable way for contractors to adopt pressing, Viega notes. Viega. www.viega.com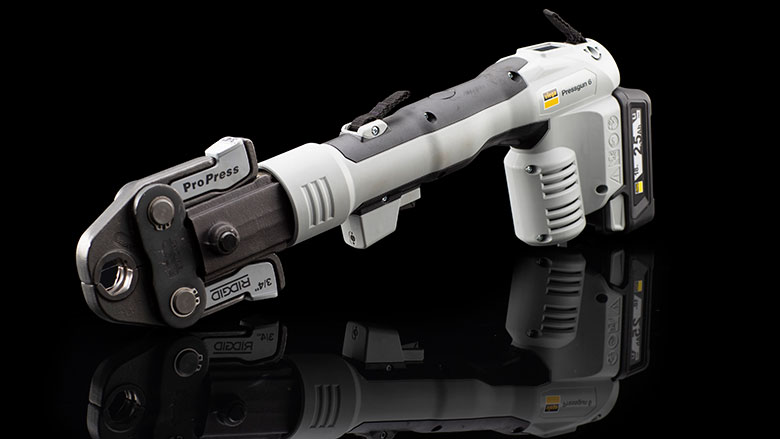 No. 2: Fluidmaster bidet toilet seat 
Fluidmaster's Soft Spa 9500 Bidet serves as a healthier, more hygienic way of cleaning up in the bathroom, the company notes. Front and rear cleaning cycles help remove more bacteria and prevent the spread of germs when compared to wiping with toilet paper. The bidet features a water temperature and pressure controls, adjustable dryer speeds, an ergonomic and a temperature-controlled comfort seat. The Soft Spa 9500 Bidet is offered at $400 MSRP. Fluidmaster. www.fluidmaster.com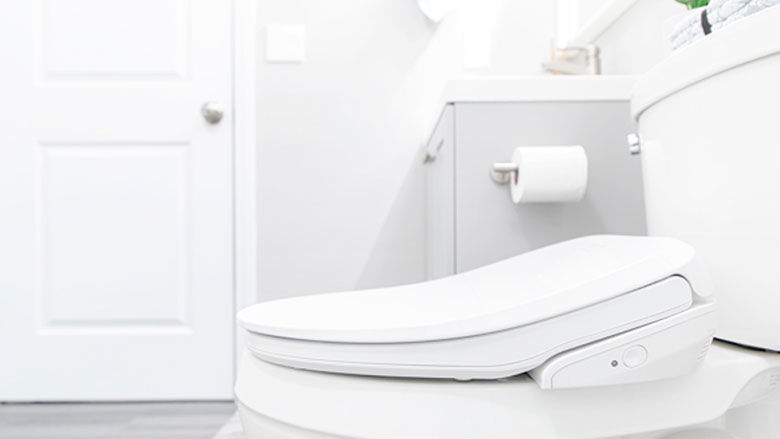 No. 1: Navien NPE-2 condensing tankless water heater
Navien's NPE-2 condensing tankless water heaters include a turndown ratio up to 15:1, advanced EZNav multi-line control panel with setup wizard, and 2" PVC venting up to 75', Navien notes. The NPE-2 continues to offer dual stainless steel heat exchangers, 1/2" gas pipe capability up to 24' and a patented ComfortFlow recirculation system with built-in pump and buffer tank (NPE-A2). Navien. www.navieninc.com