Market Sectors
Bath & Kitchen Trends
PHCP and PVF Company News
AD debuts Decorative Brands
"Decorative Brands emerged from the desire of AD members seeking support to achieve greater success in their showrooms and kitchen-bath store business."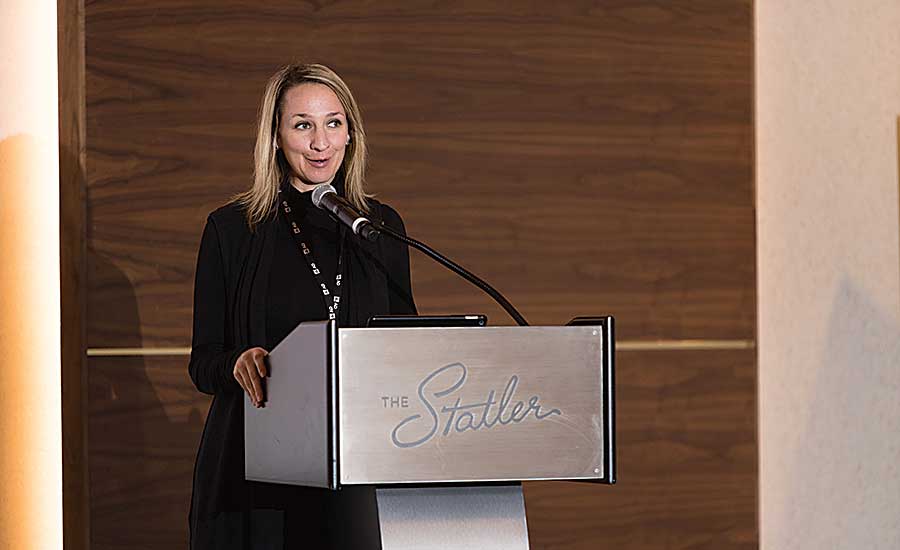 The AD buying and marketing group has never shied away from innovation.
Several years ago, the group underwent a massive rebranding, moving away from its former Affiliated Distributors moniker of 30 years, shortening that to AD and rolling out a new and impressive look with the tagline "Together, we win," a mantra that continues today. AD notes it has been living out the tagline by providing value and growth opportunities to both members and supplier partners.
In a historic moment in 2018, AD Chairman and CEO Bill Weisberg also announced the successful completion of becoming a member-owned group, a decision aimed at ensuring the continued strength of the group into the future.
But the innovation hasn't stopped there. AD's latest rollout is another big one. Its Decorative Brands division encompasses its distributor members that run decorative bath and kitchen showrooms.
AD Decorative Brands has held two national meetings since its inception, with its more formal kickoff event, complete with a supplier booth showcase, this past November at the historic Statler hotel in Dallas, Texas.
Supply House Times was invited to Dallas for an exclusive chat with Decorative Brands board members Katie Poehling-Seymour (COO Gerhard's/First Supply and Decorative Brands Division Board of Directors Chair), Jeff Wool (executive VP, Wool Plumbing Supply), Dan Kelly (executive VP, Thos. Somerville), Jeff Heksh (COO, Crawford Supply) and Tom Santer (vice president sales, FW Webb) about how the group started, the current decorative bath and kitchen landscape and what the group wants to accomplish.
How it all started
"Decorative Brands emerged from the desire of AD members seeking support to achieve greater success in their showrooms and kitchen-bath store business," notes Stephanie Ewing, AD's vice president, business development and marketing, U.S. and Canada PHCP divisions.
"The market research began after our members expressed an interest in AD leveraging our scale to support this rapidly growing profit center," she explains. "In 2016, we formed a member advisory council and began to build the business case. This was followed by the start-up of the division in August 2017 as approved by the AD corporate board of directors and plumbing divisional board directors. The governance was established with the divisional board of directors. Katie Poehling-Seymour was voted in as board chair. She and the rest of our board of directors have been outstanding leaders and champions to the kitchen and bath segment. It seemed the natural path to take."
Wool recalls sitting in AD Plumbing Division Network meetings where the topic of conversation always seemed to turn to showrooms. "We would end up spending an hour talking about the showroom business," he says. "There was so much energy and excitement in the room talking about showrooms that I realized at that point it would be great to have a focused showroom network group. Stephanie then shared AD believed it made sense to start up a division. It ended up being even bigger than I thought."
Heksh adds: "There were showroom divisions of AD members that were up double digits, but those vendors weren't part of AD. The group was missing that chunk of business that members had because we weren't able to pull it through AD."
"I don't think we understood the power of the numbers we had with showrooms and the amount of sheer locations, until the division was formed," Kelly says. "The scale of AD and its membership was evident in this channel."
Today, Decorative Brands has 25 AD distributor members operating more than 275 locations in the U.S. In 2018, AD's Canada Plumbing and Heating division members were invited to qualify as members. At the second annual meeting in Dallas, Montreal-based distribution heavyweight Groupe Deschenes and others from north of the border were in attendance. After the U.S. and Canadian integration is complete, Ewing notes Decorative Brands will have more than 300 locations in North America. The group continues to grow with new plumbing distribution members and showroom only members.
Heading up the Decorative Brands charge is someone who is no stranger to achieving decorative kitchen and bath buying group success. Linda Hoff came on board in 2018 as Decorative Brands director after building and developing a well-known decorative product buying group in the kitchen and bath space from the ground up a decade ago.
"AD showrooms have a long history in the kitchen and bath channel," Hoff says. "The members' spend is significant in this billion-dollar industry and collectively they have more than two-million feet of dedicated showroom space. The AD membership is very invested in the kitchen and bath industry."
Poehling-Seymour lauds Hoff's addition to the group. "Linda has brought focused leadership to the division," she says. "Her passion for this segment of the industry is obvious. She changed our dynamics by lifting us up a level — giving us a stronger voice at AD every day and partnering with Stephanie to get more done than we thought possible in our first year."
Supplier excellence
Today, Decorative Brands has 44 supplier partners with a 2019 focus on adding cabinetry, lighting, tile, living-in-place and special-services categories. "Now that we are a true North American division, we have an expanded target list of suppliers to support our Canadian membership," says Hoff, who notes another key initiative has been partnering with suppliers and industry associations to provide Decorative Brands members with exclusive training opportunities and CEU classes.
Ewing adds: "Our supplier strategy is to align with the most trusted brands in the kitchen and bath channel, as well as choose suppliers willing to work with our membership at a higher level — those that are committed to training, marketing and sharing the secrets of success with their brand. Our commitment is to do things differently as we have done across all AD divisions. Our members invest in the brands and work hard to become the best extensions of our manufacturers in their local markets — telling their story and sharing their passion with the end users."
Wool says the Decorative Brands mission spans several critical goals involving both members and supplier partners. "Networking and relationship building, and rebates and programs are all important categories," he says. "However, we don't look at ourselves as being here just for rebates. We are here for the programs, training, networking, and relationship-building AD likes to establish. Our mission is to develop strong relationships with good suppliers, network and leverage best practices in the industry like we've done with our other businesses."
How beneficial has Decorative Brands been to its members out of the gates? Wool points out he learned about improving his technology platform at a Decorative Brands networking meeting. "We've landed jobs because we integrated a tool that supports us now," he says. "I can attribute with 90% confidence we landed jobs because of things we've learned in these meetings."
Somerville's Kelly adds his company benefited by implementing a new approach to business that came from a Decorative Brands-meeting-based idea. "In the last six months, it created $150,000 in additional revenue to our showroom segment," he says. "One meeting. One idea."
Likewise, Gerhard's has seen positive gains since the Decorative Brands rollout. "Our partnership has helped solidify our relationships as well as bring new ones to us," Poehling-Seymour says. "Most significantly, we reimagined our AD Field Marketing Summit with a focus on decorative brands bringing better programs and accountability throughout our business. Plus, our people have attended a number of exclusive training opportunities we wouldn't have otherwise had access to this year. AD Decorative Brands has helped us elevate our status in our marketplace as the best professional kitchen and bath store, and be a better partner to our customers overall."
Going forward in 2019 and beyond, AD Decorative Brands' goals are simple. "Short-term, we're focused on growth," Poehling-Seymour says. "The kitchen and bath segment of our industry is on the rise as manufacturers are investing in their decorative products strategies and independent distributors are investing in their stores and people. We're all building fast and furious. Longer-term, we are building a foundation for the viability and sustained profitability of the segment. It's more important than ever that professional kitchen and bath stores assert themselves as the ideal destination for these products because of our knowledgeable people, innovative spaces, and access to best-in-class products and services."
Kelly adds: "Five years from now, business will be totally different, but having the AD team and our team of showroom distributors and supplier partners in the Decorative Brands division will put us in an impressive position to embrace change in a very positive way."

I want to hear from you. Tell me how we can improve.