Brooklyn-based Watermark Designs has announced the opening of its first Watermark-only European showroom, located in the heart of London. Called The Watermark Collection, the showroom is entirely dedicated to showcasing Watermark Designs products.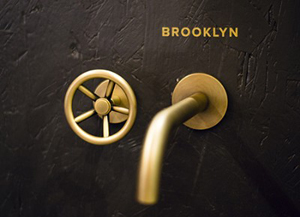 Watermark Designs' Brooklyn Faucet
Managing director Benjamin Peak approached Avi Abel, president of Watermark Designs on a trip to New York and they put together a plan for distribution across Europe.
"The timing to expand our Watermark brand outside of North America was perfect and Benjamin's approach to design together with his knowledge of the market and potential market in the UK and Europe was in line with what we had been thinking," said Abel.
Over the last year, Watermark Designs has introduced a number of new products; all of which will be available in North America and in Europe. Faucets and fixtures are manufactured to adhere to country-code specifics. Their newest collection, Elan Vital, is challenging what the industry knows about 'custom' as the entire faucet size, shape and finish can be customized to almost any dimension based on the customer's wishes.
"We looked at working with a number of manufacturers whose aesthetic was similar to ours," said Peak. "However, Watermark Designs commitment to their Brooklyn-roots and being authentically manufactured in Brooklyn really struck us as an important part, if not the most important part of their story and we are delighted to represent them here. Avi Abel and his team were accommodating and responsive throughout the entire process – making this venture a pleasure."
---
HELPFUL LINKS: