✕
Leave it to good ol' fashioned ingenuity. F.W. Webb recognized an opportunity during the pandemic that resulted in a new revenue stream and an influx of satisfied customers.
Headquartered in Bedford, MA-based, the hydronic, plumbing, HVAC and mechanical wholesaler giant, F. W. Webb, has grown substantially throughout the Northeast region through savvy management, strategic acquisitions, a strong supply chain, and clever outreach among buyers and specifiers.
A family-owned business with roots that date back to 1866, F.W. Webb has grown from a single location to more than 100 across nine Northeastern states while also operating more than 45 Frank Webb home bath, kitchen and lighting retail showrooms.
Ah, but you can't discount the prosperity that swells from innovation and ingenuity. Things got real interesting a few years ago when the Covid-19 pandemic brought the nation to its knees, spurring an enterprising, fighting spirit among a host of professionals at F.W. Webb.
PANDEMIC WOES
The pandemic resulted in hiring freezes, halted construction contracts,. Also: skyrocketing unemployment, drops in output and earnings, material shortages, and GDP contractions. Financial instability sent seismic tremors into all worldwide markets.
Long before the big ship got stuck in the Suez Canal, the pandemic initiated the supply chain crisis. In addition to all that, F.W. Webb's heating customers were also being asked to get into and out of their customer's basements as fast as possible when installing hydronic heating systems – a tall order for sure.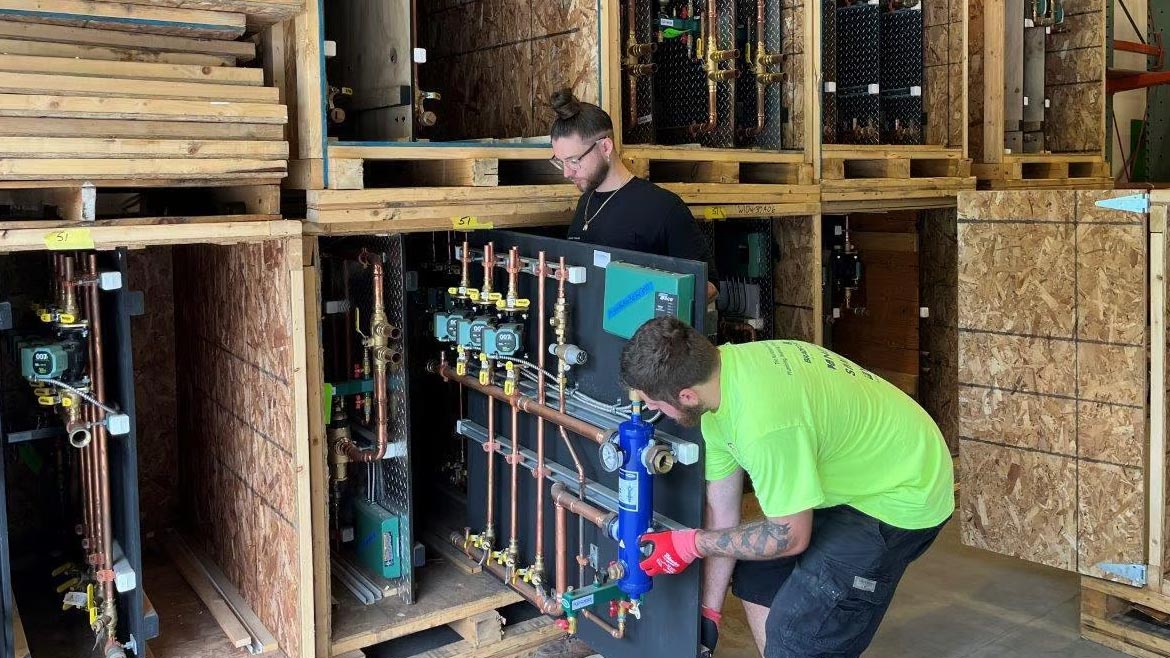 Amidst all of this, a team of smart folks at F.W. Webb nurtured an idea. The "components" of their interest were these:
Installers bemoaned the shortage of good labor – an entrenched challenge exacerbated by the pandemic – linked to the time required to do quality hydronic work. Yet, neat field assembly of hydronic systems requires the work of skilled technicians, and plenty of time to bring smart system designs to fruition.
Add to those challenges work that required loads of time within people's homes – when fears of contamination were at their highest. And builders being pinched for time by expedited schedules. It was a plumbing and mechanical installer's worst nightmare.
LIGHT SWITCH
"Putting those problems together became the light switch for us," recalled Mike DelConte, VP of heating and propane at F.W. Webb.
So the smart folks at F.W. Webb, led by DelConte and Augusta, Maine, General Manager Nick Pelletier, got together and talked about the challenges experienced by their customers.
"Earlier, some of our suppliers had offered preassembled panels, but those were either eliminated, required way too much time to construct, or were prohibitively expensive," said DelConte. "We asked ourselves: couldn't we do that?"
The discussions that DelConte participated in with teammates Pelletier, Greg Thompson, Eric Duguay, Pat Riley, Corey Post, Todd Hallock, Ryan Buniewski and others became a focus group of sorts, singularly attentive to helping their customers, both installers and specifiers.
"Gradually we saw a solution buried in the swirl of challenges that had the potential to be a win-win for everyone. The main questions became: Could we build preassembled hydronic panels? Who'd do the work, and where? Could we standardize on a few designs that could meet the greatest number of needs? And, could we also accommodate custom orders?" DelConte asked.
Dubbed the "founding fathers of boiler boards," the group knew F.W. Webb had the capability to acquire enough products, and they had the logistical prowess to make it happen.
REVENUE BOOSTER
Their research also showed that most installers billed by the job, or flat-rate – not by the hour for boiler or combi installs. That would allow turning a 2- or 3-day job into a single day at the same contracted price, and with the potential for installing contractors – F.W. Webb's customers – to double their revenue.
F.W. Webb managers knew it would be an attractive product. Their panels would allow more jobs in less time overall, with more time to profitably help customers with service and maintenance work.
Meanwhile, F.W. Webb's hydronic leadership group invited others within the company's broad network of branch professionals to help with their research. Said DelConte, "Before long, we were asking customers in many areas what their biggest challenges were, assuring them that we were working toward some solutions. There were all sorts of variations to the 'not enough time,' or 'too few skilled technicians' theme.
"Tied to those concerns, we could see success in offering solutions that would easily permit our customers not to lose revenue because they couldn't get to a job immediately, or ask their number one tech to take on another overtime job," DelConte added. "After all, if we could provide preassembled panels, contractors wouldn't need to send their best guy to handle a complicated installation because most of the piping, component placement and wiring was already done."
As supply chain woes compounded, the one thing DelConte, Eric Duguay, and others at F.W. Webb knew was that product availability would become the choke point. So, they began to buy larger quantities from manufacturers, knowing that the inventory would only appreciate in value.
"We knew there'd be demand, and that if we had the products on hand – take, for instance, Taco ECM circulators and their many other products such as zone valves, zone controls, air and dirt separators, heat exchangers – it would serve us well. Also: boilers, copper pipe, and ProPress fittings. Having all of these in stock would play an important role in solving some of the problems our customers were experiencing," he said. "The other part of that solution would be to use our growing product inventory to build pre-engineered preassembled, off-the-shelf solutions."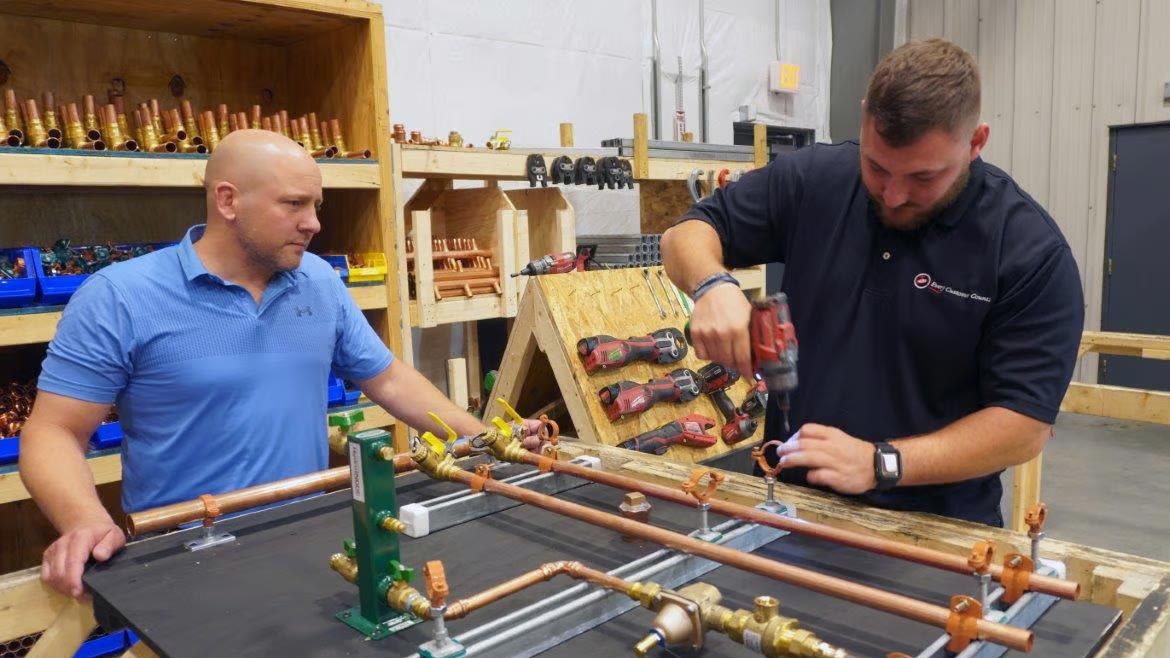 BUILD IT AND THEY WILL COME
So, as F.W. Webb began to take larger product deliveries from all over the country, the team formed a six-month pilot study. They looked chiefly at what their hydronic system specifiers and installers most needed for near-boiler piping assemblies, radiant heat distribution, and the most common designs for hydronic system layouts, ease of installation, ability to service, while also keeping hydronic water quality in mind.
These would soon become very important considerations as the effects of the pandemic wore on. Meanwhile, the "SWAT Team of Hydronic Ninjas" – the crew's new moniker – called for more inventory and more space at the branch chosen to bring the concept to fruition. F.W. Webb's Winslow, Maine facility was chosen, a clear choice as is it already housed the company's manufacturing arm with their Process Controls Division.
And so they began to build. The workspace initially cleared to accommodate panel construction grew. Before long, word of the well-crafted hydronic assemblies spread among installers. Sales pros spoke about them to specifiers, too. Before long F.W. Webb was shipping panels to other states.
As the story goes, installers would show up at one of F.W. Webb's counters, sweating out a commitment they made to customers, telling them that they'd be able to replace their leaking boiler system before moving on to a large job the next day.
"If we hadn't stockpiled the materials and product, or didn't offer the preassembled panels, those installers would have to call back to tell customers they were out of luck," said DelConte. DelConte also credits F.W. Webb's strong inventory and operational and logistical expertise – strengths spearheaded by F.W. Webb's SVP of Purchasing, Jeff Thompson, and SVP of Operations, Brendan Mognahan.
"We quickly learned that we could exceed customer expectations," added DelConte. They soon offered designs with Bluetooth capability, made possible by including a Taco 0018e circulator (among a variety of other Taco ECM and non-ECM circulators) coupled with zone controls and relays. "Installers could complete jobs before the sun went down and were handsomely rewarded for their efforts, too."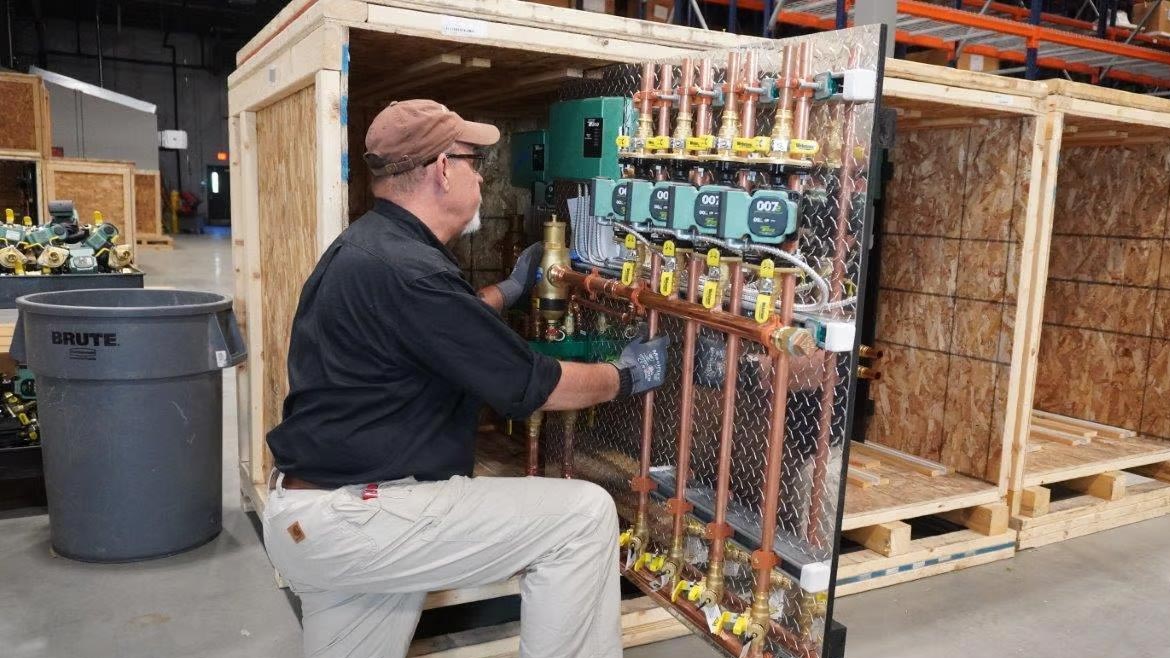 The key benefit of the 0018e's Bluetooth capability is that it allows installers to see the flow in real time, giving them the ability to precisely dial in their desired flow rate, making the system as efficient as possible.
The circulator offers real-time control, diagnostics and reporting, such as installation history, power consumption, performance and runtime. Installers can select between multiple constant speed, proportional pressure, and constant pressure modes including Taco's self-adjusting proportional pressure mode.
It wasn't long before custom orders came rolling in. One was for two panels, tied together to provide distribution and circulation for a 14-zone hydronic system with varying temperatures, including a heat exchanger to isolate a glycol loop for snow-melting. The installer received an initial lead time of up to five days, but the shop had both panels ready for pickup within 36 hours. Custom boards are manufactured by Pat Reilly (developer) and General Manager Greg Thompson at the company's Portland, ME location.
STRENGTH OF THE TEAM
"There's real value in our design flexibility," DelConte continued. "The panels can be built as companions for both cast iron and mod-con boilers. Our team assembles them all day long; we even have some installers who stock them."
"It all comes down to the strength of our team," insisted DelConte. DelConte referred to a study they conducted among installation and service contractors across the nine states in which F.W. Webb does business. A full 85 percent listed consistency with installation work among their top concerns:
consistency of installation work for primary-secondary piping
adhering to a specific circulation strategy
achieving a high level of hydronic water quality
proper low voltage wiring.
"Many contractors today are burdened with staffing challenges, tied in part to the labor shortage," DelConte said. "Clearly, the winning combination of people and skills is to have an abundance of technicians with proper training and field experience. But when all of those stars don't align, preassembled panels can play a valuable role."