Strike up a conversation about our industry and undoubtedly the discussion will lead to amount of great people we have. The PHCP-PVF supply chain is full of stand-up individuals in all sorts of roles. While we all joke that once you're in, you're in for life, these great people do eventually leave us for one reason or another, be it retirement, life change or something else.
In July, Bradford White Waters Heaters said goodbye to longtime Marketing Executive Carl Pinto as he set his sights on retirement. I've known Pinto since I first began in the industry fresh out of college, and he always made working with Bradford White welcoming and easy. He always showed his appreciation for the media, which is particularly refreshing for me.
I had the chance to chat with Carl during his last week and he shared some insight into what he's enjoyed most about his involved PHCP career.
"I have been blessed to learn from some of the industry's best when it comes to management, manufacturing, association relationships, regulatory and government affairs, and more.  There's seldom been a week where I didn't learn something new as a result of being in this industry and that in itself is very motivating," he says. "Aside from having built a solid Marketing Communications foundation and team here at Bradford White, my favorite 'reward' really comes down to serving our industry and customers and building wonderful relationships and friendships from those interactions."
Pinto points out that Bradford White CEO Bruce Carnevale often says, "do the right thing because it's the right things to do," and those words embody how he believes the company operates every day.
"Through my 10-plus years at Bradford White I've learned numerous things," Pinto says. "Our company's success is no accident and has been driven by two fundamental concepts. First, listen to your customers. Do that and respond accordingly and good things will happen. I am proud to say that I believe we take that to heart every day, no matter what circumstances we face. When that's how your leadership is wired, it makes your job a lot easier and your company that much greater."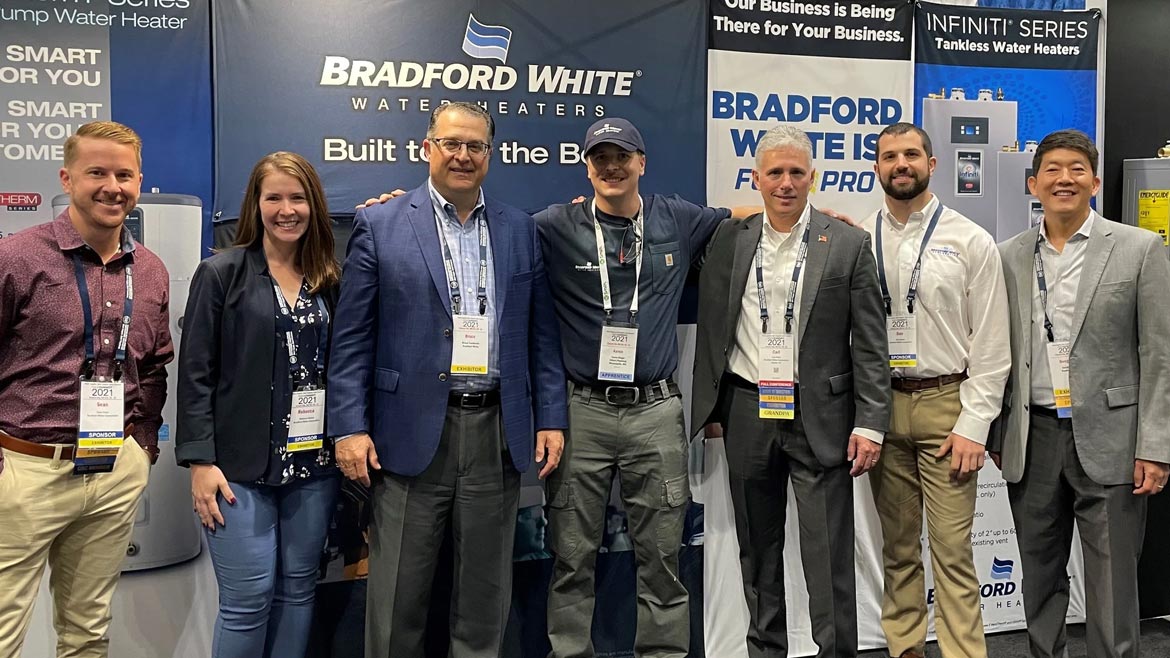 Pinto has long been involved with the American Supply Association (ASA), PHCC and other industry organizations. He says investing time in these organizations is key to elevating our severely underrated industry.
"The plumbing and HVAC industry is unfortunately, grossly underrated when it comes to its status in the eyes of the general public. From what we do as an industry in supporting the comfort, health and well-being of humankind to the tremendous array of careers we offer, our industry's companies and organizations need to keep fighting for the elevated public status that I believe is rightfully and deservedly ours," he says. "The best way to do this is by getting involved and supporting the many voices of our industry organizations."
ASA thanks both Pinto and Bradford white for their commitment and investment to bettering the industry. "Carl Pinto embodies what this industry is all about: He's simply a great person who has been an outstanding industry steward over the years and, like all at Bradford White, a champion of wholesale distribution," says Mike Miazga, VP sales an operations, ASA. "Carl is a long-time friend of ASA who will be missed in this industry. I wish Carl nothing but the best in his retirement."
Elicia Magruder VP, business development, PHCC echoes Miazga's sentiment. "I have had the privilege of working with Carl since he joined Bradford White. Throughout our journey together, I have seen his unwavering dedication and commitment to his company, its customers and partners, and this industry.  His energy and passion are boundless, and the impact he has made both within Bradford White and the industry will be long remembered by his colleagues and friends. I know in my heart that wherever his next adventure leads, whether it be climbing mountains or finding his next new joy, my friend will go with the same 'all in' attitude that he's given this industry."  
PHCC President Dave Frame, chairman and CEO of Bob Frame Plumbing adds that PHCC is thankful to have had Pinto serve on PHCC's board during instrumental COVID years.
"PHCC was very fortunate to have Carl Pinto serve on our Board of Directors from 2019-2021. During that time Carl shared very helpful perspectives of the industry from a manufacturer's viewpoint. Serving on the board when COVID impacted us all beginning in 2020, he suggested many ways we could work together to make sure contractors had access to the information they needed and the support they could count on," he says. "In addition, he has been instrumental in supporting the development of workforce development resources that are benefiting the industry as a whole. We wish Carl the best of luck in the next chapter of his life." 
Industry friends from along the supply chain also point out Pinto's evident urge to serve. Alan Cohen, CPMR, VP of sales at Rich-Tomkins Co., says Pinto truly practiced what he preached.
"Carl frequently used the word serve when sharing his willingness to help.  Even in his farewell email, he mentioned 'it's been a privilege to serve all of you,'' he says. "Many can ask, 'How can I help?' But few listen to the reply as intently and seriously as Carl. He challenged himself, his department, and his company to be better. He sought out input and opinions for improvement.  And, again, he listened.  We all preach, learn through listening. But, Carl lived it."
Within Bradford White, Pinto is known for being a quick study, a humble leader, a mentor and more.
"It's truly been a pleasure working with you. We started a week apart, and to see the transformation of the MarCom department that has taken place under your watch is amazing," says Kieran Young, sales manager, Bradford White. "I hope you relax and smell the roses. Enjoy the next chapter!"
Senior Director of Product Management Louise Prader adds, "You are the first person I met at Bradford White. From that day to now, you've been a great mentor to me (and many at Bradford White). You've left an indelible mark on our company and our industry. You deserve to be very proud of an amazing career. Congratulations on your retirement!"
Sara Morris, training coordinator at Bradford White says, "Leaders like you have the ability to make lasting impact on their organizations. I am lucky to have met you and been able to join the rest of the Bradford White team in receiving and learning from your leadership."
Greg Eynon, senior VP Bradford White says, "All the best in your next adventure. It's been wonderful working with you over the last 10 years. Your work ethic, compassionate leadership style, and genuine love for Bradford White and our customers will have a lasting impact."
So what's next for Pinto as he enters retirement? He says first and foremost, more time with family is a top priority.
"I'm looking forward to spending more time with my grandchildren whose numbers recently reached six. They do a good job of grounding me in terms of what's most important in life. I'm also going to travel a bit and then I may look to re-engage on a professional level. I feel like there's something left in the tank, perhaps another career chapter to be written, so we'll see where it lands in the months ahead!"