The Great Ideas Roundtable session at NETWORK2022 in Chicago was a popular place to be. I usually try to sit in with a table to hear first-hand what hot-button topics come up among distributor, rep and manufacturer members, but this year's session drew such a large crowd that I didn't want to take a seat from a participating member. Luckily, each table named captains who summarized the great ideas at their table and sent that information over to ASA's team to compile a report.
Each table was asked questions related to three important topics: Innovation, attracting and retaining top talent and dealing with a turbulent economy. I'll summarize some stand-out points from the roundtable report below.
INNOVATION — ALL ABOUT AI
During the innovation discussion, participants were prompted to discuss how Artificial intelligence (AI) is impacting/is going to impact business. The consensus was that AI is accelerating at a rapid pace in operations from e-Commerce, trucking and product delivery to machine learning.
Although our industry is 10-15 years behind when it comes to AI and data utilization, the participants emphasized how vital AI is for productivity. The report states, "Using AI in operational excellence can expand worker productivity in supporting workers, evaluate efficiency and cross training," and "AI gives the ability to suggestive sell."
The roundtables also discussed automation, both in the warehouse and general operations.
"Warehouse automation is growing as distributors are looking more at the pick and pack features," and "Automation in Financing: Bill Trust and SparxIQ operate in this space," are two tidbits from the report.
ATTRACTING AND RETAINING
The participants were asked how they are attracting and retaining top talent, how they are dealing with quiet quitting, wage inflation, worker shortages and measuring effectiveness of remote workers.
Ideas for attracting talent ranged from video content and social media marketing to utilizing recruiting services. When it comes to retaining top talent, it's clear that offering more competitive benefits than ever before, prioritizing company culture and offering flexibility is vital to success.
Some great ideas for attracting and retaining include:
"Create your story through video. Strongly consider using a professional firm/consultant to make a video leveraging your employees;"
"Leverage social media with employee testimonials;"
"Make sure that your teams are compensated consistent with industry standards…maybe increase pay and benefits to attract better talent. Remember, they can leave if comp and benefits only reason they came; someone will always pay better;"
"Carefully onboard to make sure of fit…its ok if the new hire doesn't stay…better than investing too much in someone that won't work out;" and
"Allow as much flexibility as possible for roles that allow for it."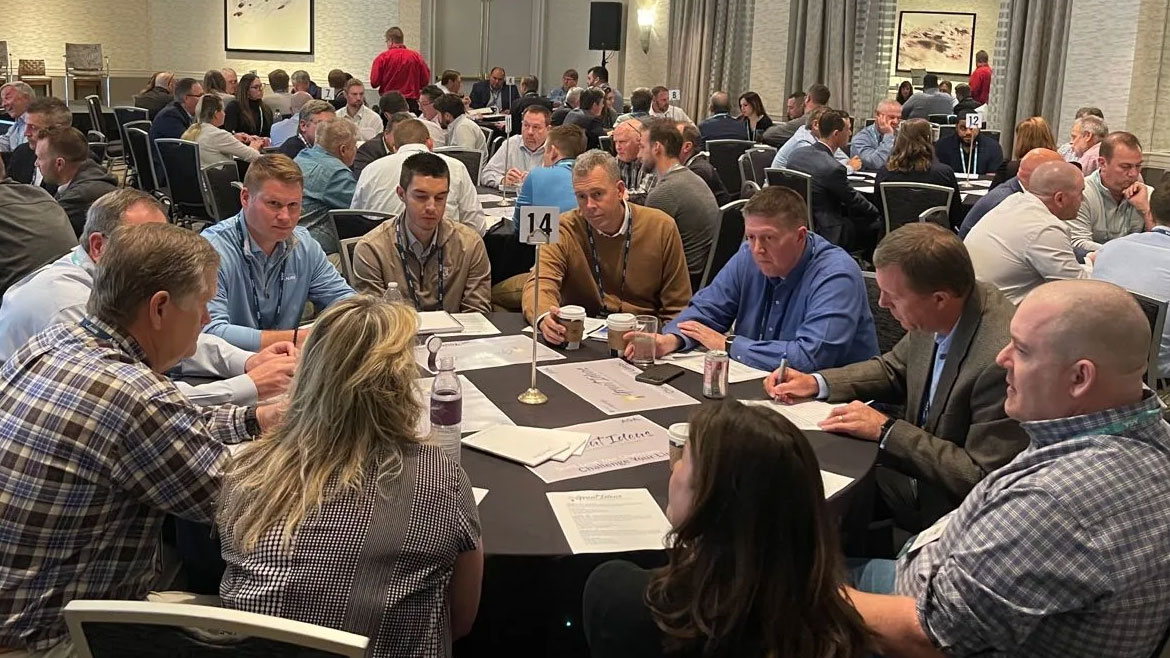 THE TURBULENT ECONOMY
Lastly, the roundtable participants were asked how inflation is impacting their companies, how they are handling situations such as job quitting during unpredictable pricing and non-reliable product availability, and passing along surcharges to customers.
Some participants noted that inventories and availability are both high, and many are looking to lower inventories with product availability improving.
One participant said prices are softening and suggested holding off on stocking up on commodities since prices are declining. Others are holding off on hiring while inflation is such a big factor.
Participants said inflation and fear of recession are not significantly affecting the industry outlook, but you need to keep a close eye on it.
One participant cautioned, "Don't make knee-jerk reactions; have thought out and measured responses to disruption."
Another hot topic during the economic discussion was navigating transportation challenges has labor is scarce and costs are high. Participants had these great ideas to share:
"Bringing fuel on-site to provide greater control or looking at fuel programs to get rebates;"
"Make proactive calls to try and fill out trucks;" and
"Salespeople make mall deliveries with calls."
In a room full of industry-leading distributors, reps and manufacturers, great ideas are inevitable. The above are just a handful of great ideas tossed around in Chicago. Throughout this year, be sure to take advantage off any and all networking and roundtable opportunities to be the first to hear what your peers are doing and come up with some great ideas of your own.