✕
The global radiant heating and cooling systems market value is expected to increase by $2.21 billion by 2026, with the market's growth momentum accelerating at a CAGR of 7.32%. According to experts in the radiant controls space, demand for smart connected homes, the popularity of PEX and the increasing use of heat pumps are the driving factors of radiant growth.
Although radiant heating and cooling has been popular for years, according to Justin Churchill, residential segment manager at Uponor, there is a ways to go when it comes to radiant controls functionality.
"Most traditional radiant controls lack basic smart home functionality. The thermostats are only capable of managing one radiant zone and only manage the radiant portion of a climate control system, leaving a gap for controlling forced-air systems that typically also exist in the structure," Churchill says. "Uponor recognized this gap and recently launched the Smatrix Pulse multizone wireless radiant and air-side control system. Smatrix Pulse wirelessly integrates radiant heating and forced-air heating and cooling systems in multiple zones throughout a home."
Shivani Khera, marketing campaign manager at tekmar, a Watts brand, adds that more sophisticated radiant controls have made their way into the middle-income market. "For decades, radiant heating has been popular among home owners and builder/remodelers. It's seen by some builders as a premium feature, and though it emerged as high-end space heating, it's made its way into the middle-income market," she says. "These days, there are plenty of examples of tract homes, and even modular homes, they provide exclusive, or partial use of radiant heat."
Jan Andersson, president of MrPEX Systems, points out that most modern thermostats have a radiant control feature, but there are features these systems still lack. "Most thermostat companies now have a radiant control feature built in allowing floor sensors to be included from a radiant zoning standpoint," he says. "However, the market is still lacking baseline products that have the ability to integrate forced air and indoor air quality controls."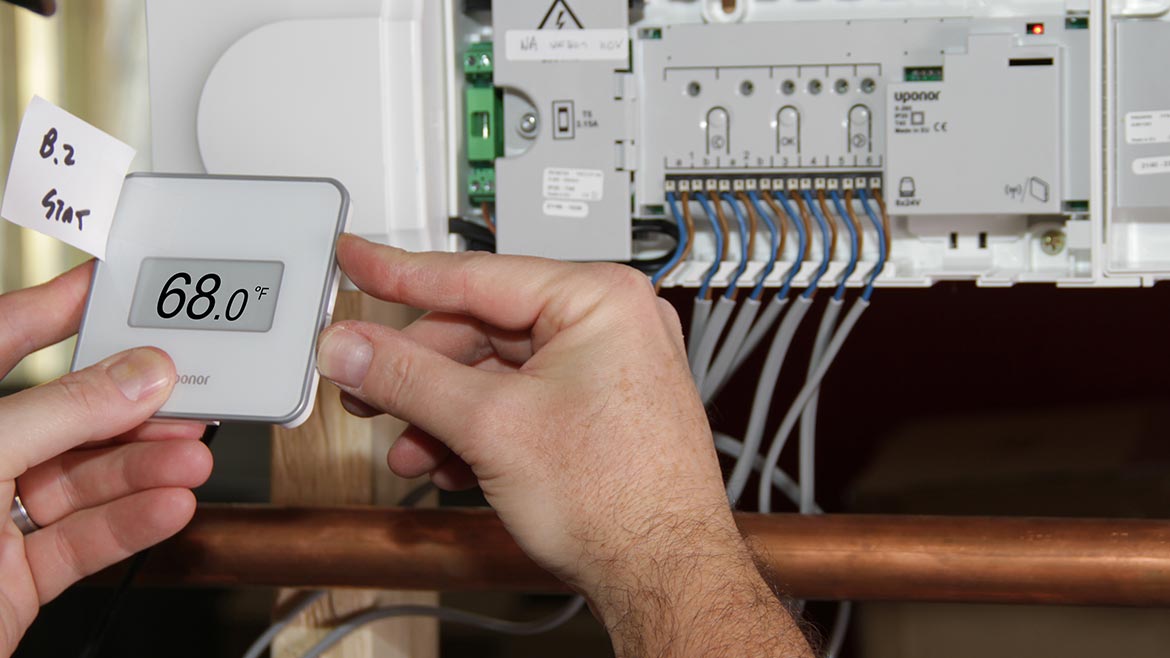 SIMPLE, EFFECTIVE, SMART
When it comes to end user and contractor needs, radiant controls manufacturers need to provide reliable solutions that seamlessly integrate with other technologies in the home.
"Contractors mostly use simple thermostat strategies, but with more and more complicated systems and technologies, they are asking for an easier way to integrate everything into one control package," Andersson says.
To no surprise, ease of installation is and reliability are two top concerns for contractors as they install new radiant controls. "Contractors want reliable solutions that are fast and easy to install while also providing the performance their customers – the homeowners — demand," Churchill explains. "Homeowners want smart home technologies and energy-efficient systems that are simple and intuitive to operate."
Khera agrees, adding that supply chain issues have made it difficult for contractors to keep up with demand for radiant controls. "Contractors have been struggling with supply-chain problems from all manufacturers for the last three-years. Demand for products and technology have over-stripped supply, requiring contractors to find new products from suppliers that have been able to deliver the goods."
According to Churchill, smart, connected technology is becoming the standard that homeowners demand, and manufacturers are stepping up to create controls that are compatible with smart home systems. "With Smatrix Pulse, contractors can install faster and easier without the time, cost, and hassle of wiring thermostats, and homeowners can enjoy the ultimate luxury of both radiant and air-side comfort with one system that connects to a smart home assistant and can also be controlled remotely via an app."
Khera notes that many homeowners may not be away of the controls available on their thermostats. "Smart thermostats are popular but surprisingly not all of them get connected to the Internet by homeowners," she says. "It's possible that some users are not made aware of the Internet features by their installing contractor."
Andersson says technology in radiant controls market will only become more sophisticated and more integrated with other smart home systems. "The entry of more and more wireless controls has opened the door for the integration of not only the HVAC needs, but also connected smart components such as leak detection, smart relays, smart plugs, door sensors etc."
A TRANSITION PERIOD
Homeowners are becoming increasingly aware of the energy savings radiant systems offer. According to the Department of Energy, a radiant heating system can save homeowners anywhere from five to 30% on their energy bills.
According to Khera, the societal focus on sustainability has created a couple of niches within the radiant market.
"Both geothermal and air source hydronic heat pumps are established niches within the radiant controls market. The market is now in a transition period with boilers being replaced by heat pumps. This was apparent at the recent AHR Expo 2023 in Atlanta where many manufacturers, sales reps, wholesalers and contractors were seeking new heat pump solutions," she says. "Heat pumps offer the possibility to add cooling to some hydronic space heat and domestic water applications. This presents many new opportunities for radiant controls."
Churchill agrees, adding that manufactures are preparing for climbing demand as sustainability goals increase nationwide.
"From solar to wind to geothermal, sustainable energy sources are continuing to expand," he says. "And with more homeowners discovering the energy-efficient comfort of radiant — which works well in conjunction with these sustainable energy sources — interest will continue to grow, and technology will continue to evolve to provide more solutions to meet the demand."
As many jobs transition to heat pumps and demand for radiant heating systems rises, contractors are still facing labor shortages with no end in sight.
Radiant controls manufacturers are offering in-person training, self-directed online learning, webinars and mobile app troubleshooting to help contractors learn about radiant controls faster and ease installation.
"Uponor has focused on creating a solutions that allows contractors to place thermostats anywhere without the time, cost, and hassles of installing thermostat wires," Churchill says. "Plus, our system offers an app that includes an Installation Wizard which walks contractors through the installation process step by step. Because the Wizard can be accessed from the app without the need for an Internet connection, it is extremely useful in new construction projects when homes do not yet have Internet connectivity."
NEW TECHNOLOGIES AHEAD
Demand for radiant controls is not slated to slow down; these experts only predict more sophisticated technology with higher levels of flexibility and integration.
"Smart, connected systems will continue to increase in the market, and technology will continue to evolve to offer greater energy efficiencies based on homeowner patterns and use," Churchill explains. "Innovations will also expand to provide greater flexibility to integrate building automation systems as well."
Andersson predicts that features from the more advanced radiant control packages will trickle down into the simpler systems. "Radiant controls will continue to become more popular and be more affordable," he says. "Broader control capabilities will become available even for simpler systems."
Khera anticipates new developments with radiant controls operating hydronic heat pumps. "Another emerging area is machine-learning: A technology that automatically detects and notifies contractors of equipment problems."