The American Supply Association's Fred V. Keenan Lifetime Achievement Award is the highest honor that can be given to a member of our industry's national trade association.
Not an annual award and one that is voted on by a special selection/nomination committee, the Keenan award is presented to individuals with a long history of service and dedication to the PHCP-PV industry. To be considered, individuals must have exhibited strong influence on the current status of the industry, project a positive industry image, be responsible for positively affecting the industry in general, and have provided a history of dedicated service to ASA.
And boy did the selection committee hit it out the park with this year's nominees: First Supply Chairman Emeritus Joe Poehling (a former ASA president) and InSinkErator Vice President of Wholesale Supply Joe Maiale. Both will be honored at ASA's NETWORK2021 in Las Vegas Nov. 10.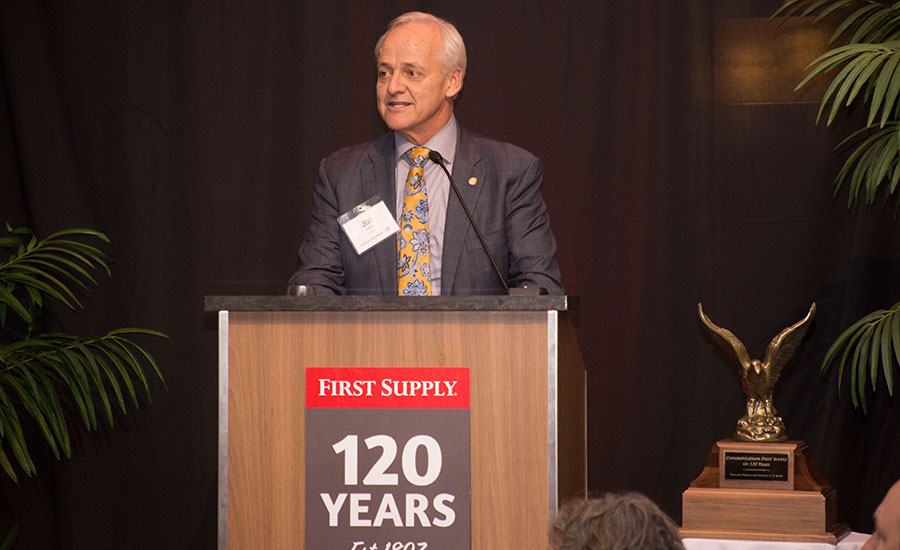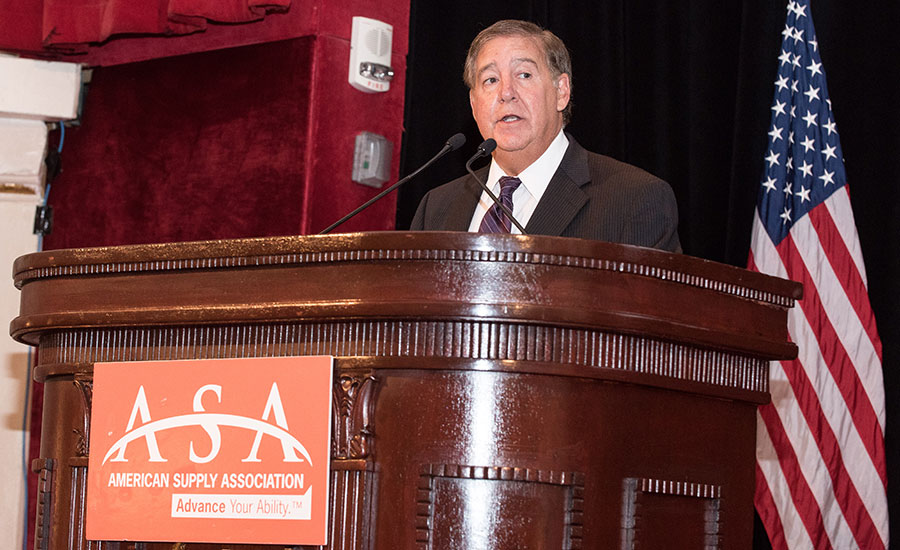 Prior to penning this, I wrote a story about Joe and Joe for the new edition of ASA's quarterly ASA Review publication, but was left with a ton of additional thoughts from folks about these two industry legends.
Before I get to those, a couple of anecdotes from my interactions with Poehling and Maiale over the years. My first big interaction with Joe Poehling came when First Supply and Kohler opened the first-ever Kohler Signature Store in the Minneapolis-St. Paul suburb of Edina, Minnesota. This was the first of the now many Kohler Signature stores to open across the country (First Supply now operates four of these stores in four states).
During the grand opening party event that was filled with people and was chaotic with all the hustle and bustle going on, Poehling still made time for me and filmed a video about the store's concept and what it meant for First Supply to open it. I'm sure if you searched the Supply House Times' YouTube channel you will be able to find that video.
Fast forward to First Supply's big 120th anniversary vendor gala in Madison, Wisconsin in December 2017 (boy, was it cold that night), and Poehling again took time out of his busy schedule to sit down "backstage" for nearly an hour to chat with me. If I can find the audio file from the night, I will post it. Some great business insights included there. I have to say this was one of my favorite interviews I have done.
My first big interaction with Joe Maiale came at ASA's offices in suburban Chicago when I did a story on the continued great things ASA's Education Foundation was doing. My interactions with him that day made it instantly clear why continues to be revered throughout our great industry.
Both Joes have made tremendous impacts over the years when it comes to ASA's progress. Poehling served as ASA president in 2009 and chairman in 2010. He also played a key role in the advancement of the Karl E. Neupert Endowment Fund. Maiale is the only member of the ASA Vendor Member Division to have served two stints on the association's Executive Committee, and as president and chairman of the ASA Education Foundation, he was only the second manufacturer to hold that leadership role. I also have enjoyed my occasional interactions with Joe about restaurant hot spots in the Chain of Lakes region of northern Illinois.
A vision for the future
Katie Poehling Seymour, Poehling's daughter and First Supply's president and CEO, recalls recently reading an old issue of this magazine from when her dad was ASA president.
"You'd think he had a crystal ball," she says. "He's able to assess the current environment and clearly see a path into the future that most of us can't. Joe is a visionary in every sense of the idea. He sees trends before anyone else. He hones in on metrics before their impact is immediately apparent and he takes risks that seem wild at times, but so often tend to be exactly the right decisions. He can push our company to think differently and make improvements that have made all the difference in our long-term growth.  We are so lucky at First Supply to have been the beneficiaries of that vision for more than 40 years and to have him guiding us as our chairman emeritus for many years to come."
But Poehling Seymour sees even greater traits in her father that have made even larger impacts both at First Supply and throughout the industry.
"Joe brings incredible professionalism to our business, but it's never condescending," she says. "And he lives that balance every day. That's something you can't learn in school or training or coaching, and it's hard to describe, but anyone who has worked with him can recount it. His leadership has us all striving to bring professionalism to everything we do at First Supply every day.
"At the end of the day, Joe taught all of us to take care of our customers and the rest would work out," she continues. "He empowered every person at First Supply to do just that. Overall, he genuinely cares about people. I can say that he and my mom, Kate, instilled in our family that same sincerity that Joe brings to the business."
Poehling Seymour remembers this poignant advice Poehling gave her early on in her First Supply career.
"When you're visiting a facility, make sure to walk through the warehouse. You can see a lot — too much of one product, not enough of another, a big project staged to go out — but you can also check in with the team," she says. "Little things like that are not only good for our business, but create a culture where we all care about each other just a little more."
The praises of many
Rob Grim, InSinkErator's senior vice president of sales, asked folks at the Racine, Wisconsin-based manufacturer and ASA Platinum Supplier Partner to provide their thoughts on Maiale. He was flooded with responses.
"Joe has been an incredible mentor whose love for the industry is contagious," was one response. "Having never worked in the industry prior to joining InSinkErator, he took me under his wing by making himself available for questions as well as being a guide through numerous industry events. I am so grateful for all that he's taught me over the last five years."
And this one: "Joe Maiale is our go-to guy for all things wholesale. He is a fountain of knowledge about the plumbing industry and his door is always open for questions or to share insights. And he always has great stories to share for a laugh or two."
Here are two more from the pile:
"Joe is an outstanding role model not only for those he works with daily, but also for anyone that has been lucky enough to share time with him. He probably doesn't realize it, but his work ethic and dedication to excellence inspires those within his realm. He has been a profound influence and an inspiration to many. His ability to lead, to teach and to provide guidance make one a better person to have known Joe Maiale."
"Most people in the industry in the future who have benefitted from his work will never know his name. But I will never forget his name. He is one of the truest and best people I know, and I have been fortunate enough to have been able to work with for many years."
Poehling Seymour joked that if you have ever ridden in a car with her father, you know he picks up some extra time by "moving quickly." She adds fortunately or unfortunately she has inherited his driving tendencies.
That driving story sums up Poehling and Maiale pretty darned well — a pair of fast-moving, fast-thinking industry giants whose contributions to our industry will be remembered and felt for years and years to come.