When the COVID-19 pandemic hit, Orem, Utah-based Mountainland Supply President and CEO Brent Anderson quickly went on the offensive.
And the No. 1 goal: Keep Mountainland Contractors Supply Group (the holding company that Mountainland Supply is part of) and its 470 employees strong so it can continue providing top-notch service to customers throughout the distributor's 25 locations in Utah, Idaho and Wyoming.
A prime example, Anderson notes, included a senior-management wage reduction in effect through the summer. And during the pandemic, Mountainland has hired 10 new employees. "Management is preserving wages, employment and we are adding employment," he says.
Mountainland also has been active on the advocacy front, meeting with three local congressmen, including a recent virtual confab with Utah Congressman Chris Stewart (R-Utah) that included a frank discussion on the potential abuse of the Paycheck Protection Program, as well as what elected officials are doing to prevent businesses from falling victim to frivolous COVID-19-related lawsuits. "There are trillions of dollars being put out there to help preserve employment, and we want to make sure that's not eaten up by frivolous lawsuits," Anderson explains.
Anderson probably didn't see in his crystal ball that his final year at the Mountainland helm would include navigating through a global pandemic. Anderson, one of the all-time good guys in the industry, is retiring at the end of 2020 to spend more time with his family. He will remain chairman of the board.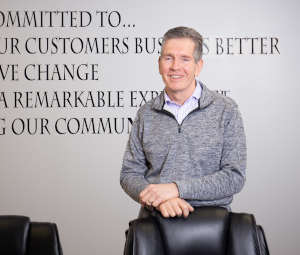 In his 39th year at Mountainland, Anderson arrived on the scene in 1982 as a regional salesman in central Utah. "I was calling on coal mines, plumbers and excavators right in the middle of Jimmy Carter's 16% mortgage recession," Anderson says with a laugh. "I got there just in time for all the coal mines to go on strike."
Anderson, who played college football at BYU-Idaho, continued to move up the company ranks over the years to positions of assistant manager, operations manager and vice president before taking the reins as president and CEO.
"I'm proud of a number of things," he says. "First, we are fiercely independent. We also added a significant marketing element to the company 10 years ago, and we have seen a lot of growth from that effort with our vendors and customers."
In addition to Mountainland being an ASA member, Anderson is a past chairman of the Omni buying group (now part of IMARK Plumbing). "Our longstanding relationship with Omni (IMARK) has provided remarkable relationship and financial values," he says.
Anderson adds that he is especially proud of the company's ESOP status. "The ESOP launched us in a new direction with company culture and with commitment," he says. "I am so complimentary of what our team looks like today. We have four core values: Commitment to make our customers' businesses better; being progressive with change; a commitment to having a remarkable outcome; and a commitment to our community. And the ESOP has been a driving factor in how we have collectively delivered that vision of where we are headed with all these new owners."
Anderson says Mountainland is in great hands going forward. "From a business standpoint, I'm sad to go, especially with the pace of change happening at our company and in the industry," he says. "From a personal standpoint, I am so excited to go spend time with my wife and our family and do the things we always have dreamt about doing.
"The people in my succession plan that will fill these positions are the same types of people I think I was 25 years ago. Their vision and approach to the market are now keeping pace with the industry's added technologies and market expectations. They bring a whole new pulse and will take our independent company to the next level of potential. I am delighted to see what they are going to do with that same energy I had at their age."