Over the last 36 months, I had the opportunity to lead strategic planning workshops for associations, buying groups, independent distributors and one manufacturer. While each engagement has its uniqueness, I discovered nine lessons that ran as a common thread through all the sessions. Use these lessons to frame up the important work of strategic planning in your organization.
1. Messy, challenging, invigorating: The process of strategic planning which leads to deeper understanding, redefinition and transformation:
Is organic, never knowing where your new discovery will lead next;
Is difficult because, at times, you are not sure what questions you should be asking or what path you should be exploring; and
Is a fascinating, energizing and valuable process of examination, collaboration and deep thinking, with the vision of building a stronger and more relevant organization.
Framing question: Do you value the process of strategic planning as much as the outcome
2. Strategic planning is continual: The days of strategic business plans – hard-coded for 3-5 years or longer - -seems to be over. As one international manufacturer's leadership team says, "Strategic planning is done in pencil."  The pace of change today requires a constant rhythm of analysis, assessment and strategizing. As a result, view your initial strategic planning work as the start of an ongoing strategic planning process.
Framing question: Have you hard-coded a rhythm of continual review that insures your strategic plan does not gather dust on a shelf
3. How business is done is changing: There are significant trends that cannot be ignored that are changing how business is and will be done.
From changing demographics to evolved customer buying habits and expectations;
From new and non-traditional competition to evolving hybrid business models; and
From the role of data and analytics to technology infused products.
All these and many more will change how our distributors, their suppliers and their customers conduct business.
Framing question: Have you identified the significant trends that you "bet on" changing how business will be done in the future?"
4. Unprecedented change: The pace of change and the confluence of change makes these truly unique times that have significant leadership, business-model, value-proposition and even cultural ramifications.
Technology is driving the pace of change. Moore's Law continues to dramatically increase computing power with decreasing costs, leading to ubiquitous connection, complete transparency, non-traditional competition and more. New technologies such as mobile, artificial intelligence, virtual reality, autonomous vehicles, Internet of Things, renewable energy sources, 3D printing and more will be changing the business landscape as well.
The confluence of change with technology, demographic shifts, apathy for the trades, rise of social media and social movements, M&A activity, wide political swings, globalization, sustainability, polarization in Washington, policy whiplash, and more all happening at once are placing unprecedented pressures on every business today.
Framing question: Is your leadership team embracing the inevitable change or being pulled toward the past because of legacy thinking, needed investments, mindsets or other obstacles?
5. Some things won't change: Despite the winds of change, as the saying goes, "For as much as things change, some things remain the same." Amazon's Jeff Bezos has said, "I frequently get the question, 'What's going to change in the next 10 years.' And that is a very interesting question, it's a very common one.  I almost never get the question, 'What's not going to change in the next 10 years?' And I submit to you the second question is actually more important than the first because you can build a business strategy around the things that are stable over time."
There are foundational norms that strategies can be built around. For example:
The need for the products you distribute is not going to disappear and customers will still need to source these products.
Talented and skilled employees will continue to win the day.
Framing question: Have you identified those things that won't change to build your strategy around what is known?
6. The traditional distributor business model is under pressure: With these macro trends impacting and filtering into our markets, the traditional business model of distributors is under pressure.  While Deloitte reports 8.3% points decline in wholesale distribution's return on capital, and Forrester reports 22% of outside salespeople (primarily from wholesale distribution) will lose their jobs to e-commerce – cases can and have been made that the traditional distributor business model is under pressure.  For example: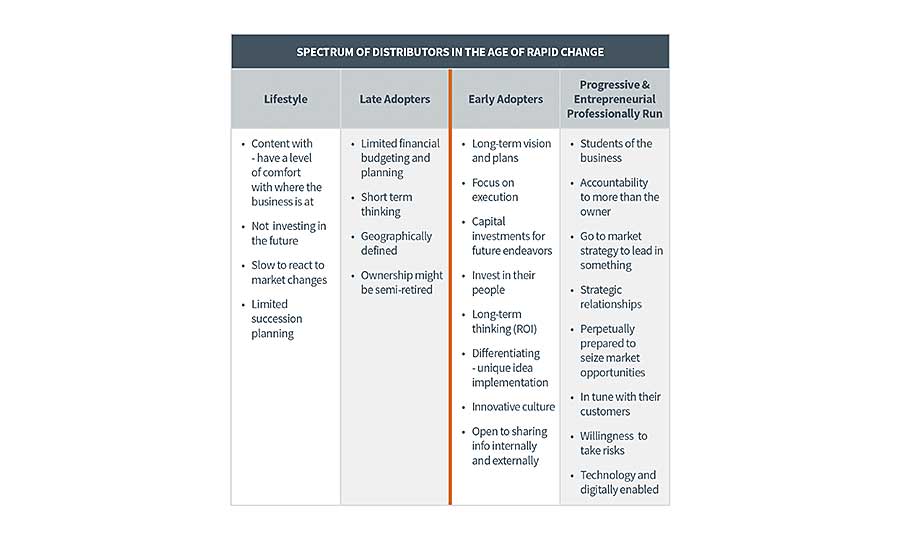 Framing question: Have you acknowledged the traditional distributor business model is under pressure?
7. There is a cross-section of distributors: Beyond size, geography, markets served and suppliers aligned with, there is a cross-section of distributors based on organizational mindset, leadership, and value delivered to the marketplace.  Each of the four categories of distributors as outlined below, have different strategic planning needs.
Framing question: Have honestly discussed where your business fits along this spectrum?
8. Distributors will evolve and transition their businesses: As the macro trends impact and filter into our markets, progressive distributors will work to evolve and transform their business. For example, they will:
A. Change how the customer buys from them. Business outcomes, engineered solutions, installed costs and total cost of ownership will be key drivers through a technology infused, data-driven and user-friendly platform.
B. Provide solutions and services that become primary. Beyond selling the right product at the right place at the right time, distributors will provide integrated technology, logistics, education and financial services as an ecosystem of solutions.
C. Develop technology strategies. Those organizations that have the most relevant digital strategy, technology and solutions will create sustainable and profitable businesses. The most successful distributors will provide digital solutions, uniquely combining technology, expertise and business acumen.
D. Establish product categories. The distributor of the future will be a hybrid business, expanding its offering beyond traditional products to offer adjacent products, software and services.
E. Develop an environment where culture becomes imperative. The realization it is a company's culture that drives the business will become the mantra of leadership. These cultures will embrace the human need to grow and make an impact – an impact for each other, customers, suppliers and the social causes important to employees.
Framing question: Does your strategic plan incorporate real transformation or are you continually focused on the incremental changes?
9. The business model of the strongest distributors: The model of progressive distributors building relevance and sustainability Into their enterprise has the following characteristics:
Growth-oriented, rather than maintenance;
Invest in their people and assets, rather than primarily take money from the business;
Professional look at future, rather than accepting the status-quo and clinging to the past;
Technology-enabled, rather than manual and analog;
Executors, rather than talkers;
Hybrid business model of products and services, rather than traditional product seller;
 Adapters to changing market, rather than inflexibility;
A solid culture of innovation to create new value rather than being "me too."
Framing question: How does your organization compare to these eight characteristics?
Conclusion: 72% of distributors believe the pace of change is too slow in their business. Use the strategic planning process and these nine lessons to re-think your future and create the change and transformation required for tomorrow's relevance.