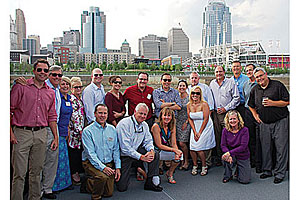 Basco Mfg.'s inaugural three-day Showroom Council Forum brought together plumbing wholesale professionals to share industry trends and thought leadership on a variety of topics. Photo courtesy of Basco Mfg.
Basco Mfg. Co. recently hosted its inaugural Showroom Council Forum at the company's Cincinnati headquarters on June 4-6, 2014.
The three-day event was a kickoff to the company's newly developed Showroom Council, where Basco appointed 10 plumbing wholesale professionals heavily involved in showroom management and sales to participate for a one-year term. The objective of the council is to share industry trends and thought leadership on a variety of industry topics the company will integrate into its future product-development and marketing programs.
"Having the opportunity to directly engage with leaders within our space to gain a first-hand understanding of how our products and brand supports the growth of their business is invaluable," Basco Executive Vice President of Sales and Marketing Don Gamble said. "While the focus of the event was around industry trends, the interaction and relationship-building between our council members proved invaluable to everyone in the room."
The 2014 council included participants from Plumb Supply (Des Moines, Iowa), Brock McVey (Lexington, Ken.), Keidel Supply (Cincinnati, Ohio), Famous Supply (Pittsburgh), Security Supply (Selkirk, N.Y.), Peabody Supply (North Andover, Mass.), and EPSCO (Scranton, Pa.).
---
HELPFUL LINKS: