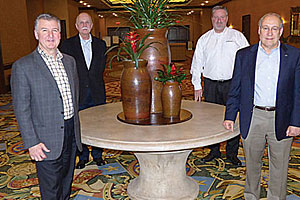 Clockwise, from top right: WinWholesale's Steve Edwards (VP of marketing), Rick Schwartz (CEO and chairman of the board), Monte Salsman (COO) and Jack Johnston (president). Photo by Mike Miazga/Supply House Times
National distributor WinWholesale continues to enjoy success with a formula that emphasizes dependable expertise and product availability, as well as the presence of local decision-makers in each of its 550 locations in 45 states. Members of the Dayton, Ohio-based company's executive management team recently spoke with Supply House Times on a number of topics.
Supply House Times: What segments of the industry are in the greatest growth modes right now?
Rick Schwartz (CEO and chairman):Any segment tied to the construction industry is growing as single-family, multifamily and commercial construction makes a comeback. According to the Congressional Budget Office and the economists we follow, the economy and the construction industry are predicted to continue to improve the next few years.
Supply House Times: What is WinWholesale's take on the increasing presence of e-commerce in the industry?
Steve Edwards (VP of marketing):E-commerce quickly is becoming a necessity for wholesale distributors if they are going to keep up with the evolving demands of their customers. We don't believe technology will replace personal relationships with our customers, but it's clear the expectations of those relationships are changing. We currently offer an e-commerce solution for our customers that we are continuing to develop and refine.
Supply House Times: What makes WinWholesale excel as a company?
Monte Salsman (COO):First is our people. They genuinely have the success of their customers as the priority and they approach their work like someone who has a personal stake in it because they do. Another thing is the WinWholesale business model. It's as unique as our people. Each of the Win-branded locations is an individual corporation with a president or manager and a board of directors. WinWholesale is the majority stockholder in each local company and provides support services. This frees up the local company to run the business by developing customer relationships, ordering product, selling and making on-the-spot decisions to best serve customers.
Supply House Times: What industry issues are you keeping an eye on?
Rick Schwartz:The first is technology. This is a digital, data-driven world and the sooner distributors realize that and act on it, the better positioned they will be to serve customers. Surveys show increasing numbers of contractors are using smartphones and tablets, not just to communicate but also to order products, check inventory, process invoices and more. Electronic device use is only going to continue to increase, especially as younger people enter the industry.
That raises the next area to address, bringing younger people into the industry as older workers retire. We all have to step up recruiting efforts to keep the distribution industry strong, viable and less vulnerable to direct shipments and e-commerce giants eroding the customer base.
Supply House Times: How important is keeping the established local component in tact at each of your locations?
Jack Johnston (president):Having a local entrepreneur in charge at each location is crucial for the success of our business model. Local ownership, autonomy and decision making are the very heart of the WinWholesale organization. The local component is responsible for the continued success we've had for 58 years.
---
HELPFUL LINKS: