✕
Respondents to ASA's Monthly Sales Report logged somewhat mixed results for the month of June. The median indicated a sales decline of -1% for June 2023 vs. June 2022, while the average remained in positive territory at 2% growth.
On a month-to-month basis (June vs. May 2023), respondents reported essentially flat sales (+0.1%). Year-to-date sales through Une 2023 increased 5% vs. 2022.
Additionally, on a trailing-12-month basis, respondents reported sales growth of 9%, with half the respondents reporting TTM sales growth between 4% and 15%.
Inventory remained relatively flat for June 2023 vs. June 2022, edging up 0.6%. The median three-month average days sales outstanding jumped from 39 days in May to 41 days in June.
"At the midway point of 2023, it's encouraging to see Year-to-Date (YTD) sales growth at 5% and trailing twelve-month (TTM) sales growth at 9%. While June was essentially flat compared to May, it was down slightly (-1%) year-over-year. It may seem like a "broken record", but expense management continues to be extremely important in this environment of increased margin deterioration. For the fourth consecutive month, nearly half of the respondents reported a decrease in gross margin and profit before taxes YTD vs. a year ago." Industry Insights Senior Vice President Greg Manns said.
Here's a look at median sales totals for both year-over-year and month-to-month for the previous four months: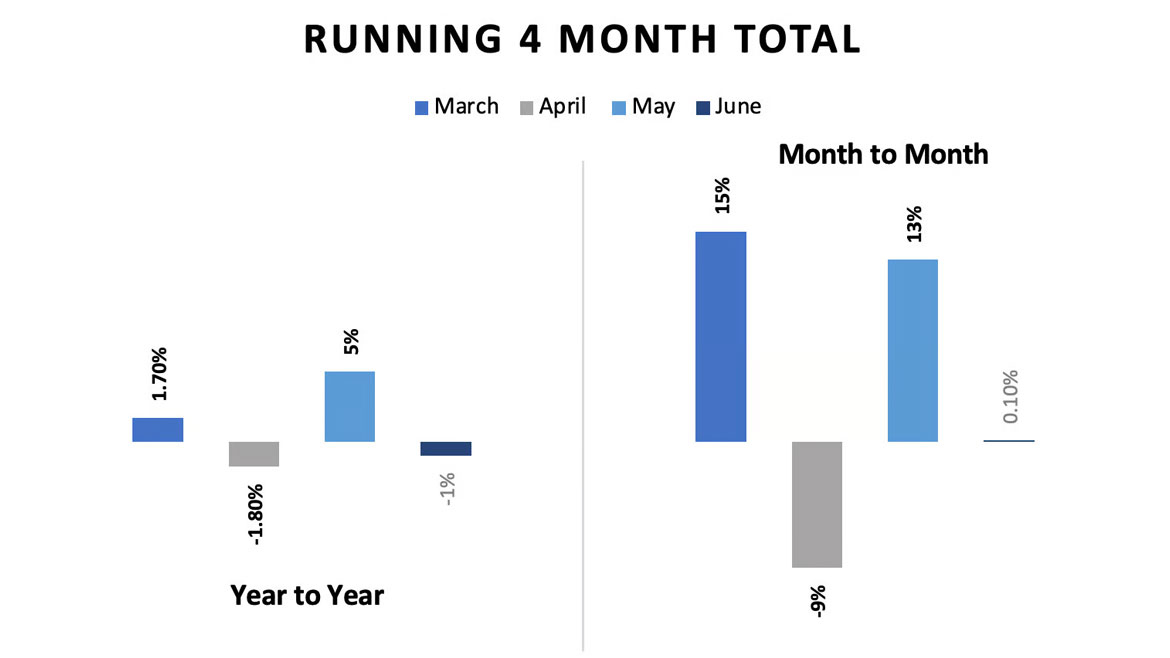 Industrial PVF:The news was positive for industrial PVF distributors. Respondents reported median sales growth of 5.7%. Comparing June 2023 to June 2022, PVF distributors reported median sales growth of 9.3%, while the trailing-12-month median clocked in at 14.2% growth.
Economic Indicators:The final "Real" GDP growth for the first quarter 2023 was revised up from 1.3% to 2.0%. Total wholesale sales for May contracted -4% year over year, while inventories grew nearly 4% vs. the prior year. The Department of Commerce recently began reporting "Real" wholesale sales to provide a more accurate picture of inflation adjusted growth.
In a sign that inflation is beginning to calm and that we are entering a disinflationary period, "Real" wholesale sales growth was +2% for May. After reporting unexpected increases in May, housing permits and stars both reported declines in June. Although, housing starts for June were still up 4.5% vs. June 2022. The unemployment rate decreased from 3.7% in May to 3.6% in June.
What ASA distributor members are saying:Some comments from ASA member distributors that participated in the June monthly sales report:
"June was a tough month, but we do not know if it was weather related - we experienced significantly more rain than normal - or if it is the underlying market. Our customers continue to be bullish for the full year. We continue to experience significant pressure on margins as competition has increased and commodities have fallen dramatically."
"Still just anticipating economic trends."
"Upswing in the cooling side of the business due to very high temperatures. New construction market is somewhat stagnant for us."