A labor study performed by ASA in 2015 found that 50% of currently employees within the PHCP-PVF industry will retire by 2035. Diana Bautz, senior manager of learning and development at ASA, says this report catapulted ASA to help members train and fulfil the need for strong, knowledgeable leadership with skills unique to the industry.
"We realized how vital it was that distributors upskill current, high-potential employees to manage their succession plan, or hire outside leaders that would require distribution-focused training," she explains. "Helping members address these concerns was the inspiration for the Master of Distribution Management (MDM) program."
The initial MDM program launched in 2015 and later underwent an extensive gap analysis in 2019, leading to a revamped program launch in late 2019. 
In May of this year, ASA announced the program has surpassed 100 students — 120 to be exact. 
"We have seven graduates with about two-dozen candidates on the cusp of graduation," Bautz says. "We have had record registrations since the relaunch in 2019."
By the industry, for the industry
Much like ASA Education Foundation's other programs and initiatives, turning to members is the first step in creating a new idea. 
"ASA brought together our best resource to create a solution to the posed challenge — a task group of member volunteers to help create a program that met membership's needs," Bautz says. "The ASA Education Foundation often says 'by the industry, for the industry' and we live by that. Who else knows the business better than our members?"
Members from various-sized companies worked together with the ASA Education Foundation to decide the most necessary competencies and skills their leaders should possess. The curriculum and coursework was then built within the structure of those competencies. The result was a comprehensive, multi-tiered program in a blended learning format that focuses on those leadership qualities and predicated on industry needs.
When the MDM program went through its revamp, Bautz explains the original taskforce was involved, as well as ancillary members who weren't familiar with MDM but knew what they needed in a leadership program.
"The core competencies and blended structure approach proved to be a strong foundation, with few changes required after input from volunteers," she says. "We updated some curriculum based on new trends and challenges our members face, and feedback from candidates and their mentors. We'll continue to do so moving forward."
---
---
The MDM competencies are
Strategic Decision Making
Delegating Responsibility & Follow-Up
Planning and Organizing
Improving Communication
Building Trust and Gaining Commitment
Coaching and Developing Others
Managing Conflict
Technical and Professional Skills
Learn more about the MDM program here. 
---
---
Graduates give insight
These eight key competencies have proven to be beneficial for students, some mentioning one or two specifically that strengthened throughout their time in the MDM program. 
Nikolas Berezniak, general manager at Albuquerque Pipe and Pump Supply and current MDM student slated to graduate in 2022, says his most applicable takeaways from the course have been on improving communication and delegating responsibility.
"Moving from a sales position to management has been a whirlwind, and I have many different things on my plate," he says. "Effectively communicating with my coworkers has been essential in making sure my time is spent efficiently and on my high-priority tasks."
Improving communication is also a standout competency for Greg Johnson, account manager for Lynchburg, Virginia-based HVAC distributor NB Handy, who will graduate in 2021. 
"As account manager, communication is key," he says. "When my customer tells me one thing, I need to make sure my outside sales team and my operations team know what's going on. Details such as delivery logistics need to be over-communicated to keep all of the parties involved in-the-know, making sure each moving part of a delivery is executed how it needs to be."
Johnson adds that the program helps students work on time management with its planning and organizing competency. "Things almost never go as planned, and distributors often have a lot of fires to put out," he says. "But the MDM program talks about time management, prioritizing and not procrastinating, which helps me go into each day with a game plan."
A 2019 MDM graduate, Jose Herrera, branch manager for California-based Hirsch Pipe and Supply, says all eight of the competencies were great for his development, but strategic planning and organizing along with coaching and developing others continue to shape who he is as a manager.
"As an emerging leader in such a great company one must know that we cannot stop learning and improving on our strengths and weaknesses," Herrera says. "Being able to strategically build a profitable team with a solid vision while coaching and mentoring upcoming team members takes time and constant personal growth. To this day, I keep my notes readily available when beginning a new project or if I come across a challenging situation."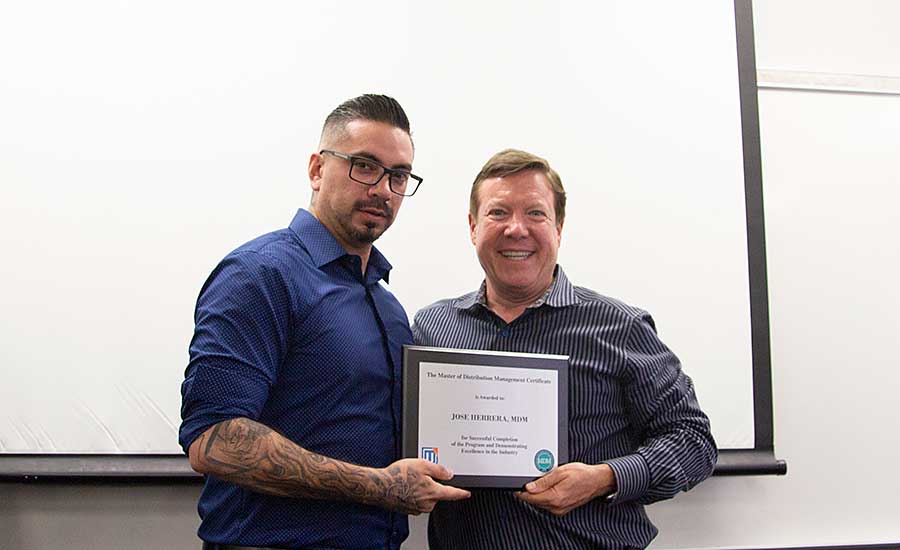 2019 MDM Program graduate Jose Herrera with 2020 ASA President Bill Glockner.
Working through disruption
The MDM program aims to prepare the next generation of leaders for profitable and successful careers in the PHCP-PVF supply chain, and students mention that with the challenges facing distributors today, now is a great time to take advantage of this program.
"Being able to problem-solve during these difficult and unprecedented times has given our team a great advantage in our area. When the pandemic first affected our industry last year, challenge arose daily at the branch level. Distributors were feeling the pressure to meet customer expectations," Herrera says. "From the beginning, clear goals and expectations were set to keep the team and customers safe while forecasting and preparing for material shortages. The MDM program helped me take a step back and analyze anything that was thrown my way."
Berezniak agrees, saying the MDM program prepared him to better address customer expectations through supply chain challenges. "This past year was unprecedented to say the least. Understanding inventory management and carrying costs prepared me to be able to effectively work with my purchasers to work through these supply chain issues and make sure we were able to keep up with our customers' needs. Communication with our vendors, customers and staff was key." 
Johnson adds that the MDM program's focus on managing conflict is an important skill to have while navigating supply chain disruption.
"It's not fun to tell a customer that you don't have all of the product they need or that things are delayed," he says. "The MDM program helps give me the confidence to tackle these crucial conversations that need to happen in order to be upfront and transparent with customers."
Bautz explains that while the MDM program focuses heavily on being a great leader, leadership is not enough on its own. "What MDM offers is leadership with a distribution twist. Being a great leader isn't enough in our industry," she says. "You have to know how distribution works, how slim the margins are and how your decisions affect those margins, how great service is key to staying in business and how to build strength in your ranks. Building a good leader offers a trickledown effect for the rest of your staff and the business."
Capstone projects 
As MDM students near graduation, they are required to complete a capstone project which Bautz notes offers ROI and positive change directly back to the company — something unique to this program. Each student has a unique capstone project story, all of which helped grow their companies and/or solve an internal problem.
Currently working on his capstone project, Berezniak is taking the lead role on integrating e-commerce to Albuquerque Pipe and Pump Supply's website. 
"Working with the website development company and vendors to collect and integrate clean, functional data into an appealing and convenient e-commerce store, the website redesign will allow us to expand our customer base, as well as provide added value to our existing customers," he explains. "The e-commerce store is expected to also provide some relief to our sales staff, allowing them to spend that extra time on the customers and orders that require more time and attention."
Johnson is also creating a new, digital tool for NB Handy with his capstone project. The company was having an issue with here-now orders not being picked as quickly as customers expected, so Johnson worked with his IT team to create a solution that keeps customers up-to-date on order status throughout the whole process. 
"We worked with SD1 to generate a report that refreshes every 60 seconds, showing the status of an order — how many items have been picked, how many are left, or if it's on its way to the front," he explains. "Then we mounted a 50-inch TV in our showroom that uses color codes to display when orders are 'ready to pick,' 'picking in progress,' or 'picking complete.'"
Johnson's ideas has been live at NB Handy for a month now, and he has started to survey frequent customers. "We've had a really positive response," he says. "Customers say they feel more confident knowing exactly what the status of their order is and they feel the process is overall more efficient."
In 2019 when Herrera graduated, his capstone project was a reflection on the influence the MDM program had between past and present branch openings.
"I had opened a branch in a new region a couple of years before the MDM program and then opened a second halfway through my MDM coursework," he says. "The second opening showed significant improvement in employee and team morale. We showed significant growth in our first quarter sales vs. the previous branch's first quarter sales, which proved we were performing at a high level. I created an engaging presentation on the impact MDM had on our second branch opening and its success."
Fueling future leaders
As the industry battles the challenge of replacing a large percentage of its workforce, Bautz says her hope is to have every member company who is struggling with keeping quality leadership in their ranks, succession plan concerns, employee retention issues, and members who are looking to bring innovation to their company to have at least one employee enrolled in MDM.
"It's my goal that one day every member knows what the Master of Distribution Management program is, and that its reputation grows to become the gold standard of training leaders in distribution. I would love numbers of students and graduates to grow so high that we could one day hold a networking or alumni event for our candidates," she says. "I hope members collectively see it as I see it. That MDM isn't just training, it's an opportunity."
Johnson absolutely encourages other distributor members to enroll future leaders in the MDM program. "If you have the opportunity to learn and/or sharpen your managerial and leadership skills, your team will only get better," he says. "Executive leadership should look at this as an investment in their team; keeping employees engaged and learning will benefit the company because the key skills will be developed, preventing the need for micromanaging and saving everyone time."
Herrera says he's glad Hirsch Pipe and Supply saw the value in this program, and other companies should definitely take advantage of the opportunity. "You can never learn too much as a leader in this industry; we constantly evolve and grow," he says. "The MDM program is a tool that continues to help our future and current leaders improve on their abilities. From basic team-building skills to more detailed S.W.O.T. analysis and strategic game planning, the MDM program can and will help all of us become better leaders."