Albertson, New York-based, fourth-generation family-owned Dellon Sales Co. is Supply House Times' Rep of the Year for 2021 — and it's quite a fitting year for the company to receive the honor. 
Serving the New York City Metro Area and Northern New Jersey — one of the country's COVID-19 hot spots — Dellon Sales did not hesitate the step up for the city in need as the pandemic demanded emergency hospitals be opened up practically overnight and operating seamlessly. 
President and fourth-generation leader David Dellon explains that since March of last year, the company has been a source of information for industry peers. 
"In New York, we were hit by the pandemic first, experiencing shut-downs before some parts of the country even knew what was happening," he says. "People turned to us for guidance and information about what was going on, and that continues today with the supply chain disruption and pricing issues the industry is facing."

Stepping up as pandemic hits
As panic set in, the team at Dellon Sales kicked into high gear, focusing on staying informed, keeping employees safe and serving the local community.
While the team was working night-and-day on project logistics, Owner and CEO, Scott Dellon (David Dellon's father) took it upon himself to help during the face mask shortage. 
 "Once essential construction was up and running again, every contractor had to scramble to find available N95 face masks," David Dellon says. "My father found a huge amount of overpriced masks and gloves aftermarket and traveled the city getting our contractors masks. We knew they were required on job sites, and our contractors needed to get back to work as soon as possible. "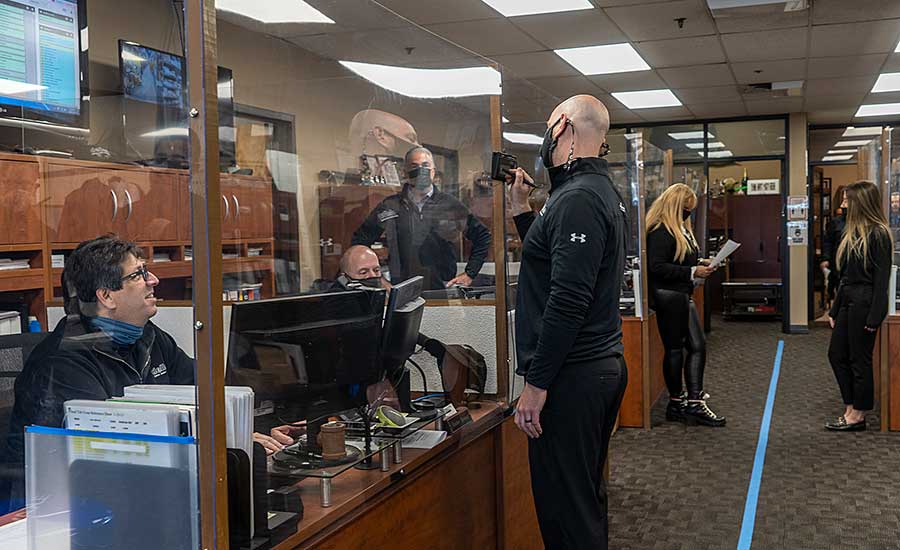 Dellon Sales was ahead of the curve when it came to changing daily operations for COVID safety; the company immediately made everything in their office socially safe by putting plexiglass cubbies around desks. Photo by Barbara Alper Photography.
In an emotional conference call with their team, the Dellons made it clear that the company would survive, dig deep and keep everyone working.
"At the very beginning of the pandemic, we let everyone in the company know that we were going to take care of them," Scott Dellon says. "We wanted to let our staff know right away we weren't going to furlough anyone and we were going to do everything in our power to make sure our employees had a job and felt secure."
David Dellon adds that the message to employees was the company would come out of this stronger than before. "It helped everyone's mental state to hear from Scott and I that we were going to doing everything we could to keep the business going," he says. "We spoke to the plumbing associations and local unions on a weekly basis. Learning what was going on in the city and communicating with vendors was top priority."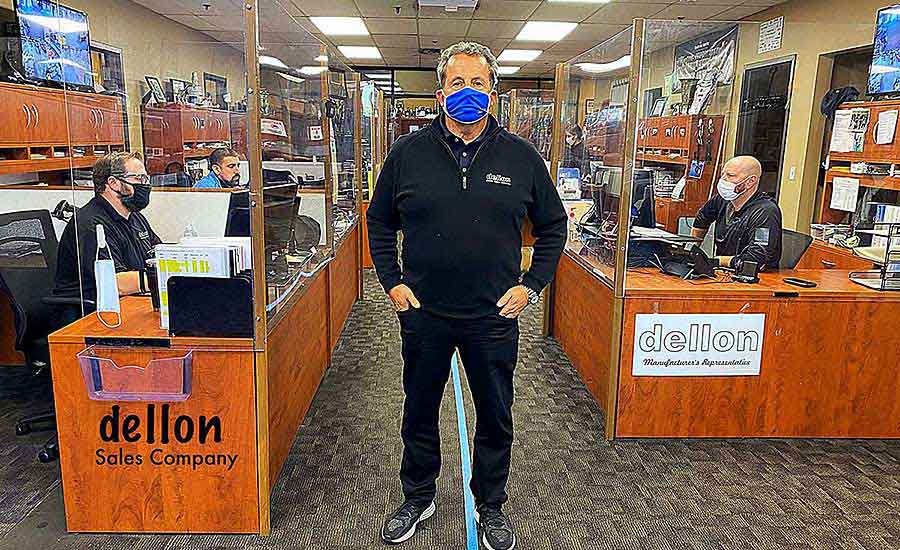 Scott Dellon in Dellon Sales Co. office after safety measures were put into place.
Scott Dellon emphasizes how hard the company worked — around the clock — to remain open and take care of its team. "As things were shutting down, we stayed open for extended hours; I almost never left the office," he says. "I was in the office nonstop every day and on weekends, making sure we were available to juggle all the obstacles that were materializing, and that we were there to help in any way possible."
David Dellon notes that from paying close attention to the news, he knew COVID-19 was coming and was able to prepare. "People made fun of me as I went out to buy hand sanitizers, gloves and Clorox wipes," he says. "I rearranged our dispatching operations so truck drivers wouldn't come in contact with people at the dispatching office."
---
"Dellon Sales has been a great sales agency for us for almost 15 years. They have a large, well-trained team that is deeply ingrained in and dedicated to the Metro New York City and New Jersey construction industry. They back up their dedication to the market with real brick and mortar investment, too. Dellon Sales has the ability to attract young talent, and engage and motivate these young people to the industry and its opportunities. Dellon Sales' leadership is actively involved in many industry associations at the engineering, contractor and distributor levels. They do a good job in leveraging their work in these associations while being mindful of growing their staff's exposure to the larger industry setting. All of these things become invaluable in getting specified, launching new products, or helping serve and provide value to our distributor partners."
–Devin Malone, president and Jeff Harris, sales management, Mueller Streamline
---
Dellon Sales was ahead of the curve when it came to changing daily operations for safety; the company made everything in its office socially safe by putting plexiglass cubbies around desks — without making people feel uncomfortable.  
"At first we created A and B shifts to limit the number of people in the office," David Dellon says. "Once the city shut down, I quickly went out to buy all of the laptops Best Buy had — it was a race to get them. We set up a VOIP phone system so everyone could take phones home, work remotely and stay connected, without having to cease work for even one day."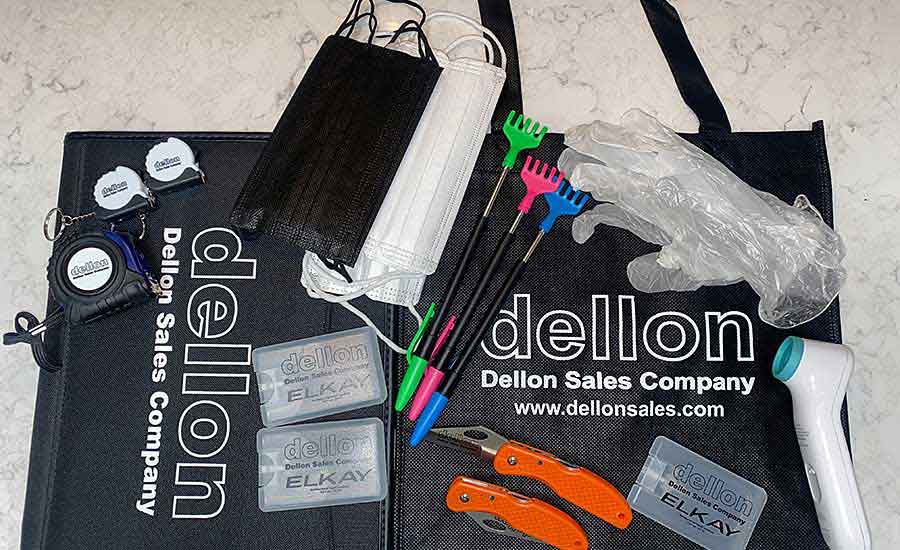 Brent Brake supervised the rest of the luxury sales team in dropping off literature and "COVID Care Packages" to showroom workers at their homes or outside appointment-only showroom offices.
Family first
Once it was safe for some folks to return to the office, Dellon Sales offered flexibility to its employees, making sure everyone could balance work and family.
Scott Dellon notes the company worked with employees' personal schedules as people returned to the office. "We worked out our in-office schedule based on our teams' home lives," he says. "It was important for us to accommodate those who had kids doing school from home so that their families were taken care of and they could safely do their jobs."
Bill Horsman, vice president of sales in New Jersey, says Scott and David did a tremendous job making employees feel secure. "There were constant phone calls — weekly or twice a week — where the two always reassured that each and every employee was safe, secure in their role, and the company was going to make it through," he says. "I don't think they realize how big of a deal it was for us, but it truly made all of the difference through the beginning of 2020."

Making the most of it
During the peak of uncertainty in 2020, while many Dellon Sales employees were working from home and construction in the area was at a standstill, Scott and David Dellon made it a point to use the down time wisely, while again prioritizing employee wellness.
"We held many informal check-in Zoom calls with the team," David Dellon explains. "They were just to make sure everyone was doing okay mentally and make sure the expectations of what we wanted them to be doing while there was nothing to sell were clear."
During these weekly calls, employees were always encouraged to get up and walk around or stretch, because initially many were working from make-shift desks at home. 
In an effort to make the most of this time, Dellon implemented various training programs for its employees. "We couldn't have people sitting at home with nothing to do," David Dellon notes. "So we set up personalized trainings with our vendors to refresh our team on some products, or get training on new products."
Scott Dellon adds they also had every employee do a daily report, succinctly outlining what they accomplished each day, and what their customer interactions covered. The company used these reports to collate market information and determine where to focus efforts during each period of the pandemic. 

Investment
When it looked like things would be shut down for a while, Dellon Sales now had extra time and decided to invest in every facet of the company. "We replaced our phones, re-labeled computers, cleaned up, rearranged our inventory and pallet racks and fixed up our displays," Scott Dellon says. "We also examined our contact marketing e-blast lists, making sure they were up to date."
The company took this time to enroll in the American Supply Associations' training program, ASA-University. "ASA worked with us to sign employees up and create personalized Dellon Sales Co. training courses that we can use in the future for new hires," David Dellon says.
Dellon's Sales team also took advantage of the slow times to take refresher courses on beginner to advanced Excel training, social media and Zoom, spent time doing internal trainings on its ISQuote quoting software, Telenotes CRM and even on Gmail and IPhone tips, tricks and best practices. 
In addition to optimizing internal operation, Dellon expanded its ideas externally, calling on previous and current customers and friends to share experiences and thoughts on best practices.
---
"Dellon Sales brings years of successful experience. They reinvest in themselves and their customers. They are 'all in' in adding value to their customers whether it be at the wholesale, contractor or engineering levels. Scott and David hire, high-energy, high-quality talent to help deliver that energy in everything they do every day. It's my pleasure to work with them. I would be remiss if I did not mention multi-tasking — no one can make a 10 foot putt like Scott Dellon while holding his cell phone in one hand, conducting business! Congratulations to Dellon Sales!"
–Kieran Young, regional sales manager, Bradford White.
---
"Our customers felt good hearing from us and getting updates from us," Scott Dellon says. "It reinforced how important these long-standing relationships are, and how Dellon Sales continues to be a leader that industry peers turn to for ideas."
Scott adds that Dellon Sales even provided a list of trainings for its distributors, engineers and contractor customers to look into for their own employees. "Everyone was nervous and unsure of how to navigate employees working from home, so we were able to help share what we were doing and be an example."
Above and beyond
In addition to constant communication with employees and customers, Dellon Sales also made sure to stay on top of industry happenings and potential new areas of business. The company heard of emergency hospitals popping up around New York City and immediately got to work.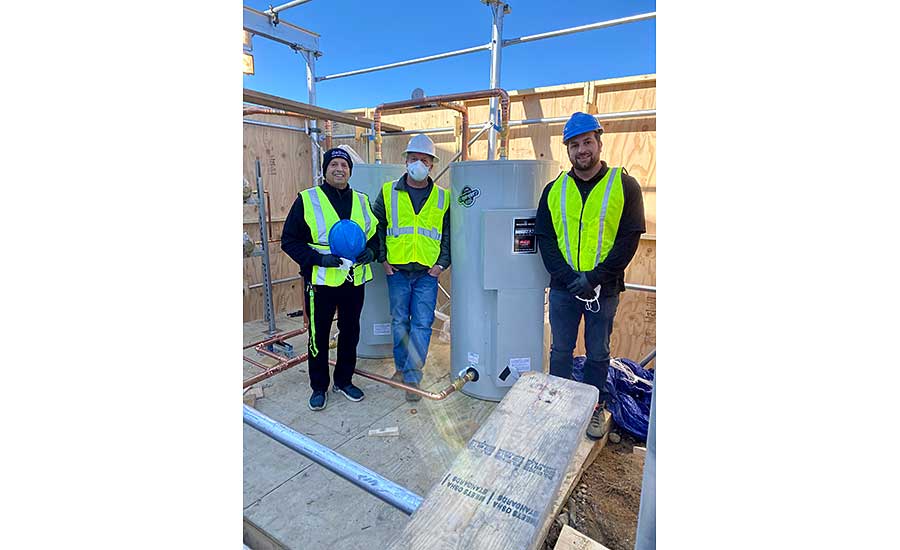 Scott and David Dellon at Stony Brook Field Hospital with Mike Scott, owner of Seaford Ave. Plumbing.
David Dellon says he's really proud that the company was not only able to keep business afloat, but they were providing a concierge service to contractors and engineers that allowed for these large, emergency projects to happen, which helped the city through this difficult time.
"We tracked down every emergency hospital job we could find and told the contractors 'we're you're hotline to whatever you need on this project,'" he says. "Being this hyper-available for the contractors on these jobs ended up getting us a ton of business."
Jon Ross, a Dellon lifer and specification sales manager, explains that working on these emergency pop-up hospitals was a totally different process than the normal engineer pace and work.
"Usually, engineers have three years between specifying a job and watching it flow through the supply chain," Ross says. "But during the 2020 early shutdown, the engineers — who we already have strong relationships with — needed instant help and advice from us to help speed up the process and find products that were available immediately to serve the function needed."
These panicked specifier calls didn't stop after normal business hours. Dellon needed to be available 24/7. Ross notes that manufacturing partners also made themselves readily available and tried to do whatever they could to help the marketplace.

Showrooms and luxury
When the pandemic hit, almost every showroom shut down. However, Dellon Sales quickly adjusted its marketing efforts. Brent Brake, luxury team and marketing manager — for more than two decades — ramped up marketing by making short videos and email blasts for all of the company's key products.
David Dellon adds that Brake also took initiative to contact many of Dellons' showrooms to set up Zoom meetings and trainings before the rest of the market started to jump on the bandwagon.
Even more importantly, Brake supervised the rest of the luxury sales team in dropping off literature and "COVID Care Packages" to showroom workers at their homes or outside appointment-only showroom offices.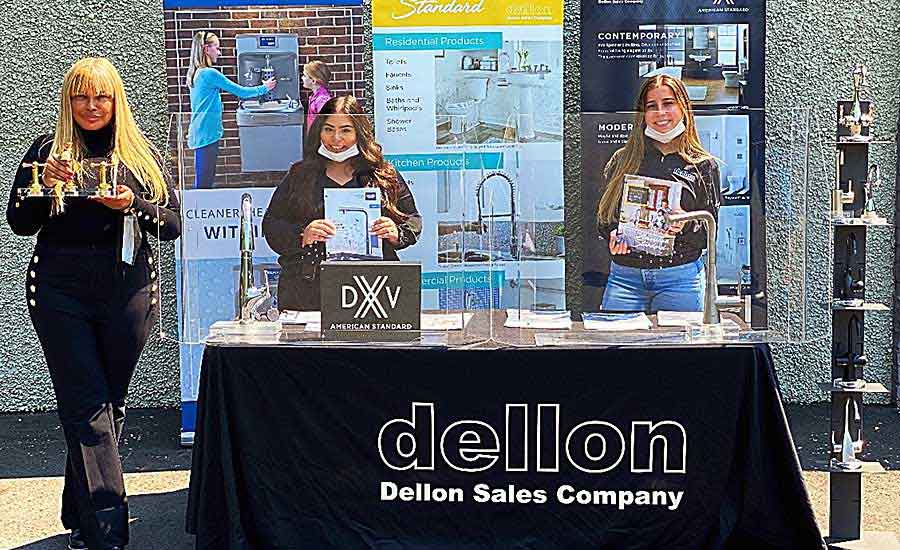 Eventually, when things began to reopen, the luxury team started setting up product tables outside showrooms for outdoor, distanced one-on-one product trainings. This really helped to keep Dellon's luxury team and its represented product lines relevant during the shut-down and the time thereafter.
---
"Elkay is proud to have Dellon Sales represent us in New York City, Long Island NY, and Westchester County. Through their hard work and dedication Dellon sales has made it possible for Elkay Manufacturing to be highly successful in the "Bid & Spec" commercial sinks and water cooler market, as well as the residential, showroom and traditional wholesale segment. The Dellon team works tirelessly, representing Elkay and promoting, training and servicing our products. Their upbeat attitude, marketing savvy, friendships and fun they bring to our mutual business makes the Dellon team near and dear to all at Elkay."
–Abid Khaleel, northeast regional sales manager, Elkay.
---
Months later, as projects picked back up and Dellon's outside sales people were itching to get back on the road, David Dellon says the company was eager to meet with its customers. "We directed our sales people to make at least three targeted sales calls per day, and we encouraged them to get out and see people," he says. "They were creative; they took bottles of wine as a gift or brought lunch or bagels to have in the parking lot to get connected with customers and potential clients again."
Horsman adds that the sales team would take folding chairs and tables, holding meetings in driveways just to have some form of in-person contact. "I still have people today express their appreciation that we were there to support them and that we went above and beyond to connect with them during their darkest hours," he says.

Supply chain obstacles 
Dellon Sales made the most of COVID-times, working hard to serve its community and employees. Today, the company is continuing that momentum by engaging with the industry on the supply chain disruption it's facing. 
"The most important thing we can do right now is inform end-users about what's going on in the market," says Spencer Bodner, managing director of operations and sales. "We've spent a tremendous amount of time as an organization informing the industry about lead times and shortages, and doing everything we can to cross over product to similar material that can fill an immediate need."

Overcoming outside obstacles
David Dellon explains that Dellon Sales recognizes the industry constantly changes, and that Dellon works hard to spot the trends and explore new business opportunities. "Dellon Sales uses its strong relationships with engineers, architects, distributors, contractors, government agencies and industry organizations to re-focus our resources to adjust to market opportunities and changes." 
Dennis Stephan, director of business development, adds that communication with manufacturers is more important than ever. "Forecasting for our manufacturing partners is key right now," he says. "The supply chain is so disrupted that every project, no matter the size, is impacted, so we're proactively and aggressively forecasting projects so manufacturers can be prepared."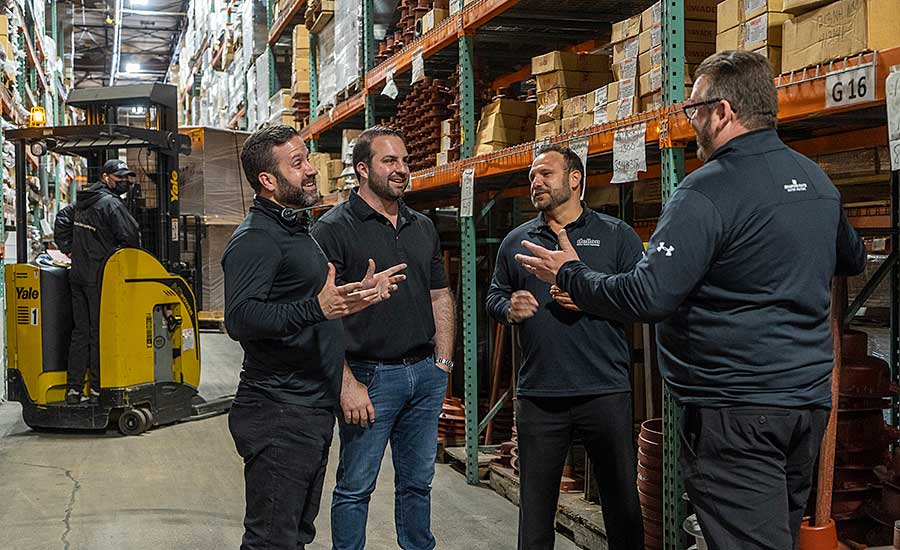 Photo by Barbara Alper Photography.
Joe Knott, a long time Dellon veteran, notes that working through a crisis is not new for the company, and over its many decades in the industry, Dellon has forged on through the 2008 recession, September 11, natural disasters including Hurricane Sandy, and now, a global pandemic.
"Obstacles and adversity are opportunities to excel. Throughout our entire career, we've always jumped onto crises," Scott Dellon says. "The first thing we always try to do is help people, and second to that we look for new business niches and opportunities. We always want to make sure our company is successful so we can keep our 55 employees employed and happy."

It's all about team
With more than 70 years in the business, Dellon Sales has had to continuously adapt. "Over the past 70 years — especially the past 25 years — we've developed and trained a top-notch organization that can be technical experts and understand both the luxury markets and the PHCP markets," Scott Dellon says. "We are always focused on adapting to change and trying to be aggressive."
"Dellon feels the key to our success is in having a well-balanced, exciting team," David Dellon says. "We have hired some of the most experienced people in the industry, many of whom have been with us for 15, 20 or 30 years. We also have a strong program with interns, developing them within the company so they not only become product experts, but experts in all things Dellon."
David also adds the above focuses are facilitated by attracting the best employees and keeping them; the company has very little employee turnover. 
Horsman notes that Dellons' workforce is multigenerational. "We truly have talented individuals in their 20s, 30s, 40s and beyond," he says. "Not many reps have that versatility, and it allows us to tackle any area of expertise and connect with any customer."
When reflecting on the difficult year Dellon Sales has thrived through, Scott Dellon has pride for the family-owned and operated company. "We are proud of the industry and our family," he says. "Our concentration in the world has changed drastically with each decade, but our family values and work ethic remain unchanged. We practice the golden rule, treating others the way we would want them to treat us."