As of April 2021, commercial projects are resuming in most parts of the country as public spaces open up and resume operations that are more regular. Institutional spaces have been particularly impacted by the pandemic. Redesigns in educational and medical facilities are adjusting to accommodate social-distance learning, more efficient traffic-flow and overall more wellness-centric design.
Health care applications
Pete Mayer, CEO and owner of manufacturers' rep firm Bongard Corp. which serves Minnesota, North and South Dakota, Wisconsin and upper Michigan, says health care facilities have been under a unique amount of pressure.
"While health care facilities were very busy and reporting being at full capacity, some were also under a lot of financial stress," he says. "People were moving away from elective surgeries and non-emergent appoints."
Although health care facilities are experiencing this stress, Mayer notes they have been making updates to fixtures, materials and design.
"With that being said, we continue to see a lot of healthcare facilities making updates on specific types of products," he explains. "Hands-free sensor operated products, focusing on making sure they can limit bacteria and things are easier to clean." 
Mayer notes there have been more projects going on for smaller specialized health care type facilities than in major hospitals, but as things open back up and infrastructure spending is delegated, larger hospitals jobs should pick back up.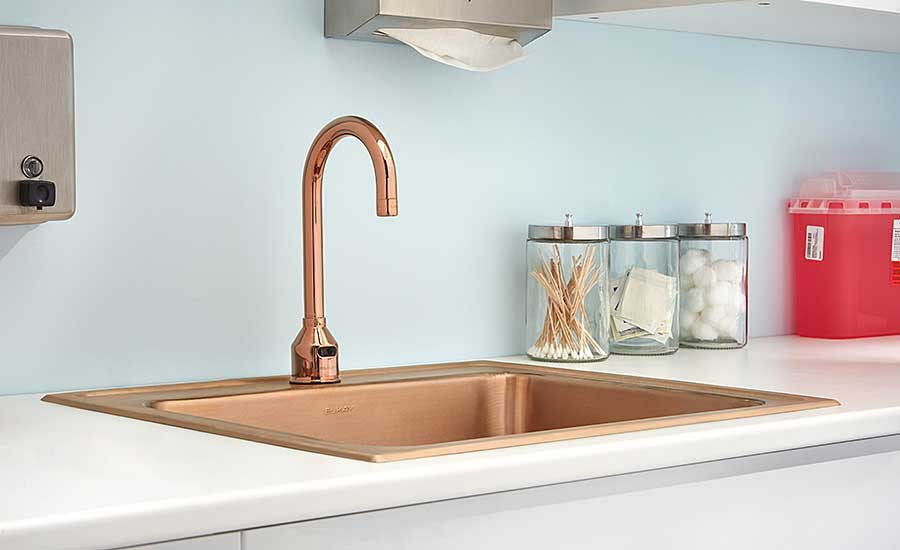 When it comes to plumbing, there has also been a high demand for sinks, especially those with hygienic properties like Elkay Quartz Sinks, that are made with nonporous quartz that helps prevent the spread of bacteria and CuVerro Antimicrobial Copper Sinks, that kill more than 99.9% of bacteria within two hours. Photo courtesy of Elkay.

Mark Lawinger, Sloan's senior product line manager, flushometers and fixtures, says hands-free is top-of-mind for both new products and retrofit applications. 
"Specifically, touchless products like sensor flushometers and faucets have been strongly trending upwards," he says. "Both new products as well as retrofit versions have seen this impact, as customers have recognized that reducing or eliminating high-touch areas is a key strategy to reduce disease spreading."
In addition to functional product changes, Mayer notes that health care facilities are looking to change the patient experience. "They're focusing a lot on patient experience, which starts with the specifications driven by architects and engineers," he says. "They want visitors to have a better, less institutional feel when they're in the facilities. So we're seeing some of the manufacturers come out with some really innovative products that combine aspects of design along with the functionality needed."
Specifically in sinks, antimicrobial surfaces are more important than ever, according to an Elkay spokesperson. 
"Antimicrobial sinks that are tough on germs to fountains that put cleaner, healthier water within reach, is a trend that's not going anywhere for clinics and doctors' offices," Elkay says. "With sensor-activated options, and foot petal-powered options, hygienic features that help reduce bacteria is a trend that is ideal for hospitals and medical offices in today's world."
As an extension to health care facilities, Mayer notes the "aging in place" movement is providing another opportunity. 
"Assisted living has been a booming area and will continue to, but one of the things we started to see prior to COVID, and we've definitely seen an acceleration of it with aging in place," he explains. "We see it as an extension of health care. There is demand for products that allow people to renovate kitchens bathrooms, and allow them to stay in their home."

Educational settings
In addition to the inevitable touchless trends, water-quality, easy cleaning and bathroom spacing are factors driving product trends in educational spaces. 
Many schools have sat empty for months — or nearly a year — so there has been ample opportunity in some areas for projects to take place that ordinarily wouldn't be possible with students in the building, according to Mayer.
On the other hand, government spending drives many educational building construction and renovation, so the pick-up of new projects depends on local legislation and geographic area.
Lawinger says projects should pick back up in this space to meet the demand for safer products. "The educational sector is beginning to pick up and is anticipated to increase the pace as summer arrives and stimulus money is made available. Many schools are still using manually operated faucets and flushometers and these high-touch surfaces need to be reduced or eliminated."
Distance between fixtures, smart technology and layouts that provide privacy are trends in the public restroom space, especially schools.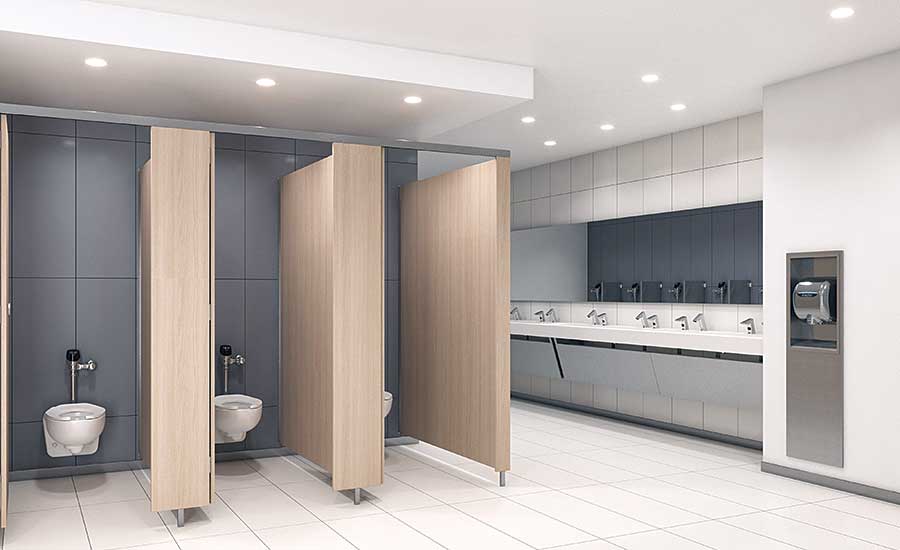 Floor-to-ceiling doors for water closets are trending In public restrooms. Photo courtesy of Sloan.
"Distance between fixtures within a restroom, floor-to-ceiling doors for water closets and a reduction in communal areas are all popular trends," Lawinger notes. "Other trends not related to the pandemic are a slight uptick in gender-neutral restrooms. The smart/Internet of Things aspect continues to grow everywhere as buildings seek more information about product usage and performance. This trend is expected to grow well into the future as its value is demonstrated."
When it comes to water quality and efficiency, institutional spaces are striving to find a balance that meets demand while being budget conscious. 
"Water safety, conservation and efficiency are all very important in institutional spaces. The challenges are always to balance product design aesthetics and technology with project budgets," says Morgan Butts, senior product line manager at Sloan. "From an efficiency standpoint, new construction jobs have much more flexibility than retrofits to update the components in the walls that set up their systems most efficiently so they can utilize the most water efficient products that are available."
More space between fixtures and sinks will be popular In educational and other public restrooms. Photo courtesy of Sloan. 
Even prior to COVID-19, end-users question the cleanliness of public drinking fountains — a stable schools and most institutional spaces. 
"With its in-school solutions, including commercial-grade sinks, faucets and drinking solutions, Elkay is helping to keep classrooms and facilities healthier and more hygienic with hands-free products and accessories," the Elkay spokesperson notes. "We want to ensure we are still providing healthy hydration for students but offering hygienic solutions that keep everyone safe while also contributing to reduced plastic waste."
As school building sat idle for many months, stagnant water and its ability to grow bacteria has been a concern. Elkay notes its customers main concerns are first: How safe is the water from a biological perspective after it's been sitting in the system during an extended shutdown? Second: Will there be any changes to the codes regarding drinking fountain requirements since some folks are now concerned about drinking from fountain bubblers?
"Regarding whether plumbing code changes will allow for the substitution of drinking fountains or bubblers themselves, this year is a code cycle (for the 2024 codes), so we will look to see if any proposals surface that address this," Elkay says. "In the meantime, it's worthy to note most of the current model codes already allow bottle filling stations to be used as a substitute to meet the requirements of drinking fountains for up to 50% of the required number of drinking fountains; that means in most cases, current bottle filling stations meet about half of the requirements for drinking fountains today."
Distribution challenges 
Institutional projects may be picking back up, but supply chain disruption and product pricing may be areas of concern.
"Lead times are impacting projects in a big way, but every trade in the construction process is facing the same struggle," notes Kyle Cline, vice president of operations at Locke Supply Co. "Price increases are causing building owners and investors to look at budgets, but we have not seen any delays in projects due to pricing yet."
Scott Ausnes, plumbing and PVF segment manager at Dakota Supply Group says communication is the best way to work through supply chain disruption. "We have weekly have calls with our manufacturers to make sure we understand their process and problems that they're dealing with," he says. "We're letting our customer know what's going on when it comes to supply and demand so they're aware and can preplan. Without proper communication you're going to be sitting there on a project and not having materials to complete it."
As product pricing increase and fluctuate frequently, it's hard for jobs to put together budgets.
"It's very difficult for people to, to put together budgets and understand what the true costs are going to be," Mayer notes. "However, even though we've seen significant increases, we haven't seen many current jobs canceled or put on hold. They're still moving forward. My concern is for jobs in the early planning stages or the jobs that are trying to secure funding. I think some of those might hold off, but there are a lot of projections that some product prices will come down a little bit over the next 60-to-90 days."
With the new technology in product development and demand for renovations in the institutional space, there seems to be a promising market ahead.
"The biggest pain-point continues to be supply chain movement," Ausnes says. "To combat that suppliers are going to the project management model where on these larger jobs they'll have project managers assigned to them. That's how a distributor can really help through the planning stages; communicate supply chain issues and be proactive instead of being reactive to the project."