Over the past decade, society has been evolving. It is constantly rethinking discrimination, with growing social awareness of gender identity, differently-abled individuals and sensory sensitivity. The public restroom is one area that has come under fire during this social evolution. Building designers and code councils are working toward more inclusive, private, accessible and ADA compliant spaces.
Big changes are coming for commercial plumbing fixtures, partitions, toilets, lighting and more in public restrooms. Although some requirements are clear, there are gray areas to address, and distributors need to be aware of the products available and new standards circling in order to be prepared to serve contractor and designer customers.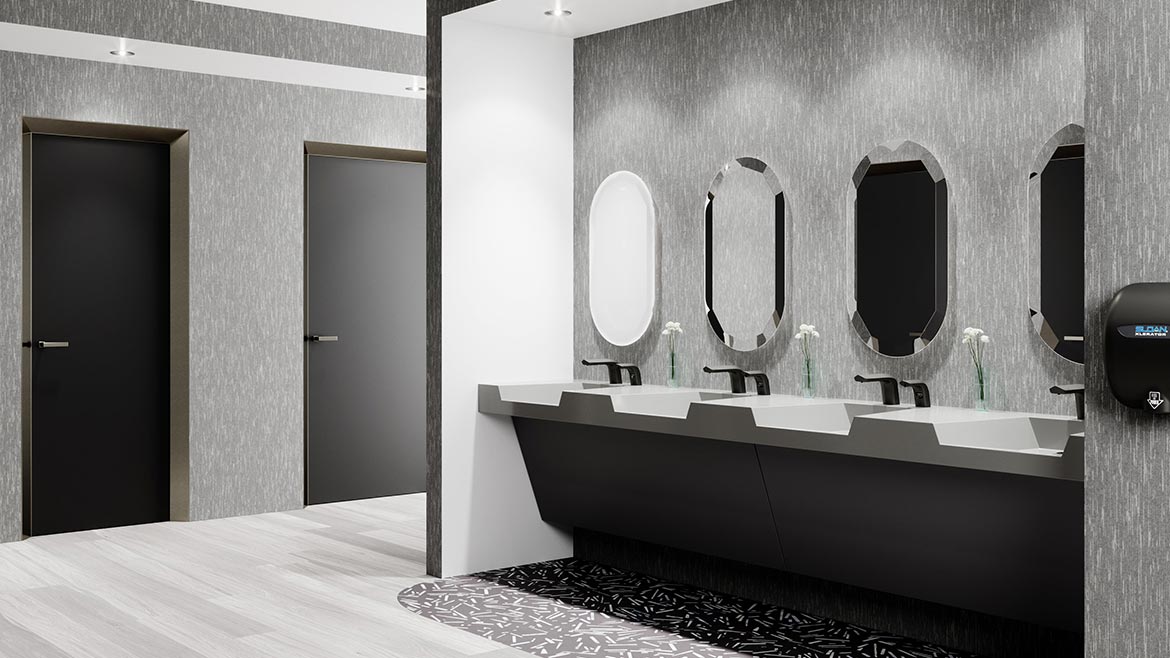 A safe sensory experience
According to Daniel Gleiberman, Sloan manager of product compliance and government affairs, public restrooms can be very overwhelming for those with sensory processing disorders or other forms of auditory, tactile or visual sensitivity.
"Loud hand dryers, flushing toilets, paper towel dispensers, bright lights and general noise in restrooms can induce anxiety, so it's important to develop products with this in mind to help with elements like flush response," Gleiberman says. "Form, function and aesthetics are more prevalent than in years past, and Sloan ensures that all of its products don't have one element without the other."
Privacy is a must
Regardless of gender identity, visitors want to feel safe and comfortable in the public restroom. A number of design elements and products are available to promote the highest level of privacy in a restroom.
Gleiberman notes that single-occupancy is ideal, but in cases where they are not possible, there are alternative solutions.
"Single-occupancy solutions are ideal as they maximize privacy and flexibility, and allow usage based on gender identity. However, when single-occupancy restrooms are not feasible, designers can incorporate privacy measures via ambient noise, floor-to-ceiling doors and amenities within individual stalls," he says. "Occupancy indicators in the form of digital signage outside the restroom are now helping to manage social distancing and streamline traffic to ensure restrooms don't become overly crowded as well."
Codes changes are also ahead that will require more private spaces. In fact, both plumbing codes — International Plumbing Code (IPC) and Uniform Plumbing Code (UPC) — have accepted the concept of all-gender restrooms, meaning we are universally moving away from men's and women's restrooms.
Julius Ballanco, P.E., CPD, F-ASPE, president of J.B. Engineering and Code Consulting, points out to a new IAPMO code — IAPMO Z124.1.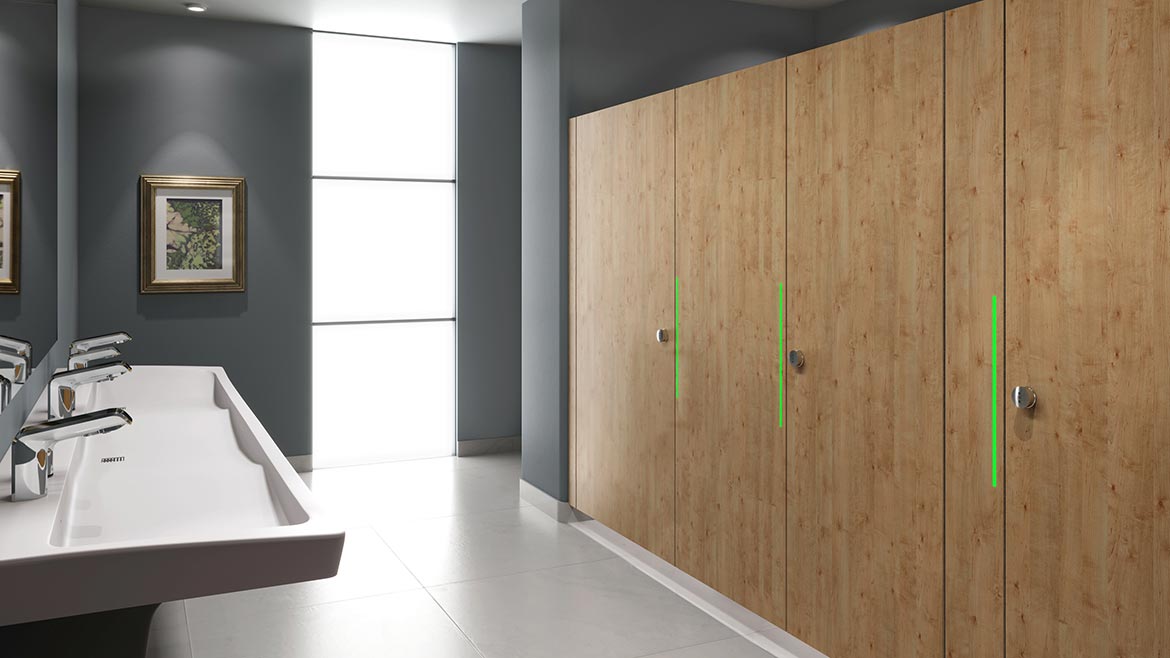 "Basically this will require that in all gender restrooms that are not separate rooms, the partitions have to be just four inches from the floor," Ballanco explains. "Additionally, there can be no gap in the door that's visible on either side, and there must be some sort of indicator to show whether or not the compartment is occupied."
Cassie Schneider, product manager, commercial handwashing, at Bradley Corp. points out that to reach gender inclusive restroom, the U.S. is modeling after European designs.
"Even before COVID-19, European restroom models with gender-neutral layouts were gaining popularity. A parallel can be drawn between the benefits of a restroom planned to be gender neutral and planned to address COVID-19 and infection control concerns," Schneider says. "The European model of stalls forming a perimeter around communal washing stations with open circulation may be a layout we see more of in the U.S. This design can help facilitate one-way traffic and minimize cross-traffic."
Schneider adds that design elements like eliminating doors, adding S-curved and automated doors and widening doorways are also gaining traction.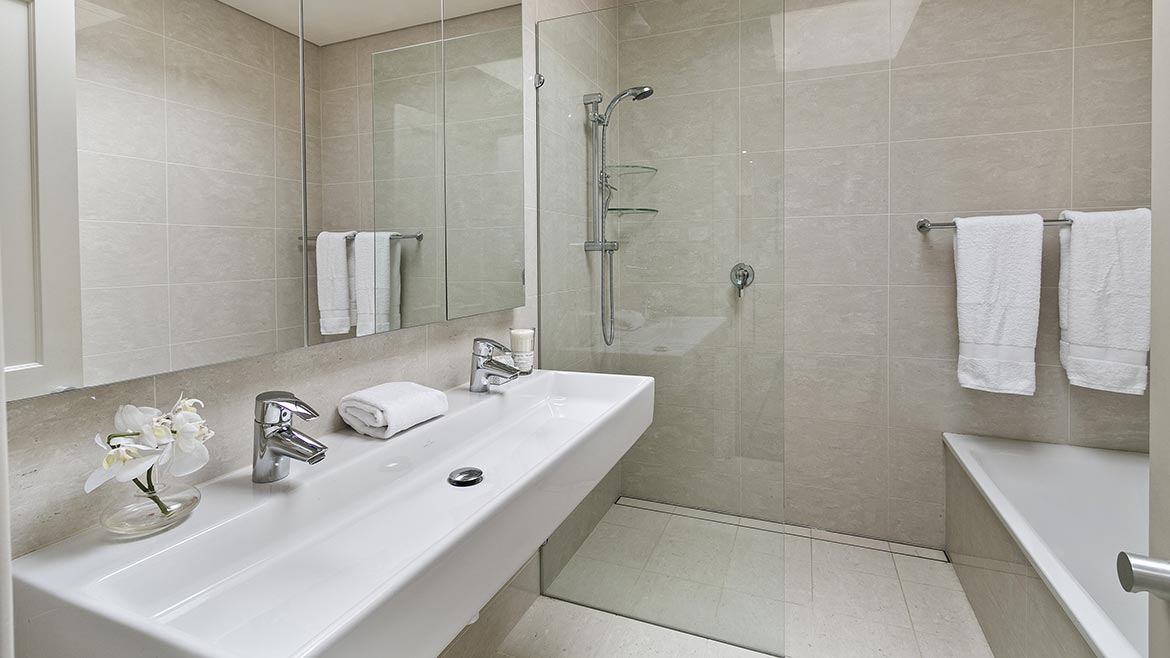 Reliable touchless technology
Within the past couple of years, touchless fixtures in a public restroom have shifted from "nice to have," to "must have."
According to the 2022 Healthy Handwashing Survey by Bradley Corporation, as 84% of Americans believe it's important that public restrooms are equipped with touchless fixtures.
Schneider points out that touchless technology must be as reliable as it is hygienic. "Bradley's all-in-one WashBar with smart soap, faucet and dryer are designed with advanced sensing capabilities to eliminate false activations," she says.
When it comes to codes for touchless fixtures, Ballanco says there has been a lot of debate surrounding temperature, force and automation.
"The accessibility community has commented that they like the automatic faucets better," he says. "One thing that has been added to plumbing codes is mandatory soap dispensers. In most areas of the country, they are installed anyways, but we found that in lower economic income areas, soap dispensers were never provided."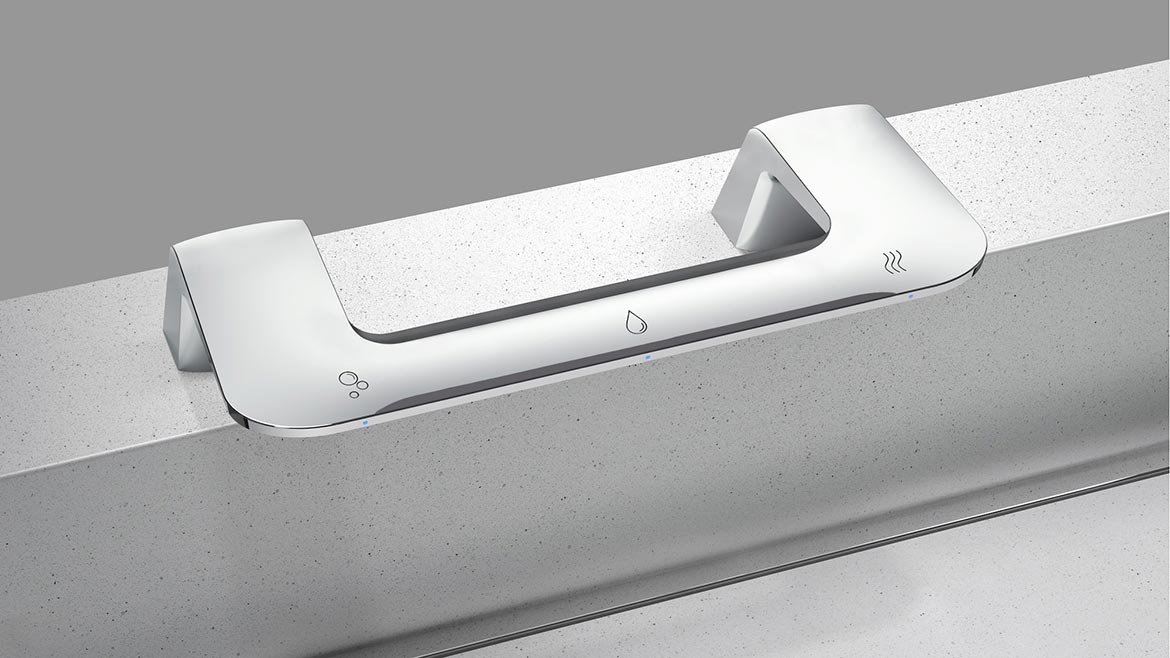 Ballanco brings up codes that "Assisted toileting" is a code term we will see become more refined throughout the upcoming standards.
"It was previously proposed within the assisted toileting provisions that automatic flush toilets were not allowed because they constantly flush while caretakers are trying to help a person on and off the toilet," he says.
Supporting the aging population
According to the Administration for Community Living, the population age 65 and older increased from 39.6 million in 2009 to 54.1 million in 2019 (a 36% increase) and is projected to reach 94.7 million in 2060. By 2040, there will be about 80.8 million older persons, more than twice as many as in 2000. The 85 and older population is projected to more than double from 6.6 million in 2019 to 14.4 million in 2040 (a 118% increase).
Supporting the aging population means creating public spaces that support the aging-in-place trend we are familiar with.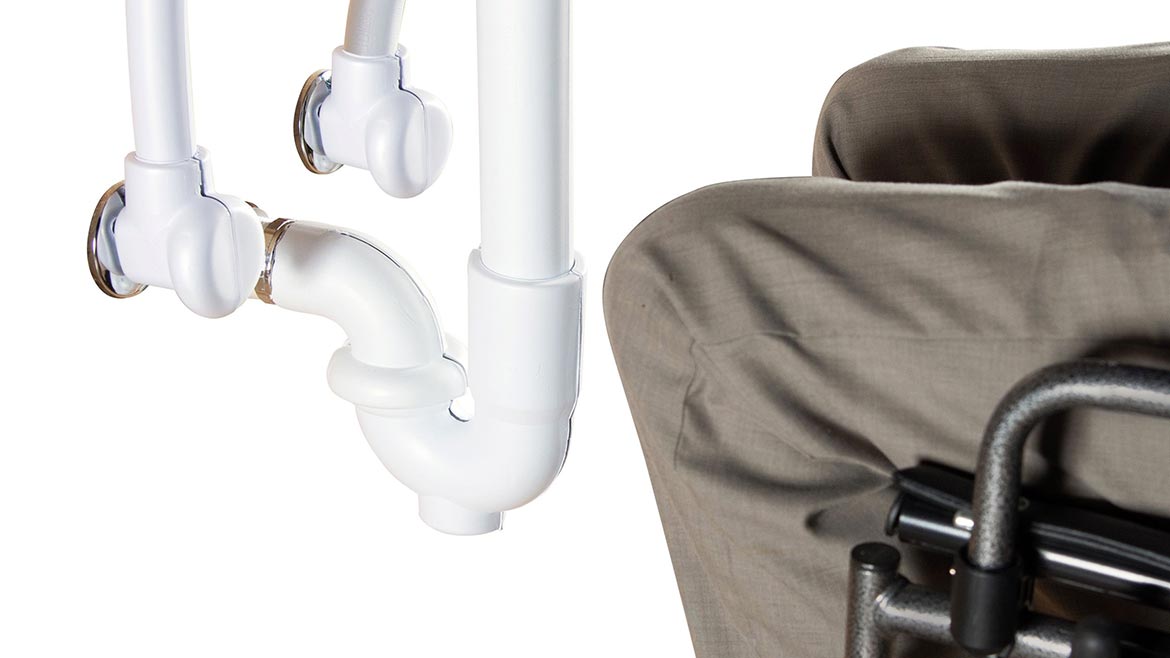 "Restaurants and hotels are now starting to increase the amount of ADA-compliant bathrooms, a requirement to accommodate those that need more accessibility," says Evan Novak, senior commercial sales manager at Oatey Co. "We saw 10 years ago in the commercial setting 80% bathtubs and 20% showers. Now that has flipped to where hotels are installing primarily showers, opposed to showers with tubs."
Novak ads that hotel building owners are investing in providing a higher quality experience at their property. "More projects are gravitating toward aging-in-place amenities such as grab bars, undermount sinks, hand showers, and curbless showers for bathrooms," he says. "These products offer a spa-like luxury and added functionality for the higher-end property while staying ADA-compliant."
Functionality and design are what end-users and building owners are looking for.
"Products that can save time, money, or both are desirable to both those specifying the work and the manufacturer creating new products. The end-user and specifier see function and design as a greater value in the end," Novak explains. "Another thing to keep in mind is versatility and flexibility in a product. We see people willing to pay more for this feature because of the opportunity to use fewer products and get the project done sooner. If the contractor can go room to room installing product as intended, even with unforeseen complications potentially, those types of products are valuable to contractors."
Ballanco explains that when the 2021 ICC International Building Code were adopted, there are new optional requirements to address assisted use plumbing fixtures. "We typically think of assisted use being in a nursing home; however, it can be other facilities used by the elderly," he says. "Assisted use plumbing fixtures expand on accessible plumbing fixtures, also called handicapped plumbing fixtures. However, there are distinct differences between assisted use and accessible fixtures."
At the end of 2023, some of the accessibility requirements that were published in the 2021 ICC International Building Code will be further refined in the 2024 edition. "Changes to requirements for grab bars, water closets, etc. are being refined by this new idea of 'assisted toileting,'" Ballanco says. "For example, in 2024 it's now accepted that swing down grab bars can take up to 10 inches from the back wall. So in other words, they can stick out beyond the back wall, alongside the water closet which allows the standard swing down grab bars to be used."
Ballanco adds that the assisted toileting standards will bring changes to requirements for adult-sized changing tables, accessible water closets and assisted bathing and showering requirements, so distributors and manufacturers should be aware of these discussions now in order to be prepared.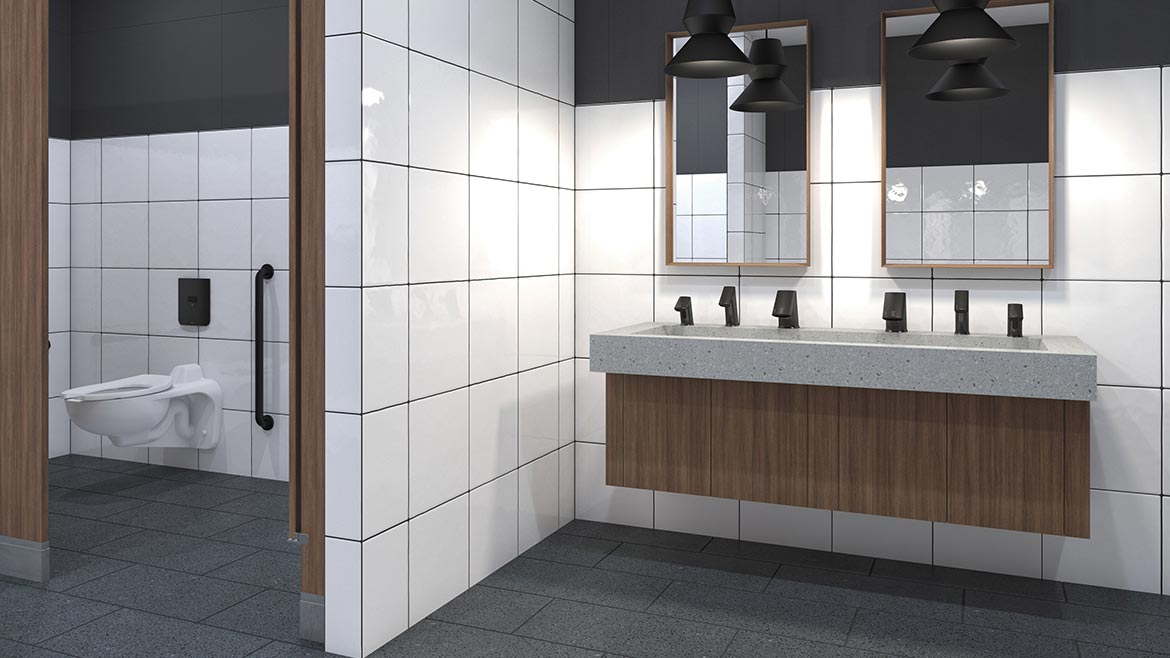 It takes us all
The good news is that these changes which are designed to help different communities and create more accessible, inclusive and private commercial restrooms in turn create a better, more comfortable and clean shared restroom space for all.
One resource available to help rethink restroom spaces for optimal usage for all is Bradley's Online ADA Design Guide. "This guide features starter kits architects/designers can use to jump-start projects with accessible restroom and locker room layouts in 3D or 2D format – ready to copy and paste into designers' projects' design," Schneider explains.
Sloan's Gleiberman says manufacturers are taking the responsibility. "Commercial restroom manufacturers play a leading role in developing new codes, and this will be important moving forward to ensure that restrooms are an inclusive environment for everyone."
As manufacturers and code professionals at industry associations work to create optimal plumbing codes for all, distributors need to be armed with the knowledge to help their customers make optimal product decisions. 
"Contractors, distributors and specifiers alike should continue to seek products with higher functionality and convenience," Novak says. "Many people are unaware of the options available to increase the comfort and convenience of their business. There are plenty of opportunities now to create spaces that are forward in design and offer a safe environment. It all starts at the decision level when specifying what products to go on a project."