On a recent episode of the American Supply Association's Town Hall Interview Series, ASA Vice President of Sales and Membership Mike Miazga dove into the latest oil and gas happenings with Mike Sommers, president and CEO of the American Petroleum Institute. ASA Industrial Piping Division members submitted questions for the interview, and Sommers tackled hot topics such as engaging with the new administration, stabilizing oil and gas prices, fracking and reducing emissions.
ASA's Town Hall Interview Series is an exclusive benefit for ASA members and is being shared with Supply House Times, the official publication of ASA. 
MM: How is API working with the Biden administration right now?
MS: Since API has been around for more than 100 years, we've worked with both Republican and Democratic administrations; this time is no different. We're in touch with the Biden administration regularly and frequently about the priorities of our industry. 
Although the administration is heavily focused on climate-related issues, I think there is common ground. For example, we're working closely with the administration on COVID-19 relief — making sure vaccines and supplies are available — to ensure we make it out of the pandemic and the economy can recover. We're also working with them on making sure we're reducing our carbon footprint as an industry. 
That being said, there are going to be areas where we disagree, such as the cancellation of the Keystone XL Pipeline project that immediately eliminated about 1,000 jobs, and prevented the creation of about 10,000 union jobs that would have been working on the pipeline. We are committed to working with the administration, while also opposing them on executive orders, like this one, that target our industry.
MM: What does API expect when it comes to upcoming EPA regulations around oil and gas production?
"U.S. refinery margins have recently returned to pre-pandemic levels, which is great news. There absolutely is light at the end of the tunnel for American refiners."
MS: We expect to see a very tight regulatory environment. President Biden has requested a review of the existing Methane Admissions Standards, and API has indicated its support for direct federally regulated methane for both new and existing sources. We expect to see changes from the EPA on its water quality regulations and counsel on environmental quality rules implementing the National Environmental Policy Act, which may affect operations on federal lands. We're concerned about any regulations intended to cut back on Permian reforms which have been very important in the development of oil and gas infrastructure. 
Additionally, the EPA may be reviewing the recently affirmed National Ambient Air Quality standard with an eye towards tightening those far-reaching standards; so we have our work cut out for us to make sure standards protect public health and the environment, but still allow our industry to thrive.
MM: What U.S. oil exploration is now in jeopardy, and how will that change the oil market? 
MS: With President Biden's executive order to halt new leases on federal lands and waters, the administration may have taken the first step in totally banning development in these areas. The demand for oil and energy isn't going anywhere. With this move, the administration shifted America's bright energy future into reverse, putting us on a path toward greater reliance on foreign energy sources. 
API will be pushing back significantly on these orders because we know they're not good for American consumers.
U.S. refinery margins have recently returned to pre-pandemic levels, which is great news. There absolutely is light at the end of the tunnel for American refiners.

MM: What are API's thoughts on re-establishing production quotas or guidelines that can stabilize oil and gas prices?
MS: Generally, API opposes tariffs, sanctions or quotas and we remain confident in the resiliency of the American oil and gas sector going forward. We believe that quotas, particularly in Texas, would disproportionately harm businesses in the Permian and East Gulf basins. We saw last month from the energy crisis in Texas how important it is to have consistent productivity from all energy sources. 
We've dealt with this fight when oil process was very low during the pandemic. There were efforts of prorating barrels called "pro-rationing." We were very opposed to this and did not see it helping market conditions. 
We think the free market should be what dictates oil and gas prices, and we've seen as demand increases and supply is somewhat restricted that prices are going up. This industry is used to "boom and bust" conditions, and API expects we will recover nicely as the pandemic seeds. 
MM: In terms of production, what's API's outlook on the oil sector short-term, and how do you see it shaping up by fall or winter of this year? 
MS: API's latest data suggests that the U.S. oil markets are already on a road to recovery in 2021. The month of January was remarkable; in terms of U.S. oil demand, if you compare January of 2021 to January of 2020 (pre-pandemic) we're only 1.2% off from where we were in January of 2020. That's a remarkable recovery. The demand specifically for petrochemical products has led this surge. 
Additionally in January, we saw the lowest crude oil import since 1992, which means the U.S. energy leadership is working, and we are using more sources of oil from the states vs. foreign sources. So we believe things are starting to look up both in the U.S. and worldwide. 
MM: What does reduced fracking mean for the glut of natural gas?
MS: I no longer think of U.S. gas production as a glut. I think the pandemic has certainly cleared out some producers and because of that, there is less natural gas being produced in the states. The advent of fracking led to the U.S. having some of the lowest-cost natural gas in the world. Much of that is due to relentless innovation; fracking coupled with horizontal drilling led to an energy revolution in the U.S. 
Today, the U.S. is still the No. 1 producer of natural gas and oil, even post-pandemic. Having a lot of natural gas is a good thing and most importantly, low-cost U.S. gas has been a key driver in displacing coal in the power sector, thereby bringing emissions levels to generational lows. The U.S. has reduced emission more than any other country in the world and the biggest driver of that has been low-cost natural gas.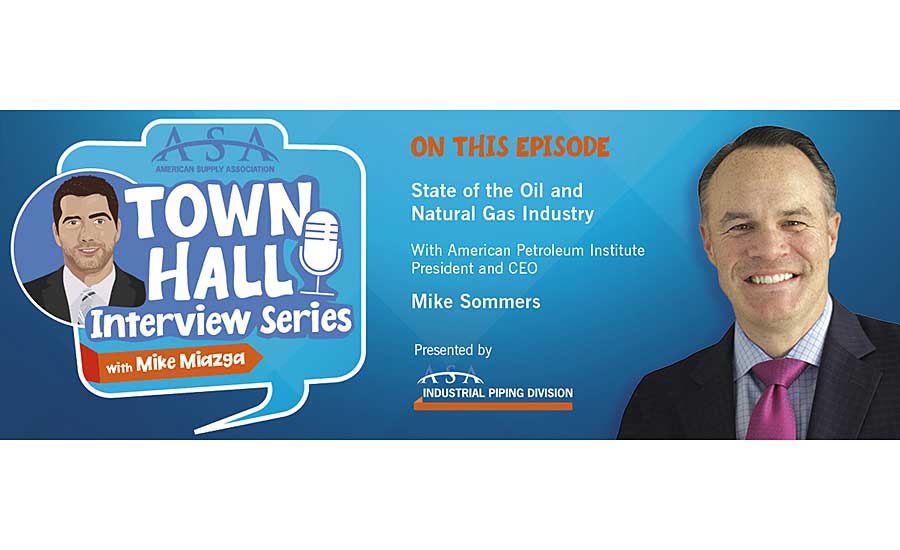 MM: Before the Keystone XL Pipeline shutdown, how much of it was completed? What's going to happen to Canadian oil now?
MS: Planned to be an 875-mile pipeline, only a 1.2-mile section in Montana was completed before Biden signed his executive order. API is very concerned with the job loss I mentioned earlier due to this shutdown. We're most concerned about other projects that could be stopped based on this new approach to energy infrastructure.
Instead of transporting the Canadian oil the safest, most economical way — through a pipeline — it will likely be transported via rail or on trucks. We do think there's potential for some supply to go west through the Trans Mountain Expansion project, and that's disappointing. We should want that oil to stay here and strengthen U.S. and Canada energy independence.
MM: On the downstream side of things, do you think it will continue with shutdown and turnaround for the rest of 2021, or are projects going to move into 2022?
MS: The recovery of the economy as a whole could allow for some projects to resume or start. Planned refinery outages from November 2020 to January 2021 were below those of the year prior, which makes sense because the capacity utilization rates were lower due to decreased demand after the pandemic. Short-term cost saving could have been attainable by postponing turnarounds within acceptable parameters that still maintain strong operation integrity. However, U.S. refinery margins have recently returned to pre-pandemic levels, which is great news. There absolutely is light at the end of the tunnel for American refiners. 
MM: How much time and money is big oil investing in the development of green fuels, and is there a plan to recreate themselves as a major player in this new market?
MS: Many API companies are already investing in wind and solar, but as the recent Texas energy crisis points out, we need contributions from all energy sources; not just oil and gas. As renewable energy grows, it's clear that wind and solar need a reliable quick-starting partner, and the best option is natural gas. So interestingly, as you expand renewable fleet, you need natural gas to back it up. We need a reliable energy grid even as the sun isn't shining and the wind isn't blowing. 
MM: From API's standpoint, what's the current pulse for the labor environment in the oil and gas sector? Do you see the labor environment swinging back and forth or stabilizing?
MS: This ultimately depends on the environmental policies that will be debated over the coming months. The restrictive policies that are one size fits all like some of the regulatory ideas being discussed right now would jeopardize more jobs. The Keystone XL Pipeline is just one example of the types of jobs that will suffer if we as a country take the wrong path. 
The industry shares President Biden's goal of getting Americans back to work, and we know the country can accelerate job creation by addressing the critical need for more energy infrastructure and other energy investments. So API will work hand-in-hand with the administration to get Americans working again. 
Back in 2008 it was the energy industry that brought America out of that recession, and we expect the industry to be a very significant part of recovery this time around as well.

MM: How is the oil and gas industry preparing for the retirement of its skilled workforce and working to attract more folks into the industry?
MS: Just like within the PHCP-PVF industry, our people are our most valuable resource. We must work to attract the best and brightest minds in order to continue providing safe, efficient and clean energy. API has seen great engagement from the millennial employees. They increasingly understand that energy security and environmental protection does not have to be a choice of one or the other. We know the next generations are committed to environmental protection and emission reduction, and we can help provide that with the right minds and exciting technology that's being brought to the forefront. 
It's a really exciting time to join the oil and gas industry, in my opinion. We're on the cusp of an incredible revolution of ensuring this industry is sustainable for hundreds of years to come.
MM: Shifting to codes, do you foresee a change in the future to require normalization on all A105 forgings, including flanges and fittings? 
MS: API has a taskforce that reviews the requirements of the industry and addresses those needs in API's standards on forging, which are developed consensus with a fit-for-purpose approach and performance-based language. In light of this, normalization of fittings and flanges will remain an option based on the specific industry application. 
API's standards process is a transparent process, and we would welcome additional participation on our standards and task groups. We welcome the opportunity to engage with ASA members on this important program, as well as other API standards. 
MM: How is the industry preparing for the post-COVID energy demand? What does the oil and gas industry look like in 2040?
MS: We do expect demand to be robust, especially in the second half of this year. American producers are ready to supply that demand with American oil and natural gas. 
As far as projections go, we rely on the International Energy Agency based in Paris, which projects that 46% of the world's energy will be provided by oil and gas in 2040. We know that oil is going to be the integral fuel for the transportation sector as well, supplying about 62% or more by 2040. Oil will also continue to be a strong source of energy for manufacturing, pharmaceutical and consumer products, and of course for petrochemicals which make many of those products. 
Through continued innovations and new technologies, API is doing everything we can to reduce emissions, and we are excited that natural gas and oil are at the forefront of the next generation of energy research and development. We believe the future is bright, but we have to get the policy side down as well, which is why it's important we continue to engage with Congress and the Biden administration on key priorities.