Even though PEX has a long history in construction applications, its early North American beginnings in residential radiant floor heating systems more than 35 years ago dubbed it a "residential" product for the first decade or so. Then, as PEX expanded into commercial radiant heating and cooling, residential plumbing, residential fire safety, and most recently, commercial domestic water and mechanical/HVAC hydronic piping systems, the building industry was able to see the benefits of the product for various applications.
Today, more than 17 billion feet of PEX piping has been installed worldwide. That's enough to stretch to the moon and back almost seven times. Although the product is thoroughly tested and proven with decades of use and miles of installations, PEX is still sometimes misunderstood. Some wonder if a plastic pipe can really compete with, let alone outperform, metallic pipe.
So, when customers have questions about PEX for mechanical HVAC hydronic piping or even domestic water applications, here are answers to quell the myths about the product or its performance.

All PEX is not the same
Professional PEX products fall into three categories: PEX-a, PEX-b and PEX-c. Of those three, PEX-a, manufactured using the Engel Method, has the highest degree of consistent crosslinking — at 80%. This produces a pipe that is more flexible and durable with thermal and elastic memory properties. 
Understanding thermal and elastic memory
Thermal memory is the ability to repair accidental kinks in the PEX-a piping with a controlled heating source, such as a heat gun. The controlled heat quickly eliminates the kink in minutes, while the pipe is restored to its original durability. 
Elastic memory refers specifically to how PEX-a piping will quickly return to its original dimensions after expansion. This allows the use of the exceptionally strong, ASTM F1960 expansion fitting connection.

Expansion connections explained
To create an ASTM F1960 expansion connection, the installer uses an expansion tool to enlarge the diameter of the pipe, so a fitting with a slightly larger internal diameter can be inserted. The pipe quickly compresses over the fitting, creating a durable connection that actually strengthens over time. 
Just as important: Because the fitting diameter is a bit larger than the pipe diameter, "dry-fit" pipe connections are physically impossible. This eliminates the problem when an installer neglects to solder or glue a fitting in a copper or CPVC system, resulting in costly leaks inside the walls of a completed project. An ASTM F1960 fitting requires the connection be fully made, permitting quick visual confirmation: If you can see the fitting is inside the pipe, the connection is done.
Also, unlike with metallic pipe, the expansion connection is actually the strongest part of a PEX-a system. In fact, pull testing shows that even 3,000 pounds of force with more than 13 inches  of displacement does not compromise the integrity of the ASTM F1960 PEX-a connection. 

Using hangers and supports
PEX-a pipe can be hung at similar intervals as metallic pipe. It's true that other plastic piping systems typically require supports every 32 inches.
However, using PEX-a Pipe Supports — a galvanized steel channel that provides continuous support in suspended-piping applications — allows PEX-a to behave just like a metallic piping system in many ways, including hanger spacing at up to 8-foot intervals.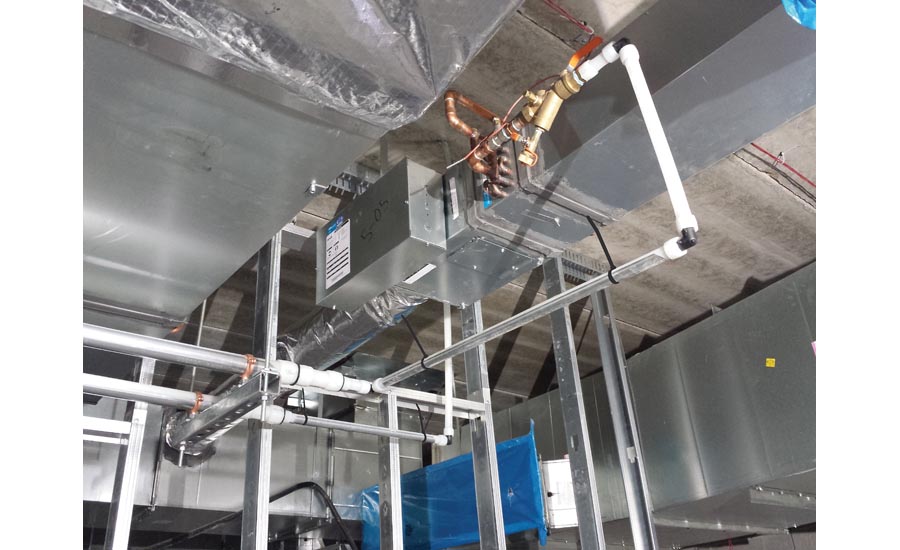 Uponor hydronic piping system installed in River Bluff Elementary School in Red Wing, Minnesota. Photo courtesy of Uponor.
Addressing expansion and contraction
The PEX-a Pipe Support helps to control the natural expansion and contraction that occurs as the piping heats and cools. Used in conjunction with manufacturer-recommended installation practices, the pipe support allows PEX-a to undergo an expansion rate equal to or, in some cases, less than that of copper. This also greatly improves the overall aesthetics of the system, ensuring it has the look and feel contractors and owners expect on their projects.
Temperature and pressure ratings
PEX-a is rated for continuous operation at 200° F at 80 psi. Any hydronic application with water temperatures at or below this value is perfectly applicable for the product.

Fire-resistant construction in plenums
PEX-a is ASTM E84-rated for flame- and smoke-resistance inside a non-ducted, return-air plenum. This also applies to fire stopping. For information regarding specific listings, be sure to contact the manufacturer.

UV ratings
Different PEX manufacturers offer different UV ratings for their pipe. For Uponor, red or blue PEX-a pipe offers a six-month rating for direct sunlight exposure, while white pipe offers a one-month rating.

Code compliance
In general, PEX-a is compliant with all codes and standards, including the International family (IBC, IRC, IMC, IPC) or the Uniform family (UMC, UPC, CPC) of U.S. codes. However, it is important to check with the manufacturer for code compliance before recommending a PEX product to a customer.

Job site health and safety
Offer greater value to your customers by sharing the job site health and safety benefits of PEX-a compared to metallic piping systems. First, the pipe is significantly lighter than metallic piping. In fact, a 20-foot stick of copper is three times heavier than a 20-foot stick of PEX-a, and carbon steel is even heavier. This makes PEX-a easier and safer to move around the job site with less stress on the body.
Secondly, using the ASTM F1960 expansion connection for PEX-a requires no open flame or hot work, greatly reducing the safety risks involved with soldering and welding. And third, the PEX-a expansion connection system eliminates glues, solvents and other potentially hazardous materials used in other connection systems.

Helping impact the customer's bottom line
Because PEX-a is not an open-market commodity like copper, its pricing is far more stable over time. That means customers can feel more confident bidding a job in PEX knowing the pricing won't fluctuate with market conditions.
Additionally, installing PEX-a with ASTM F1960 expansion connections takes significantly less time versus copper systems. For example, comparing Mechanical Contractors Association of America (MCAA) labor data for PEX-a and ASTM F1960 expansion connections versus copper sweat connections shows an average labor savings of more than 300%. Compared to copper press, the labor savings is more than 20%.
Also, because the pipe resists corrosion, pitting and scale buildup, fewer costly chemicals are needed for water treatment in a PEX-based hydronic system. This lowers lifecycle costs and decreases the complexity associated with the water chemistry.
In addition, the product's lighter weight lessens the need for expensive, heavy machinery to move it. Lastly, because ASTM F1960 expansion connections don't use open flame or heat, it eliminates the expense of fire-watch requirements.

In conclusion
As the industry continues to be challenged with tighter construction schedules and budgets, more professionals will look to innovative, high-performing solutions, such as PEX, to meet project demands.   Being knowledgeable about the features and benefits of PEX will help address customers' questions about the product for hydronic piping applications. For more information about PEX piping systems, feel free to visit the Plastics Pipe Institute website at plasticpipe.org or the Plastic Pipe and Fittings Association website at ppfahome.org.