Sometimes simple ends up being the best.
In the case of Boca Raton, Florida-based manufacturers representative Carr Company, simple has equated to more than five decades of sustained success throughout the Sunshine State.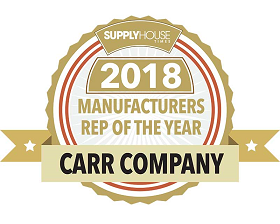 The agency, headed by President Michael Hobbs, uses a formula of strong lines, industry expertise, an obsession with over-the-top service and a strong company culture to win business throughout the PHCP-PVF supply chain. That plus the company's continued involvement in and championing of industry associations such as AIM/R and the American Supply Association are reasons Carr Company is the 2018 Supply House Times Manufacturers Representative of the Year.
Where it all started
Carr Company traces its roots back to Cincinnati more than 75 years ago where Hobbs' grandparents, George and Edith Carr, sold plumbing products — their first line was Schaible Faucets. They moved to Ft. Lauderdale in 1967. "As a kid I worked in the business, but I never thought my family would end up with it," says Sue Hobbs, Michael's mother.  "I had four brothers and the daughter ends up with the business."
She later married Larry Hobbs, who shepherded the agency to even greater heights during his long run as company president.  Larry Hobbs, Carr Company's current chairman, was inducted into the AIM/R Hall of Fame in 2016. "As a rep you always have that concern of having a succession plan and a successful one," Larry Hobbs says. "We laid out a plan where over time Michael was able to show his skills to manufacturers and key accounts. The transition went very smooth. You hear all the time about family businesses having a hard time surviving into the third and fourth generations. We're very proud of Michael. He took over and secured a lot of premier lines and has grown the company."
Sue Hobbs adds: "My mother and I shared an office for 25 years. We've always put a lot of stock into the family business concept. Michael is very proud of his family lineage and we're proud of him. He's done a wonderful job."
Meat and potatoes
Michael Hobbs and Carr Company have excelled in assembling a line card over the years that reaches all facets of the PHCP-PVF industry, ranging from water heaters to industrial valves to pipe-support systems to bath and kitchen products.
Carr's line card includes Advance Tabco, Apollo Backflow, Bradford White, Cello, Duratec, Eastman EZ-Flo, Empire Industries, Fernco, Gastite, K-Flex USA, KWC America, Lasco, Maax, Red-White Valve, Speakman, TOTO, Viega PEX & Flushing Systems and Villeroy-Boch among others.
"We have lines customers want," says Ray Gonzalez, the company's sales manager who covers Florida's West Coast and is based out of the Tampa area. "We don't want to be a certain type of agency. We want to be flexible and nimble. When we are at a jobsite we can fill in multiple holes, so to speak, with the lines we have. We can go in with one product and then that opens the door for our other brands. We have the ability to sell a larger package."
Decorative Manager Robin Frank, who used to work at Duravit, says having the bath and kitchen component the agency does is a huge plus, particularly in Florida's heavy retirement and hospitality climate. "There are a lot of decorative opportunities here," she says. "We get a lot of projects. I turn over every stone. And we get some crazy projects."
Like the guy who wanted 3,000 TOTO toilets to bring the buildings he bought up to code. "Most people wouldn't take an order like that seriously," Frank says. "It took fourth months, but we did it."
Service is king
Frank's toilet example is a commonality at Carr Company where customer service is the be-all, end-all. Punch in Carr Company's phone number and you'll always get a human voice. Voicemail is a no-no at 6000 Park of Commerce Blvd., in Boca.
"I am strongly against answering machines," Michael Hobbs says. "At the end of the day, if the customer needs something let's get them an answer as quickly as we can. A customer has multiple options. If we don't provide that high level of service, they will seek answers elsewhere."
Another component of Carr's commitment to its customers is the sheer fact its staff members know what they are talking about. Carr's roster is loaded with industry veterans with the PHCP-PVF supply-chain trifecta of experience at the distributor, manufacturer and rep levels. Territory Manager Gene Reiff came from industrial PVF distributor Eastern Industrial Supplies. Inside sales staffer Sharyn Simonsen worked at TOTO, while Outside Salesman Rick Destein has worked at both plumbing contractor and distributor companies. Territory Manager Michael Buchberg has previous rep experience and Builder/Project Manager Gary Williams worked at Ferguson and Rheem. Territory Manager Jeffery Vanegas has previous showroom experience.
"We have the knowledge and we understand the products," says inside sales staffer Leon Holmes, whose two tenures at Carr date back to 2004. "We can call on distributors and speak intelligently about the products we represent. With our experience, we know what these guys are up against so we're not putting false expectations out there about lead times and what we can actually do. If someone needs 100 showers now, we're going to do our best to make that happen. It's good when you can pull that off. We call it fun."
Another hidden gem inside Carr Company's foundation is the cohesiveness between the inside and outside sales teams. "One of the things I'm most proud of is our teamwork," says Hobbs, the current AIM/R president and a member of the ASA Education Foundation Board of Directors. "We have no kingdoms. We all are working here for the greater good. An outside sales team member's success is a success for all of us and if inside sales hits a home run we all enjoy the success. This enables us to take care of our customers. Our customers know they can call our inside or outside salespeople for help and we will take care of the customer as quick as possible."
Operations Manager Jim Smith adds: "The group we have from Michael to the outside staff to my inside staff and our warehouse crew is great. We're a great team and we feed off each other."
TOTO President of Operations and eCommerce Bill Strang says Carr Company's teamwork sets it apart from other plumbing reps. "All members of the sales team collaborate effectively and do whatever is needed to achieve success for the customer," he says. "In addition to their ethic of team work, they are very good at really listening to the needs of the customer and responding effectively to those needs. These representative examples speak to Carr Company's long history of success in the plumbing industry."
Hobbs, whose wife, Adrienne, is the company's controller, points to several behind-the-scenes advancements that have helped the agency, which covers the entire state of Florida sans the Panhandle region, on the efficiency and communication fronts. Hobbs says the addition of the Telenotes software has helped his salesforce reduce time in logging in sales calls, which means more time spent in front of customers. The company also made available to employees a training seminar on the ins and outs of the Microsoft 365 platform, which again is designed to unburden staffers from computer work so more attention can be placed on key customer interactions.
Carr Company also is proactive with using various social media platforms (Twitter, Facebook, Instagram) to highlight products its represents, promotions and training/educational opportunities. "Social media gives us a way to communicate with the different generations active in the industry right now," Hobbs says.
While Carr has its hands in many projects across the state, including the unique Porsche Design Tower on Sunny Isles Beach in Miami where high-rise residents can drive their cars directly into their apartments, it also is ready to spring into action for those urgent product needs thanks to its 20,000-square-foot home office and stocking warehouse that sits on five acres in a Boca office complex.
"We have the ability to serve as a stocking rep for some of our lines," Smith explains. "We're a huge resource for the local guys and if not, we usually can get it there in a day. We'll even go get a van and deliver if we need to. Our location is key with us being right off I-95. We're right on the border of Palm Beach County and Broward County is a half-hour away. Supply houses come over here and pick up products all the time. Service sets us apart. We're here to serve distributors, contractors and the manufacturers we support. We go in all directions and we'll go the extra mile."
Hobbs says the company's relationship with its distributor partners is vital. "We're tied-in closely with our distributors," he says. "Their success is our success."
And Hobbs is quick to point out Carr Company has greatly benefited from its involvement in various PHCP-PVF organizations, including AIM/R and ASA. "For Carr, AIM/R has been vital," he says. "We wouldn't be where we are today if not for AIM/R. With ASA, the education aspect and the networking opportunities have helped us go to the next level."
Bradford White National Sales Manager Matt Kozak says Carr has helped take the water-heater manufacturer to new heights in Florida. "Carr Company has taken Bradford White Water Heaters from near zero market share to a significant presence in Florida," he says. "The agency consists of capable and innovative leaders as highly accomplished water-heater salespeople along with tremendous internal support personnel who continue to set precedence within the industry."
Empire Industries' Craig Bramley is just as effusive in his praise of Carr's performance:  "Let's face it; we are in this to generate sales. They have repped us for 12 years and have increased their sales five-fold. That's a pretty doggone good indication of performance. The proof is in the pudding. On a day-to-day basis they are so reliable."
This article was originally titled "Carr Company: Simple equals success" in the June 2018 print edition of Supply House Times.