RectorSealCorp., a manufacturer of qualityplumbing and HVAC/Rproducts,acquired selectedassets and the SureSeal brand from Tacoma, Wash.-based SureSeal Manufacturing (SSM). 
SSM manufactures and distributes SureSeal, the leading brand of waterless floor drain trap seals. "SureSeal is established as the premier brand in this category, therefore it's a natural fit that provides RectorSeal with an outstanding growth opportunity." said David Smith, president, RectorSeal, Houston.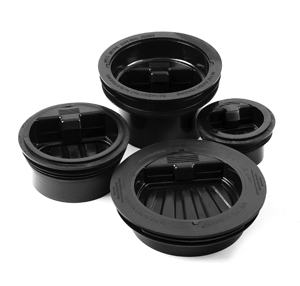 The SureSeal line of waterless floor drain trap seals was recently acquired by RectorSeal Corp.
The SSM product line consists of ASSE-1072-certified SureSeal floor drain trap seals (or waterless trap primers) and two upcoming products.
"We are excited to expand our relationship with RectorSeal, because they have the industry connections, distribution network and organizational resources that are key to taking SureSeal to the next level and beyond," said Kevin Huber, senior vice-president - business development of the surviving company renamed Specialty Plumbing Products Manufacturing LLC (SPP).
The SureSeal acquisition is the second transaction between RectorSeal and the team responsible for creating SureSeal, Don Huber, vice president - manufacturing & product development, and Al Stakset (retired). Huber and Stakset co-invented the Hubsett  product line of test couplings that was sold to RectorSeal in 2001.
While SureSeal started as a retrofit product, its use is now approved by two of the three national model plumbing codes for use as an alternative to trap primers for blocking sewer gas backflow though floor drains into occupied spaces. Sewer gas is a dangerous threat to public health and believed to cause and spread deadly diseases, such as SARS and Legionnaires' Disease.
Management team
SPP will continue manufacturing the product line for RectorSeal from its Tacoma production facilities. SureSeal's former national sales manager, Rick Ensley will administer the brand from RectorSeal's Houston headquarters as its product line manager. The acquisition also contracts both Kevin and Don Huber and Jorge Duque, CFO, to remain in three-year-long advisory roles for a seamless transition.
 The SureSeal website will continue to operate. SureSeal will continue to be sold through traditional wholesalers serving the PHC and HVAC/R markets and is now supported by RectorSeal customer and technical support departments at 800-231-3345.