Newport News, VA-based Ferguson announced it has completed a series of strategic acquisitions and business additions in the Metro New York market. The company is considered to be a contender in both residential and commercial building in this competitive area.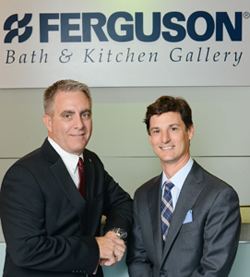 Jim Golini (left), District Manager for Ferguson New York Metro and David Finkel, New York Metro Showrooms Manager for Ferguson and former COO of Davis & Warshow. 
The cornerstone of its Metro New York growth was the 2012 acquisition of Davis & Warshow (D&W), for decades one of the area's leading kitchen and bath products suppliers. In particular, this union helped put the Ferguson name on the radar of influential architects and interior designers, a community of professionals that is highly concentrated in Metro New York and that represents a significant chunk of D&W's clientele. 
 "Davis & Warshow is now completely integrated into Ferguson, and in July it started operating under our name," said Jim Golini, district manager for Ferguson New York Metro.
"We want all the varied customers we work with — architects, interior designers, plumbing and building trade contractors, as well as homeowners — to know that even though the sign on the building is different, the high level of service that D&W's loyal customers have received over the past 87 years will remain the same," said Golini. "
The D&W acquisition included eight wholesale and five showroom locations dotting Manhattan, Westchester County and Long Island, supplementing Ferguson's own count of 17 wholesale and 12 showrooms in parts of New Jersey that are included in its Metro New York territory.
Not long after, Karl's Appliance, an appliance retailer with six showrooms in northern New Jersey, also joined Ferguson. In 2007, Ferguson acquired Brooklyn-based distributor The Davidson Group, which included The Gilmour Group Supply Co., Tubeco and T&A Valve, brining 90 years of experience in the pipe, valve and fitting industry.
Ferguson continues to expand
Construction is underway for a new distribution center in Coxsackie, N.Y. (Greene County), along with a new regional shipping hub in Secaucus, N.J., a location that will give it the advantage of same day and next day delivery for all of New York Metro.
Golini explained that the 460,000-square-foot Coxsackie facility is being built from the ground up, and will bring 95 new jobs to the region. It's due to be operational by late summer of 2015. The Secaucus shipping hub occupies 450,000 square feet and will include a sales area to service professional contractors. This warehouse, now under renovation, is slated to be open the first quarter of 2015.
Counting up all of these additions, along with what had already existed in its New Jersey portfolio, Ferguson now has 42 locations. Additional locations, including expansion into the Long Island area, are part of a short-term plan, as well.
"The construction market is quickly rebounding in New York — our customers tell us they are booking new business and many have healthy back-logs. Ferguson is growing in order to better serve these customers and to ensure we are well-positioned to meet our customer's needs as activity picks up," said Golini.
---
HELPFUL LINKS: