MTI Baths' Juliet tub was recently awarded a Bronze in the 2014 International Design Excellence Awards (IDEA) in the Bathrooms, Spa and Wellness Category.
"We are honored to be named one of the winners of the International Design Excellence Awards (IDEA) 2014 competition," stated Russell Adams, MTI's president and chief of design who worked in tandem with Audrey Newsome.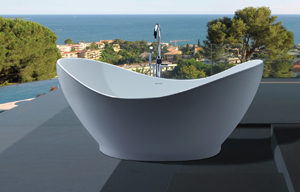 MTI Baths' Juliet tub won a 2014 IDEA Bronze award.
"The Juliet tub was actually inspired by an antique bowl which evoked something striking and unexpected," said Newsome of Audrey Newsome Designs. "It resulted in a visually dramatic tub that seamlessly combines fluidity and elegance with modern convenience."
Tad Toulis, IDSA, 2014 IDEA Jury Chair, shared his insight on this year's judging process: "This year's IDEA jury had a fairly audacious task: judging more than 2,000 entries. We saw a lot of design work that any designer would have been inspired by. The Juliet bathtub demonstrated the kind of creativity and passion the jury believed represents the best our profession can aspire to. Congratulations on your win!"
The IDEA Awards, presented by the Industrial Designers Society of America, are one of the most prestigious awards in the United State and highly regarded internationally. This competition highlights the excellence of design in products, sustainability, interaction design, packaging, strategy, research and concepts, across multiple industries.
---
HELPFUL LINKS: