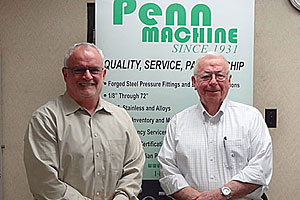 President Joe Pro (left) and Chairman Ron Lafferty Sr. are part of an experienced Penn Machine staff. Photo courtesy of Penn Machine.
High-pressure forged-steel pipe fitting, branch connection and specialty engineered product manufacturer Pennsylvania Machine Works has grown from founder Charles Lafferty Sr.'s one-person shop in 1931 to a company that now employs more than 300 people across its three manufacturing plants in Aston, Pa., Swedesboro, N.J., and Houston. Penn Machine staff members recently talked with Supply House Times about a number of topics.
Supply House Times:How important is your staff to the success the company has achieved?
Joe Pro (President): We have been blessed with the most talented and dedicated employees for the last 82 years. We're most proud of the fact that the 332 of us have worked for Penn Machine for more than 4,000 collective years. Fifty of us have more than 25 years of experience here. It's a testament to the Lafferty family for keeping that much talent together for so many years. There isn't much we haven't seen. Our experience is a strength.
 
Supply House Times: What do your New Jersey and Houston plants bring to the table?
Ron Lafferty Sr. (chairman): New Jersey is our forging facility and one of the primary keys to our success. We produce forgings in every grade from ounces each to more than 100 pounds. We maintain a full complement of hammers and presses capable of meeting every high-volume commodity need and each individual special order. Our Texas location is a critical presence in the Gulf Coast market. Our ability to maintain inventory and manufacture in the region gives our customers tremendous flexibility in how they spend their inventory dollars and meet their customers' daily needs.
Supply House Times: How has Penn Machine's relationship with distributors evolved over the years?
Kevin Downs (sales manager): Distributors remain the key to our success. We still employ factory outside salespeople who call on our distributors on a weekly basis. We do things such as lunch-and-learns, joint sales calls and marketing, and support industry memberships. Our great relationships with our distributors enable us to identify changes in the market, changes we need to make to speed up deliveries, inventory levels we need to keep and to meet growing specification requirements.
Supply House Times: How do you deal with the issue of competing against foreign manufacturers?
John Aaron (operations manager Texas PMW): Our customers want a high-quality product delivered on time and at a fair price. Our commitment to raw material and forging inventories allows us to respond to rush deliveries. Our high-volume forging and machining equipment allows us to meet all our customers' stock-order requirements on commodity grades. All our manufacturing plants have heavily invested in state-of-the-art machining centers to reduce costs while improving quality.
Supply House Times: What does the phrase "Quality, Service, Partnership" mean to Penn Machine?
Brian Fabian (manufacturing operations manager): It's more than just a marketing slogan. Every employee is made painfully aware that without customers we do not have a business. Every decision we make on a daily basis is devoted to making sure we have exceeded our customers' expectations. We have dedicated all our resources to obtaining the most sophisticated manufacturing equipment, software and talent possible to make sure we exceed those expectations.
---
HELPFUL LINKS: