Industrial PVF
Latest News
PHCP and PVF Company News
Ameripipe Supply announces new executive leadership
Ameripipe Supply appoints new management.
Dallas-based construction wholesaler and fabricator Ameripipe Supply has named Blair Franklin president and chief executive officer, Randy Ensch chief operating officer and Chris James vice president and treasurer in a succession of leadership from founder Jerome James to the next generation of family owners.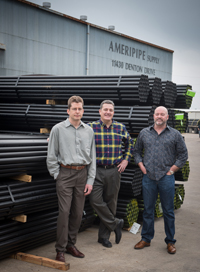 Ameripipe Supply's new leadership team includes, from left: Chris James (VP and treasurer), Blair Franklin (president and CEO) and Randy Ensch (COO).
James started his PVF supply company as D-FW Supply in 1979. He added Ensch, his nephew, in 1984, son, Chris James, in 1994, and Franklin, his son-in-law, in 2001. The company changed its name to Ameripipe in 2004, concurrent with its merger with San Antonio-based PFV Supply.

James will remain chairman of the board of the $60 million privately owned enterprise.

"Jerome was the first supplier of fire-protection piping and sprinkler heads in Dallas when it became part of the commercial code," Franklin said. "He's an industry leader and his success is well-recognized among our manufacturers and customers. He has given our family a high standard to meet."

Ameripipe supplied material and fabrication services for prominent projects such as the local Amazon and Quaker Oats distribution facilities, the new Exxon Mobil corporate campus in Houston, and the new stadiums for Baylor and Texas A & M universities. The company also has supplied some of the largest projects in Texas and Oklahoma in recent decades, including AT&T Stadium, Globe Life Park in Arlington, Reliant Stadium in Houston, DFW Airport Terminal D, the Parkland Hospital and UT Southwest Medical Center expansions, as well as the Devon Energy Tower in Oklahoma City.

In its 35th year, Ameripipe has its headquarters in Dallas, and warehouse and fabrication operations in Houston, San Antonio, Austin, Oklahoma City and Tulsa.

"Jerome's charge to us is pretty simple," Franklin said. "Be indispensable to customers, squeeze your expenses and watch your receivables like a hawk."
---
HELPFUL LINKS:
Source: Ameripipe Supply