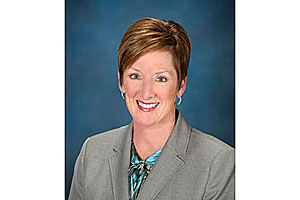 Dalyn Cantrell of Viega
Viega appointed longtime employee Dalyn Cantrell as its new vice president of sales and marketing. Cantrell replaces Dave Garlow, who recently took over as Viega president and CEO.
Viessmann promoted company veteran Stephen David to sales director of the East Coast including the Southern states through Texas. Kevin Flynn was promoted to regional sales manager of the New England region, while Carol Fey was promoted to regional sales manager of the Mountain region.
Aquatic announced the appointment of bathware, plumbing and building industry veteran Stuart Leigh as its president.
BrassCraft Mfg. appointed Kimberly Tessa to the post of national accounts manager.
JG Innovations, a provider of steel soffit concealment systems, announced Jack Grice, P.E., has been named chairman and CEO. As founder of JG Innovations, Grice recently served as company president.
Deacon Industrial Supply named William A. Dunne vice president of sales.
Nuheat announced CEO John Rose will transition from his role as CEO to a member of Nuheat's Board of Directors.
Hansgrohe North America hired Luky "Jade" Ng as design studio manager at Axor NYC. Ng brings nearly eight years of design and plumbing experience to the position.
Watts Water Technologies appointed Ram Ramakrishnan to the post of executive vice president, strategy and business development.
Xylem Group appointed John Weinstein as vice president of sales and marketing for its Xylem brand.
Metals industry veteran Pamela M. Bridgeman joined Alloy Metals and Tubes International as vice president of sales and is the newest member of AMTI's leadership team.
Blackman Plumbing Supply Co. named John P. O'Brien III as chief financial officer.
Rothenberger USA recently named Brian P. Allison vice president and general manager, replacing Chera M. Ellis. Allison will be responsible for expanding Rothenberger USA's presence in the plumbing channel through innovative product implementation, superior customer service and enhanced market visibility.
Fluidmaster hired Bill Martin as vice president of sales — retail and wholesale.
---
HELPFUL LINKS: