Plumbing
Radiant/Hydronics
HVAC
Heating
Trending upward
Optimism continues to climb as the 2013 trade show season kicks off.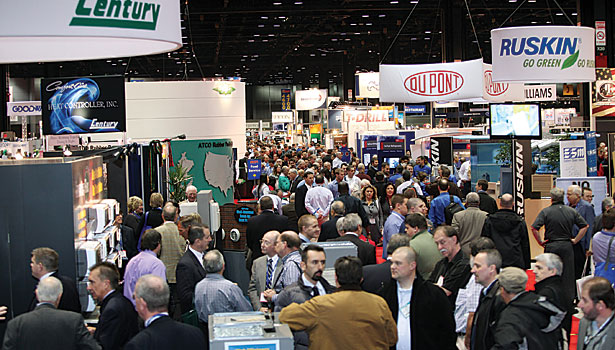 The tide is still on the rise.

After the positive vibes heading into 2012 came to fruition throughout the calendar year, leaders from the first major industry trade shows of 2013 predict
increases in manufacturers exhibits and show attendees heading into the International Builders Show in Las Vegas (Jan. 22-24) and the AHR Expo in Dallas (Jan. 28-30).

"More than half the manufacturers are saying 2013 will be better or very much better than 2012," says Clay Stevens, president of IEC, the organizer of AHR Expo. "There is an even greater degree of optimism than there was at Chicago 2012 show."

The premier industry event for HVAC products and technologies, AHR Expo returns to the Dallas Convention Center for the first time since 2007, the last year before the Great Recession shook and continues to shake the industry and the country. According to Stevens, the size of this year's Dallas event is up 11% over the 2007 show.

"The fact that this show continues to grow is encouraging to everyone," he says. "A lot of people travel a long way to go to the show and they wouldn't be doing that if they were on the edge of disaster. The more business they see coming, the more likely they'll come and check out what's new."

While the focus at AHR Expo is HVAC products, plumbing products are starting to carve out a bigger niche on the floor plan. Hydronic and radiant heating products have been staples at AHR, but with the addition of a plumbing category to the show's Innovation Awards, Stevens says the behind-the-wall basics are becoming a key attraction.

"The addition of a plumbing category to the Innovation Awards sends out a sign that we are going to emphasize plumbing more," he says. "We offer educational sessions that deal with plumbing. It's become more and more an integral part of the show. There is a part of plumbing that is essential to heating and air conditioning."

Webstone has its space reserved for the event and Vice President of Sales and Marketing Fernando Mireles says the company is excited about its prospects in 2013. It helps that the company now knows who will be leading the country for the next four years.

"We're really optimistic for 2013," he says. "Good, bad or indifferent, we know who the president is. That brings stabilization to the market."

Webstone is showcasing its enhanced Hydro-Core boiler piping kits for wall-hung boilers with integral pumps with the Hydro-Core Flex valve. The stainless-steel valve launched last August and has been successful in the northeast United States and in western Canada. Hydro-Core Flex includes a Hydro-Core double ball drain manifold and flexible stainless-steel supply/return lines outfitted with connections for a specific boiler.

Mireles says AHR Expo always provides Webstone a great opportunity to get in front of its distributors and many other potential customers.
"We're always excited about the event, it's a big industry show," he says. "We usually get our fair share of the audience in attendance."
IBS – hosted by the National Association of Home Builders – will set up shop at the Las Vegas Convention Center. NAHB Senior Vice President of Exhibitions, Marketing and Sales Mark Pursell expects between 800-900 companies to be represented at the event, and as of mid-December registration was up 8% from 2012.

"Exhibitors are continuing to support the show," he says. "Our builders, contractors and remodelers are happy to be going back to Las Vegas, but more importantly they're feeling much better about their business prospects."

That optimism stems from NAHB's Improving Markets Index. In December, the IMI reported 201 improving housing markets in the US. – an increase of 76 from November. An improving market is defined by many factors including jobs, housing starts and housing prices.

"When we started that in August 2011 there were 12 improving markets out of 256 in the country," Pursell says. "At least one metropolitan area in 44 states is now classified as an improving market. It's starting to be more broad-based."

At IBS, Pursell expects green technologies will be brought back to the forefront because of improving markets and builder confidence.

"The green push really became popular until the market collapsed, and like everything else it's been on the backburner," he says. "I'm quite positive it's going to become a huge issue again. People are going to look to build more responsibly again."

The plumbing market remains a steady presence at the event with Gerber Plumbing Fixtures, Danze, Kohler, Delta Faucet, Liberty Pumps and Masco among the bath and kitchen manufacturers slated for the show.

"The big companies have stopped taking the huge booth space and they've been waiting for the market to improve," Pursell says. "However, they're still there and have a presence. What I'm curious to see is how many new products they'll be showing this year."

Former Disney CEO Michael Eisner will be the keynote speaker at IBS and Pursell adds the show has revamped its educational sessions to challenge those in attendance.

"We always try and have a top business speaker from outside the industry because it's important to get other perspectives," Pursell explains. "We've cut back on the number of education programs and made the ones we are presenting more intensive. Typically IBS has been all things for all people. Our feeling now is the people in the industry are veterans and they need more 200-, 300- or 400-level coursework."

AHR Expo and IBS are both three-day events during the middle of the work week.

"Our members are really happy about this because you can get home on the weekend," Pursell says. "That's more important these days than in my father's generation. We heard loud-and-clear from our members that they've got to be home on the weekends. That's not negotiable."
---
New Kids on the Block
A quick glimpse at three products to be featured at AHR/IBS
AHR Expo: PEX-a Pipe Support

Uponor showcases its PEX-a Pipe Support and two engineered polymer multi-port tees for its commercial plumbing line. The PEX-a Pipe Support is a steel channel providing support of crosslinked PEX-a tubing in suspended piping applications.

AHR Expo: High-efficiency inline circulators

Wilo introduces its Stratos GIGA inline circulators. The Stratos uses ECM motor technology allowing for efficiencies greater than IE4 to be achieved. The circulators use Red Button technology and feature a LED display.

IBS: Compact, elongated HET

Gerber Plumbing Fixtures adds a compact, elongated option to its Viper series of high-efficiency toilets. The new WaterSense-certified option is ideal for smaller bathroom spaces. At 1.28 gpf,the toiletconsumes 20% less water than a 1.6-gpf model.
---
HELPFUL LINKS

I want to hear from you. Tell me how we can improve.