Strong and steady are two ways to describe sales in 2022 for PHCP-PVF wholesaler-distributors. Companies continued to enjoy the benefits of pent up project demand as overall sales dollar figures skyrocketed for many. Distributors credit inflation for part of this sales growth, but many note that when talking units sold — not just dollars — performance was still incredibly high.
For the second year in a row, 100% of Premier 150 Survey respondents reported an increase in sales in 2022 when compared to 2021. When it comes to projections for fiscal year 2023, 81% of these distributor respondents say sales will increase while 14% expect sales to remain the same, and 4% anticipate a decrease in sales.
Each year, the Premier 150 Distributors survey is conducted by BNP Media Market Research. BNP Media is the parent company of Supply House Times. The data from the survey is used to rank the top 150 PHCP-PVF industry distributors based on each company's reported sales from the previous fiscal year. This list is based off of fiscal year 2022. Company sales numbers are never disclosed. Estimates are used in cases where companies do not complete the survey. Editors make these estimates based on information made available through various channels and industry partners such as the American Supply Association (ASA), PHCP-PVF buying groups, regional associations, as well as through Supply House Times' digital outlets.
RECORD-BREAKING SALES
First, the good news — numerous survey respondents noted their company's had record year in terms of sales. Some even reported increases as large at 20 and 30%.
For example, John Howe, CEO of Alabama-based American Pipe and Supply said the company grew 30% in revenue in 2022. "We expect mid to single digit growth in 2023," Howe added.
Brian Tuohey, president of Northeast distributor The Collins Companies said the company also experienced record growth. "2022 was the best year in our over 100 year history and we are cautiously optimistic for an 'instant replay' in 2023."
One industry source agreed, saying: "2022 was our best year ever with every month topping the previous in terms of record sales. With our newest acquisition in April 2023, we are poised for tremendous growth internally."
West Virginia-based Sid Harvey's also reported that "calendar year 2022 was the second year in a row of 20+% sales increase."
Stan Allen, president of Northeastern Supply described 2022 as a solid year. "2022 was a very solid year. Even though the market started to soften in September, we still experienced double digit growth," he said. "Supply chain has improved and is more predictable. We have an overall surplus of total inventory due to the supply chain improving. We have budgeted for double digit growth in 2023."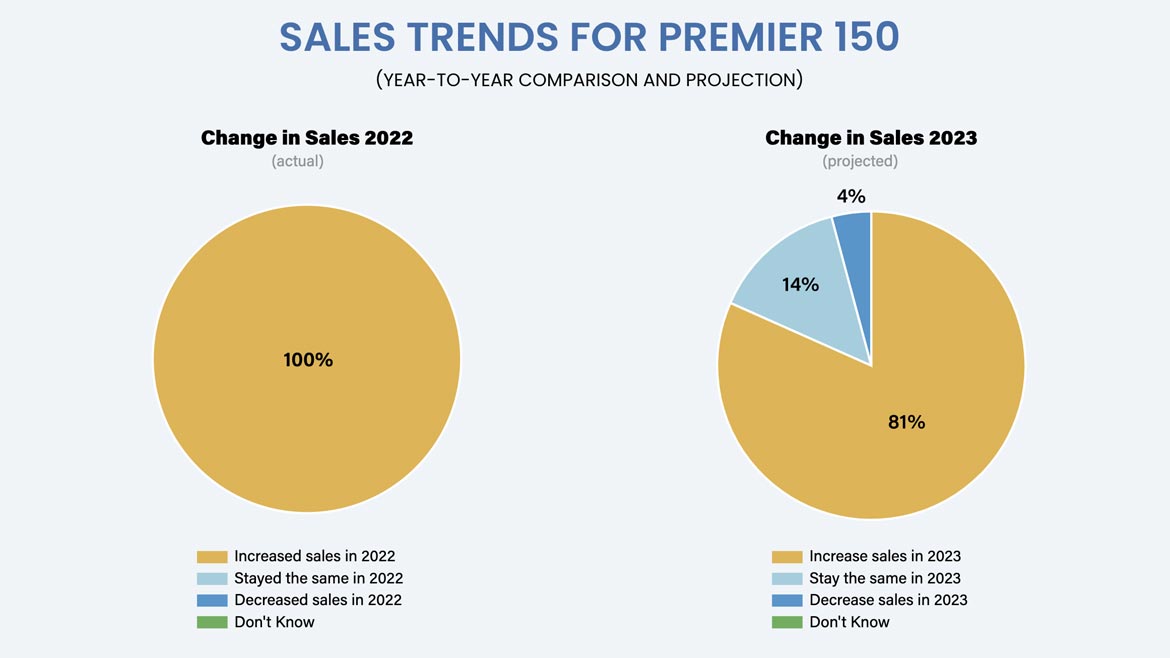 An industry source with Minnesota-based Dakota Supply Group pointed out a few factors that contributed to growth in 2022. "2022 was a strong year of growth for DSG, driven by an increase in residential and commercial construction projects, favorable economic conditions, inflation and business growth through acquisitions."
Enjoying tremendous growth doesn't mean wholesaler-distributors didn't face their fair share of challenges; supply chain disruption, a looming recessions, material pricing and other familiar concerns are still looming.
Josh Aberman, executive vice president of Florida-based Lehman Pipe and Supply said 2022 was an incredible year despite the ongoing challenges. "2022 was an incredible year with many challenges including availability issues and market instability," he said. "We are expecting 2023 to be another year of continued growth. We are opening a new store in Fort Myers and the Florida market has continued to be strong."
Joshua Rogers, marketing executive for Tennessee-based Wholesale Supply Group said the company saw increases in all of the states it serves. "This past fiscal year was an amazing year for our company. We saw increase throughout our entire market place. In all the five states that we serve business continues to increase and building is still going very strong," he said. "We think that business will continue to grow as long as interest rates start going down."
Over in the Midwest, Plumbing and Heating Wholesale CEO Mike Plasier said the multifamily and commercial markets generated the most growth. "2022 was a strong year for sales growth with profits being supported by continued high inflation rates," he explained. "In our markets, the industry grew supported by strong demand for multi-family housing, commercial construction and industrial development. Single family home business was relatively flat."
"We had a tremendous year in 2022 as both sales and profit increased. The increases are attributed to organic growth, acquisitions and inflation. We expect 2023 to be more difficult to navigate as demand slows and inflation decreases. While we budget for an increase in sales, the economy will dictate the bottom line, which will be less than 2022."
— Steven Auger, F.W. Webb
A SLOWDOWN AHEAD
 As most distributors reported strong, record-setting years in 2022, they are prepared for a slower 2023.
"In 2022, we had a tremendous year as both sales and profit increased. The increases are attributed to organic growth, acquisitions and inflation," said F.W. Webb Content Writer Steven Auger. "We expect 2023 to be more difficult to navigate as demand slows and inflation decreases. While we budget for an increase in sales, the economy will dictate the bottom line, which will be less than 2022."
Several distributors pointed out that while 2023 has started off strong, it will be difficult to match 2022 numbers.
"2022 was an outstanding year for our company as we reached a record high for sales," one industry source said. "It will be challenging to meet the same sales this year as we did in 2022."
Another industry source said their company experienced 27% sales growth in 2022 compared to the prior year. "We are projecting 5-10% sales growth in 2023 compared to 2022," the source added.
Many distributors anticipate sales declining in 2023 simply to due inflation softening throughout the year. "We experienced strong inflation in 2022 that fueled rising prices and an increase in sales," said an industry source. "We expect inflation to slow in 2023, which will temper our forecasted sales increase for 2023."
Another industry source said they key is to prepare and budget for a slowdown in 2023 and 2024. "We expect a fairly strong start to the year although continued to be bolstered by inflation.  We have prepared and budgeted for a slowdown in the second half of the year and beyond."
Similarly, another industry source said: "Sales growth in 2022 was a large percentage due to inflationary pricing. We expect 2023 to be strong in the first three quarters, tailing off slightly in the fourth quarter."
Distributors are keeping a close eye on material pricing and conflicts oversees as they plan for 2023.
"We were pleasantly surprised by our growth in 2022 and we continue to remain optimistic, but are greatly concerned about inflation and the conflict overseas," said Frances Bowman of Tennessee-based CMC Supply.
Supply chain and labor issue continue to play a large factor in distributors' businesses, but Todd Ford, president and CEO of Central States Industrial Supply said the demand outweighed the challenges. "Strong demand with our industrial manufacturers, outpaced supply chain and labor issues," he said. "In our geographical footprint AG, pharma and data center investments were strong in 2022 and projects will be strong through second quarter."
Wilson Teachey, president of North Carolina-based Hubbard Supply agreed, saying that his team was about to tackle the challenges of 2022 head on. "2022 was another challenging year full of curve balls. People and products were in short supply. Lead times extended without warning," he explained. Fortunately, our team got pretty good at hitting the curve ball and were quick to respond in locating the right people and right vendors which proved to be a game changer for us."
After a year of both record-setting growth and daily curve balls, many distributor respondents credit their success to the great people that make up their companies.
"Like many of our peers, we experienced unprecedented success in 2022," said Eastern Industrial Supplies President and CEO Kip Miller. "We say thank you to our Eastern Industrial Associates for their dedication and results oriented performance."