Since we last chatted masks are being heaved into the trash, doors are being unlocked and people are starting to enjoy the world outside of their screens. What an opportunity for a brick and mortar showroom to shine brighter than any pixel.
" I was reading all these reports that were down on retail brick-and-mortar, saying it's all about online…I think brick-and-mortar is an amazing opportunity to use our stores and our store staff as a vehicle to truly engage with the community in a way no other retailers are doing."
— Jim Brett, President
During the pandemic, designers, builders, homeowners and plumbers entered showrooms masked up and head down. They were focused on making selections. They wanted to get in, get it done and get out. Now, they can enter a showroom whenever they want, with our without an appointment. And as big a pain as unannounced drop-ins are, we would love have folks stop by. So let's knock their socks off.
Any business can install factory displays side by side, set a few toilet, cabinet, mirror and faucet looks and declare the space a decorative plumbing showroom. Factory displays have their place but it is those showrooms that go beyond this simple formula that will stand out in the post pandemic market. The showrooms working to create a unique voice will create a dynamic brand in their market. So let's get your customers talking about you.
" Word of mouth works now, much more than ever."
— Gary Vaynerchuk
Your first step to adding WOW, is to find a few underperforming spaces in your showroom that you will transform into bold product and brand statements. If at all possible, one of these spaces should be immediately visible when a person enters your showroom.Now that we have the spaces, take everything you know about plumbing showrooms vignettes and flush it from your mind. Simply installing a mockup bathroom on a six by eight foot wall is below boring and will likely be go unnoticed. It's time to have fun and show the market that your showroom, your product mix, your team is the always thinking different.
Your mind is now free and fertile. I would like you to envision all the magnificent store window displays you have seen. All the colors, sparkles and embrace all the weirdness and gravity defying images. These off the wall creations still presented products and in a manner that people remembered. People lined up outside Lord & Taylor's to tour their amazing Christmas windows and the original Sherle Wagner showroom window would stop design savvy New Yorkers in their tracks. Now is your time to turn heads.
These spaces are now your canvas to channel this memories into show-stopping sets. They are not simply "look at this beautiful product," They are "hey, look at this" spaces. Spaces that you and you team can have fun designing and working into their sales routine. They need not be expensive, but they need to be fun and present ideas, styles and applications that are being ignored.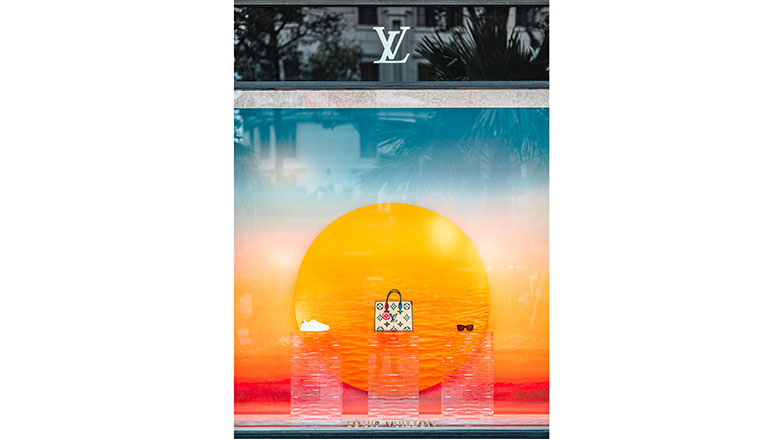 Here are some tips and ideas to help you get started:
The over arching story to all these WOW vignettes is: We think different. Let's us help you create great spaces;
Think in bold and stark coloring. You are not building out a "livable" space. You are creating a dynamic, eye-catching statement;
Use wild wallpaper;
Focus on one topic, such as single hole faucets, finishes, pedestals. This helps your customers see different looks other than what is popular or their go-to look;
Try to never create an application that would be used in the real world;
Use props;  
Set towel bars on the wall holding towels with interesting texts;
Set one — yes just one — faucet on the wall and have mannequins staring at it;
Set a beautiful wallpaper depicting a view with a tub with wheels perpendicular to that wall;
Error on the side of outlandish. Take the idea as far out as you can and take one step back if you have to.
"The key to success is to find a way to stand out — to be the purple cow in a field of monochrome Holsteins."
― Seth Godin from Purple Cow
These settings will also pay well on social media. They can be used multiples times with little tweaks. Again, have fun designing it and applying it to your business.
Strong, eclectic displays have a lifespan of six to nine months, depending upon your customer flow. When you finish building one out start thinking about its replacement. Another rule of thumb for our industry, is that these displays should not be seasonal. If you set a Christmas display, it has to compete with all the other Christmas displays, it has only a three month life and must be replaced in the first week of January. It is important to keep your display themes bold, fun and directly related to your business.
I you would like to dig deeper…
And please feel free to reach out to me on LinkedIn.
The views expressed in this column are strictly those of the author and do not necessarily represent Supply House Times or BNP Media.