PEOPLE NEWS
► Rheem's Fitzgerald retires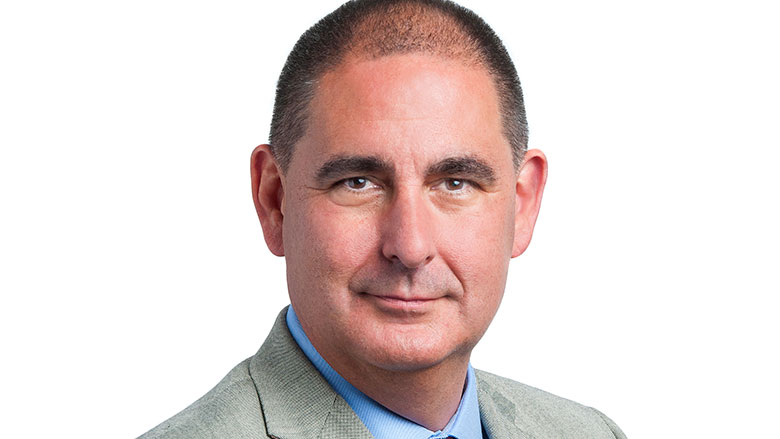 Rheem announced the retirement of John Fitzgerald from his role as executive vice president of operations. "Fitz" joined Rheem in 2016 and brought more than 30 years of diverse experience from several industries.
Fitzgerald led many different teams and functions throughout his career at Rheem. His vision and leadership in brand strategy, enterprise marketing and sports marketing had a significant impact on Rheem's brand awareness. He also oversaw business-critical functions including IT, advanced technology integration, controls engineering, procurement, and supply chain management and corporate quality.
"Fitz's contributions to Rheem have been many, but he is perhaps most passionate about launching Rheem's 'A Greater Degree of Good' global sustainability initiative in 2019," said Chris Peel, president and CEO at Rheem. "The initiative became embedded into Rheem's culture worldwide and changed how our company develops, manufactures, sells and supports our products."
"A Greater Degree of Good" resulted in a significant reduction of greenhouse gases and production waste and included training programs for Rheem's installation partners, the manufacturer noted.
"I absolutely consider myself fortunate to have had the ability to work on Rheem's sustainability program," Fitzgerald said. "My Native American heritage has helped form many of my viewpoints and priorities that influenced my efforts. My tribe has always believed that all things in nature have their own 'essence' of life. This belief clearly was tied to my passion for our 'zero waste to landfill' and greenhouse gas reduction goals."
Fitzgerald said that "circularity," a key Penobscot philosophy, has influenced his viewpoints.
"This circular tendency was pivotal to our sustainability program, as you think about recycling initiatives and lifecycle analysis programs," Fitzgerald explained. "We are trying to understand the impact of activities and products from their raw materials through the disposition at the end of its life."
Rheem also announced the promotion of Chee Wee Gan to a new role as senior vice president, strategy and sustainability. Chee Wee joined Rheem in 2018 and will continue to drive global strategic planning for the organization while advancing global brand and sustainability initiatives. Additionally, he will continue spearheading Rheem's global licensing strategic initiatives in his expanded role.
Rheem's sustainability initiative is on pace to meet or exceed 2025 goals, designed to coincide with the company's 100th anniversary, it added.
Fitzgerald's retirement became official Jan. 1. He has planned a series of outdoor adventures such as climbing, rafting and hiking in destinations including Alaska, Utah, Colorado and Oregon.
► State Water Heaters announces continued Jeb Burton partnership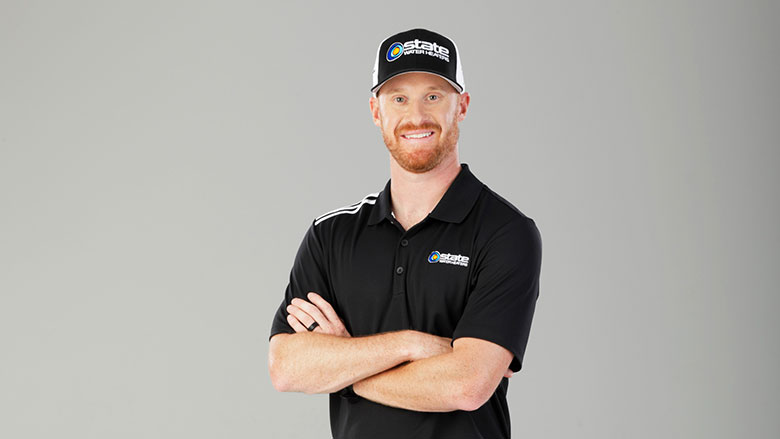 State Water Heaters announced it will partner with Jeb Burton and Our Motorsports for the 2022 NASCAR season. State has worked with Burton for more than a decade, but this will be the first season in partnership with Our Motorsports out of Massachusetts.
This year, Burton will be racing the 27 Chevy Camaro and will compete for a full season in the NASCAR Xfinity Series for the second consecutive year. The season kicked off Feb. 19, with the Beef. It's What's For Dinner. 300 at the Daytona International Speedway. During the 2021 season, Burton scored his first career Xfinity Series win at Talladega Superspeedway in the spring.
"After last year's big season, I'm looking forward to carrying that momentum into 2022 and making our fans proud," Burton said. "I'm incredibly grateful to have a continued partnership with a brand like State Water Heaters, which places a high value on many of the qualities I aim to exemplify through my racing career. It's exciting that we also get to bring on a new partnership this season with the addition of Our Motorsports. We're ready to make history this year."
State has been involved with the Burton family since 2007 when it started working with Ward Burton, Jeb Burton's father. The brand decided to continue its relationship with the Burton family when it began sponsoring Jeb during his debut NASCAR season in 2012. State will also remain a sponsor of Burton's TV show "Crossroads with the Burtons," which chronicles Jeb's and Ward's work on the track and in wildlife conservation. The show can be found on the Sportsman's Network.
COMPANY NEWS
► Backflow Direct launches updated eCommerce store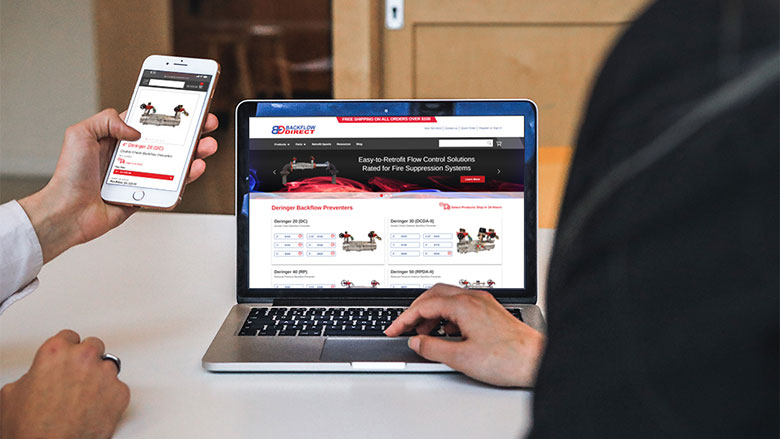 Backflow Direct announced the launch of its updated and improved eCommerce store. This new site allows customers to order the products they need, but now with an even better user experience, the company explained.
At BackflowDirect.com, customers can purchase backflow preventers, gear-operated ball valves, strainers, pressure-relief control valves, and repair parts and kits.
The updated site features visible product lead times, easier product catalog navigation and improvements for mobile browsing and ordering, Backflow Direct added. To visit the new site, go to www.backflowdirect.com.
► DDS debuts new digital shelf analytics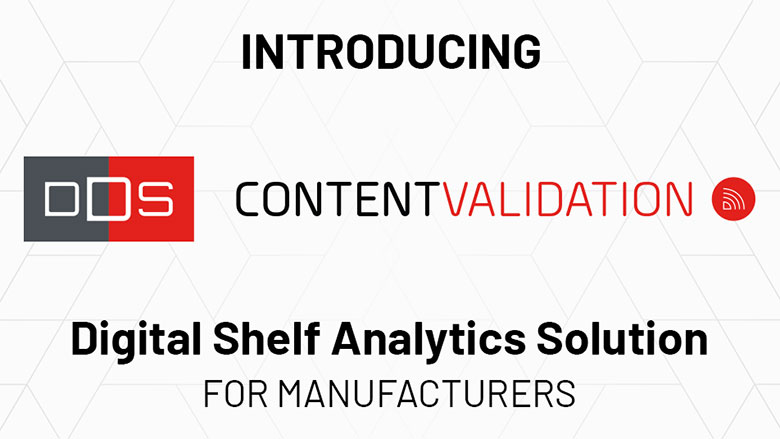 DDS announced a new digital shelf analytics (DSA) offering for manufacturers. DDS' industry-exclusive Content Validation solution helps suppliers assess both the presence and quality of their product content on multiple distribution partners' eCommerce websites through a consolidated reporting dashboard.
In working closely with hundreds of manufacturers to syndicate product content across increasingly diverse sales channels over the last several years, DDS found virtually every supplier was struggling to gauge how their product content is ultimately being displayed (not to mention how it is performing) across their partner websites. This digital shelf analysis has become a major sticking point for manufacturers in evaluating and improving their e-commerce and digital content efforts, the company explained.
As articulated on DDS' website, it's one thing for manufacturers to make their product content available to their channel partners, but another thing entirely for them to verify whether those partners are actually publishing the information online, let alone consistently and as the supplier intended it to look.
"There is a major challenge for manufacturers with this 'last mile' of the journey to get their product information published to hundreds of individual distributor and retailer websites," said Matt Christensen, president of DDS. "Manufacturers are really at the mercy of their distribution partners not only in terms of how their products look online, but whether they're listed at all, and from the initial data we've been helping them gather, the results are pretty alarming."
In other Distributor Data Systems news, DDS announce the launch of its wholly redesigned website. The site's updated design and messaging unveil new branding while clarifying the company's solution offerings and directing visitors to the most relevant and efficient customer experience according to their needs.
DDS offers solutions to help both manufacturers and distributors deliver improved product content — along with a superior delivery experience — to their end customers, primarily for e-commerce websites and other digital applications. The new site features streamlined customer journeys and valuable new resources for manufacturers and distributors, helping them explore and engage with the company's sophisticated offerings, it explained.
► HVAC RepCo earns rep of year honor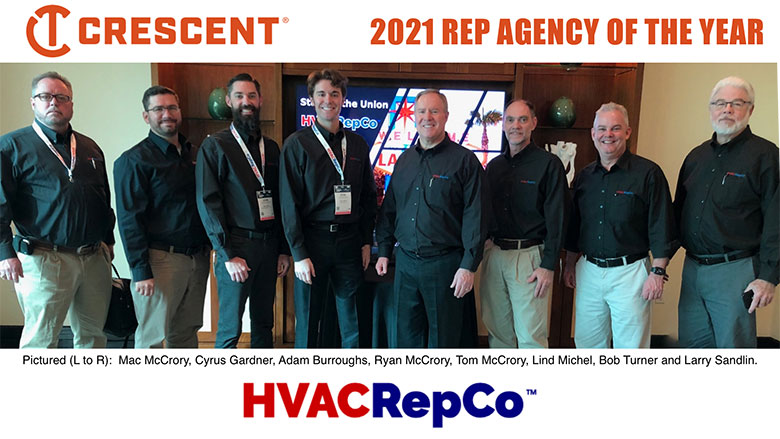 HVAC RepCo received the "Crescent Cup" from John Erwin, Apex Tool Group market development director, when he announced HVAC RepCo won the Crescent Tools 2021 Rep Agency of the Year Award, during Crescent Tools National PHVAC sales meeting held at the Flamingo Hotel in Las Vegas during the 2022 AHR Expo.
"Congrats to an agency full of top-notch sales professionals," said Jeff Campbell, vice president of sales for Apex Tool Group, the parent company of Crescent Tools. "Crescent Tools is honored to be partners with HVAC RepCo. I appreciate their support and congratulate them on winning the cup!"   
"We are proud to partner with Crescent Tools and appreciate the support we receive from their high-caliber team," said Tom McCrory, President of HVAC RepCo. "Crescent Tools and GearWrench are iconic brands and market-segment leaders that fit well on our line card. Everyone at HVAC RepCo appreciates the recognition of this award, and earning the 'Crescent Cup' is backed by our belief in the quality of the Crescent Tools brand and a reflection of the hard work and dedication of everyone on my team: Adam Burroughs, Mac McCrory, Lind Michel, Larry Sandlin, Cyrus Gardner, Bob Turner and Ryan McCrory."
► Fujitsu announces new rep addition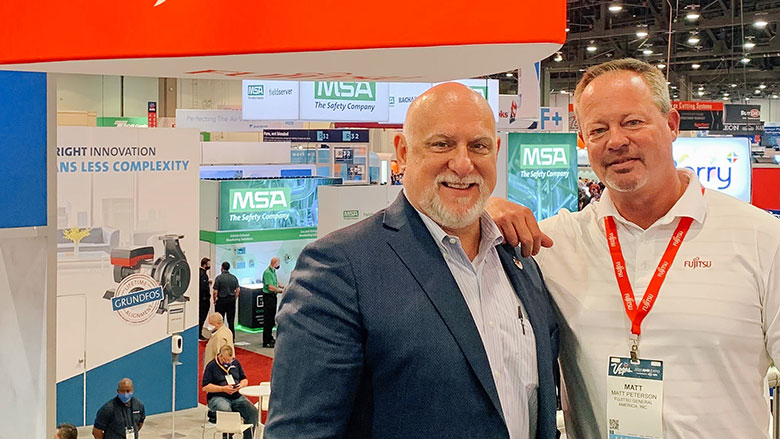 Fujitsu General America has partnered with Target Sales as its manufacturers representative in Florida.
Through its sales office in Tampa and four remote offices across the state, Target Sales now represents Fujitsu's Halcyon mini-split, Airstage J-Series VRF, unitary and Westinghouse mini-split product lines. The region is under the direction of Fujitsu Regional Sales Manager Hays Bassett.
"Since 1984, Target Sales has built a reputation in Florida for providing outstanding service to the manufacturers they represent and the distributors they support," said Dennis Stinson, Fujitsu's vice president of sales.  "We look forward to a long and mutually prosperous partnership between Fujitsu, Target Sales and our distributors."
► DS Herron wins top honor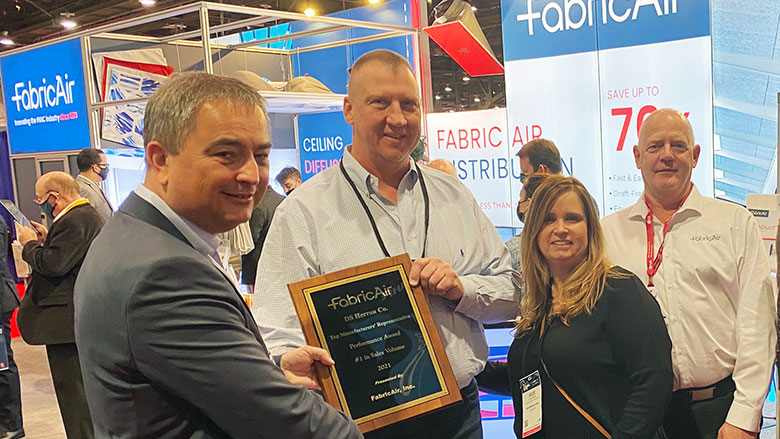 FabricAir honored Tulsa, Oklahoma-based DS Herron Co. with its 2021 top manufacturer's representative performance award at the AHR Expo 2022 in Las Vegas.
FabricAir National Sales Manager Charles Justice presented the award to Rob Dixon and Julie Dixon, DS Herron's president and vice president, respectively, who founded the manufacturers representative firm in 2000.   
2021 was the best sales year of DS Herron's 14-year relationship with FabricAir. The DS Herron team attributes the sales spike to concentrated efforts of showcasing FabricAir's product line at trade shows throughout the company's Oklahoma and Northwest Arkansas territory. Also, skyrocketing raw material metal prices during the pandemic helped convert many HVAC projects from spiral round metal to fabric duct as value engineering strategies, according to Rob Dixon.
Furthermore, Oklahoma has also been a hotbed of medical marijuana grow facilities, which prefer the antimicrobial and non-condensation characteristics of fabric duct. One DS Herron project in Northwest Arkansas was a grow facility featuring more than 500 linear feet of FabricAir's Combi 80 antimicrobial fabric duct.
DS Herron was also recognized for its assistance in a challenging municipal indoor swimming pool project that featured an all-glass retractable roof. The DS Herron team and the project engineer designed many fabric duct solutions to circumvent structural obstacles, but still bathe the glass with conditioned air to prevent condensation.   
"FabricAir's Tom Boothe (territory manager for Oklahoma, Louisiana and Arkansas) helped us tremendously in 2021 with his diligent follow-up on sales leads," said Rob Dixon, who oversees three road sales and three inside salespeople.
► Aliaxis acquires Harco
Aliaxis SA, a global manufacturer and distributor of advanced piping systems, announced that it has signed an agreement to acquire Harco, a producer of fittings located in Virginia.
This move is part of Aliaxis' "Growth with Purpose" strategy. Through this acquisition, Aliaxis further expands its presence in the United States. Harco, a U.S. manufacturer of gasketed fittings, brings more than 55 years of industry expertise. Harco's annual revenues were roughly $75 million in 2021, Aliaxis noted. The transaction is subject to customary regulatory approval.
"Harco is a well-established brand in municipal, irrigation and agriculture end-markets," Aliaxis CEO Eric Olsen said. "With this acquisition, we will continue to strengthen our presence in the US. Harco will be part of IPEX, Aliaxis' leading brand in the region, and will result in an expanded product portfolio to a broader customer base. We are pleased to welcome Harco to the Aliaxis family."
► Uponor earns top workplace honor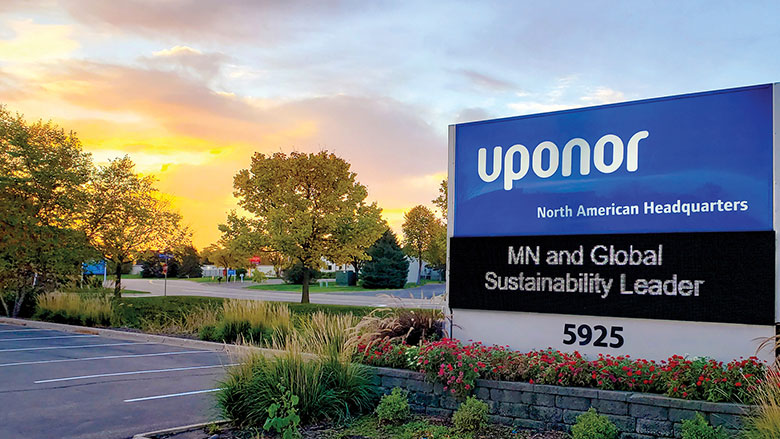 Uponor North America recently was named to the Top Workplace USA 2022 list for companies with 500-999 employees.
This award is based entirely on feedback from an employee engagement survey conducted by an independent, third-party research company, Energage, and celebrates companies that prioritize creating a people-centered culture and giving employees a voice.
This honor marks the first time Uponor has been recognized as a Top Workplace in the U.S., and the eighth time the company has been recognized as a Top Workplace in Minnesota since 2012.
The survey asked employees to rate Uponor on 15 drivers related to engaged work environment, company culture, leadership and overall job satisfaction. Rankings for Top Workplaces lists are based on companies meeting criteria built upon more than 15 years of engagement survey data from more than 70,000 global companies.
"We are so humbled that our employees' anonymous feedback resulted in Uponor being recognized as a top workplace in the U.S.," Interim Uponor North America President and Vice President Finance John Reutter said. "We pride ourselves on having a very distinct employee-driven culture, and strongly believe that if we take care of our employees, they, in turn, will ensure positive experiences for our customers. The fact that we've been recognized by employees as a top workplace in our state, and now in the U.S., indicates we're on the right track."
Of the Uponor employees surveyed, 84% said they would recommend the company to their family or friends looking for work; 84% believed the company is headed in the right direction; nearly 75% said their work meets or exceeds their expectations, and more than 80% said Uponor motivates them to give their best each day.
"The culture we've maintained over time – not just during this tumultuous period of the pandemic – is a direct reflection of the people who work at Uponor," added Jen Hauschildt, vice president, human resources, Uponor North America. "We're so proud that our flexible, yet accountable and collaborative work environment continues to hold our company up as an employer of choice in Minnesota, and across North America."
To learn more about Top Workplaces USA 2022, click here.