The end of a year is always a good time to reflect and plan for the year ahead, and this is especially true when that year (or two) has been particularly challenging. When reflecting on my last year, one stand-out moment was getting to hear Shark Tank's Daymond John speak at ASA's NETWORK conference in Las Vegas this November.
ASA's Plumbing Division breakfast attendees were treated with a history lesson on hip hop music that directly correlated with John's inspirational, entrepreneurial story. Throughout the presentation, John shared his five steps for success as a business "shark." I'm a sucker for lists and acronyms, so this lesson stuck with me as a good opportunity to share my takeaways.
S – Set a goal;
H – Do your homework;
A – Amour; love what you're doing;
R – Remember that you are the brand; and
K – Keep swimming.
I find these simple steps a good place to start when planning and preparing for 2022. Step one, setting a goal, is likely something you and your company have already done. You probably have a few goals on the docket.
John shared the importance of doing your homework. In a world where almost anything you want to know is easily accessible via the mini-computer we carry around in our pockets, there's ample opportunity to do your homework. Research the competition. Watch what's happening on their social media. Take advantage of webinars, podcasts and other digital content that will help your business day-to-day or in the future. There is surely one step you can take every day to do some homework.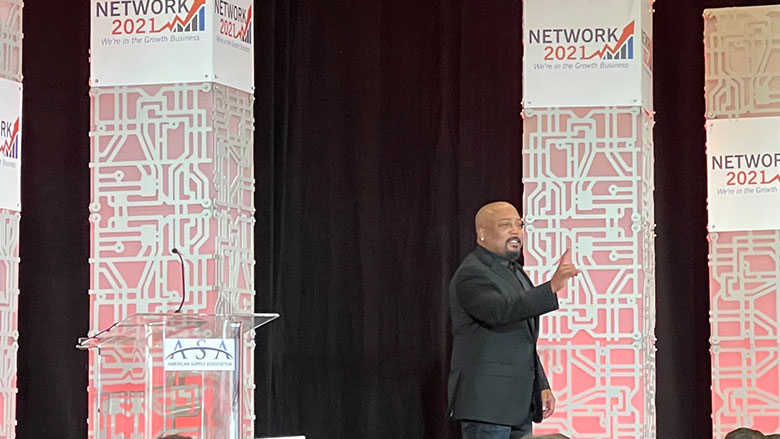 His next step — amour or love — was a bit unexpected, but equally, if not more important, than the others. John explained this step isn't just about loving what you do, but remembering why you do it. He talked about a time in his life where business was thriving and he was finally "making it," but his wife and daughters rarely saw him. He advised to remember who you love and your reason for working so hard towards business success every day, and don't lose sight of that. A pretty relevant point as work-life balance has recently been discussed possibly more than ever before.
Next up: Remembering that you are the brand. Yourself along with each and every person within your organization make up its brand. Your brand is not some nebulous idea floating around alongside your logo; it's who you are, how you act, how your customers perceive you, what you stand for; all of these things make up a brand.
And lastly, keep swimming. As executives discuss in our 2022 industry outlook article, the labor and supply chain challenges we've become used to at this point are not vanishing when the new year comes. So, just as you've been doing throughout 2020 and 2021, John told us to push forward. Keep advancing and don't stop working toward that goal you set, even if the original path in which you planned to reach it becomes disrupted.
As this year comes to an end, I want to say thank you to all of the great peers I've had the pleasure to connect with. And thank you for reading and engaging with Supply House Times. I am looking forward to another year of time well-spent in this great industry.