Although lack of available product and labor are ongoing factors within the residential plumbing sector, there is certainly no lack of opportunity. According to the 2021 North American Plumbing Fixtures Market Report, compiled by Grand View Research, the plumbing fixture market ended 2020 with a $22.4 billion value and it is expected to grow at a rate of 7.5 percent from 2021 to 2028. The report credits this growth to the increasing number of construction projects of residential buildings, hotels, restaurants and airports, along with the growing need for modernized bathrooms and kitchens.
Residential plumbing contractors agree, adding that routine service calls have increased as well.
Larry Shoemaker second-generation owner of Bethlehem, Pennsylvania-based Deluxe Plumbing & Heating and PM Magazine's 2021 Residential Contractor of the Year, says his team spends a lot of time on service plumbing calls.
"We've experienced an increased amount of routine service calls as people spend more time at home," he says. "Water heater replacements, re-piping jobs and installation of leak detection devices are all popular calls for us right now."
Marian, Iowa-based Best Plumbing and Best Bath is largely working on remodel jobs rather than new construction, according to Owner Jeff Berndt. "As new home inventory availability dwindles, people are looking to upgrade their homes that were built in the 1980s through the early-mid 2000s," he says. "They're taking out large tubs and adding in custom, walk-in showers."
Berndt adds that the aging-in-place mantra is leading to more shower remodel jobs as well. "We're seeing more people choose to stay in their home rather than move to a facility or community, so grab-bars, walk-in showers and ADA compliant products are a rising trend," he explains. "People are aiming to enhance the overall shower experience. There's a lot of opportunity in the shower market, from digital valves and control components to new finishes and fixtures."
Hunter Botto, current PHCC president says there is a large focus on the service and repair side. "With so many new products coming to market there is always a large focus on service and repair training," he says. "At the beginning of the pandemic we experienced a lot of interest in our PHCC educational classes that revolved around service and repair."
Echoing a focus on service and repair, Chad Peterman, president of Indiana-based Peterman Brothers HVAC, says his team is performing many service, repair and replacement jobs on the residential side.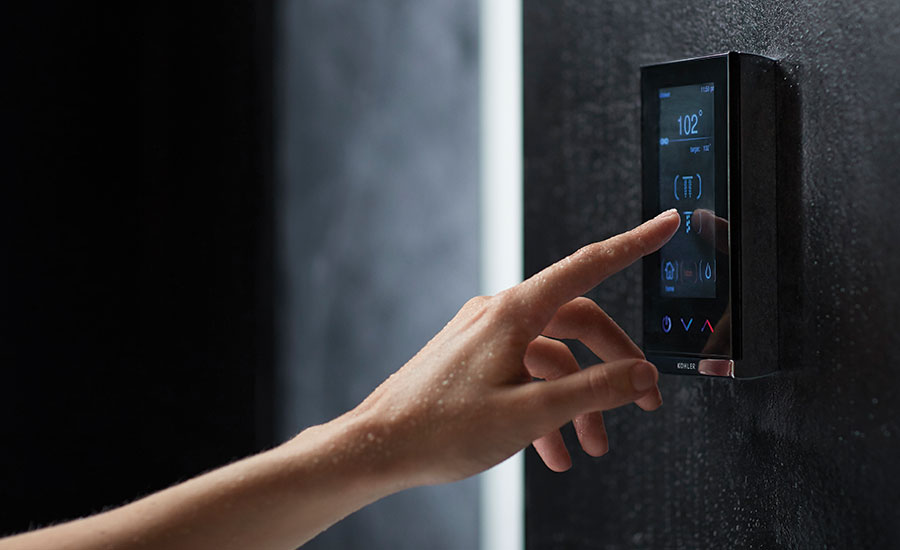 Products in high demand
Contractors agree that certain water heaters, faucets and PEX products are in high demand and are most difficult to obtain right now.
Shoemaker says that repair parts are incredibly hard to get in some cases, and distributors should aim to increase stock of repair parts that plumbers need in real-time. "These aren't parts that people need often, so supply houses may not keep a large stock of them," he says. "But when they're needed, it's urgent, so the plumber will go wherever has the parts available in order to get the call completed for the homeowner."
Shoemaker adds that it's hard to gauge how many repair parts will be needed at any given time, but plumbing contractors will often buy up multiple common parts so they have them on their truck whenever the need arises.
According to Peterman, water heaters have been the product segment impacted the most from pandemic. "Water heaters continue to be difficult to stock," he says. "We're completing a lot of water heater replacement jobs, so we've been buying in bulk whenever possible to stay prepared."
As contractors work to complete projects during times of disruption, Berndt says contractors need proactive communication from distributor partners. "All of the shipping delays and long lead times are out of the distributors' hands," he says. "So what we need from them is just constant communication on what they have in stock and what they're getting. Even if it's something we haven't placed an order for, if they think we may need it, let us know you have it so we can proactively buy product and be more prepared for future projects."
Price fluctuation continues to challenge contractors as they quote for jobs. "When distributors are able to give us price holds it's extremely helpful," Shoemaker says. "When we can hold a certain quantity at a certain price it's huge. In addition to that, I would encourage distributors to continue to bulk up their inventory. Stock more product and diversify product lines."
Peterman points out that there is always new product coming out, and what's most important to the contractor is ability to provide the highest level of service. "Product technology is great, and we get trained on new products all of the time," he says. "But what's most important is service to the customer, so whatever helps us be the most efficient and prepared is key."
Contractor buying habits
In order to complete as many calls per day as possible, Shoemaker says he tries to keep his contractors' trucks stocked with product. "When it comes to ordering product, I try to keep them off the counter as much as possible during the day," he says. "We have daily shipments coming in to our facility ensuring we have what we need day-to-day."
When ordering product for those daily shipments, Shoemaker says the majority of orders are placed online or directly through a branch that Deluxe Plumbing has an existing relationship with.
Botto says that contractors are simply buying from wherever they can get the best service.
As contractors continue to stay busy, Berndt says they are utilizing e-commerce while on the jobsite. "We do place orders at the counter, via email and phone calls and through wholesalers' websites," he says. "We buy almost exclusively through wholesalers, so it's been great to utilize their websites and be able to order from the truck or on the jobsite really quickly."
Peterman says the majority of his company's orders are placed through an ERP software, ServiceTitan. "We use ServiceTitan to place our orders. All of our vendors are affiliated with the software, so when we place an order, it goes directly to the vendor and is fulfilled, which makes things really convenient."
From the manufacturer
Aging in place and an increasing desire for privacy are two residential trends manufacturers say are prominent. "The biggest trend we hear about, especially with the baby boomer generation and rise in homeownership, is aging or living-in-place," says Marlee Gannon, senior manager, product and channel, Oatey Co. "In light of the housing market's current state, many homeowners are looking to implement renovations that can extend the life of homes, so they have the opportunity to remain in their homes longer. For example, from a bathroom design perspective, homeowners might opt for a curbless walk-in shower, install grab bars or choose fixtures that increase accessibility, such as adjustable showerheads."
Megen Rapp, senior trade marketing analyst at Kohler, says wellness continues to be the main focus, and open concept living isn't necessarily the most popular design any more. "As homes and rooms have evolved to be multi-purpose, many consumers are feeling that open-concept living no longer offers the versatility (and privacy) they need in their homes," she says. "They're instead looking for ways to help create an escape. Creating a spa-like bathroom that includes a freestanding bath or immersive shower system can help create that space for renewal."
Timeless, clean and smart are the three words Rapp uses to summarize current residential plumbing trends.
"Timeless isn't just about design, it's about quality craftsmanship as well. Uncertainty in the economy and public health is driving consumers to desire timeless, long-lasting products," she says. "A clean and hygienic home is as much an emotional and psychological comfort as it is a physical and practical necessity. It's about feeling a sense of control over your environment.
"Technology can be an important component of wellbeing, but it can also detract from wellbeing if it becomes too invasive in the environment," Rapp continues. "Thoughtful, subtle technology that offers meaningful convenience and efficiency can support wellbeing without becoming a distraction."
Gannon agrees, saying consumers are after spa-like experiences and the ability to update finishes and fixtures to the latest design trend.
"Product and labor shortages in the trades are driving demand for more time-efficient products and services," Gannon adds. "One of the keys that's critical in product design is listening to our end-users and getting their feedback consistently. Our team feels strongly that we can't develop products in a vacuum. We need to be on job sites and see how products are being used. Then come back to our office to create ideas and prototypes. Then return to the job site to get consistent feedback."
Just as contractors note above, manufacturers agree that communication is the best way to serve distributors, contractors and ultimately, end-users. "The key to a successful relationship with our distributors hinges on communication. Our teams are actively listening to our partners so we can help to solve concerns and work collaboratively toward a better process," Rapp says. "We encourage all of our distributor partners, our esteemed trade professionals, customers and consumers to join us in working on mutually beneficial solutions so that we can continue to deliver on our promise of being a trusted and reliable partner."