Supplyhouse.com donated a range of supplies — from tool kits to clamps and everything in between — to New Jersey-based Mitchell's Plumbing & Heating as they traveled to help Texans in need of plumbing repairs. Mitchell's Plumbing & Heating has serviced 100 homes so far and plans to stay in Texas for at least two months. 
Following the unprecedented winter storm that shocked the south in February, approximately half a million people throughout the country where left without power for days, the majority of which were in Texas, Louisiana and Mississippi. As if surviving without power during record-low temperatures wasn't dangerous enough, the shortage of water which followed added another level to the crisis. 
Water treatment plants were knocked offline, frozen pipes busted and wells froze, all leading to a state of panic for many as facility and homeowners alike were desperate to get safe drinking water. NBC News reported more than 14 million
people in Texas were under a boil water order.  
Next, as millions of Texans scrambled to hire plumbers to repair the damage, they faced long wait times as Texas plumbing contractors struggled to keep up with demand, and distributors struggled to provide product. The situation led to Texas Gov. Greg Abbott waiving regulations, allowing plumbers from other states to come in to assist.
Distributors speak out
Plumbing suppliers and contractors in the area became more essential than ever, experiencing conditions which Vince Roach, president of Winsupply of Houston describes as catastrophic.
Roach points out that Texas is no stranger to natural disasters, as the state often copes with flooding and hurricanes, but this crisis was something different. 
"Everyone remembers Hurricane Harvey, which was devastating," says Roach. "There were massive amounts of flooding, but we knew who was going to be affected and where the flooding was going. With this freeze, no one was immune; no matter where you were located in Texas, you were affected, and there was no way for us to be fully prepared for something like this."
Roach explains after the power came back on and the water shortage and damage was the challenge at hand, repair parts were selling out everywhere, and contractors couldn't catch up with the amount of calls being received. One particular phone call was a breaking point for him. 
"A retirement facility spoke to one of my sales guys and was desperate to get water to the building," he says. "The facility had a 50 gallon tank of water and residents are having to walk out and carry buckets of water just to flush their toilets."
After hearing this story, Roach put out a call-to-action to his fellow suppliers in the area via LinkedIn. First, Roach applauded the industry professionals for doing the best they can. Then he called for increased awareness of other suppliers in your area, and willingness to refer contractors to any competitor who may have the supplies needed to get homes and facilities safe water. 
"I've been doing this for more than 30 years and I've never seen anything like the demand and supply chain disruption this event caused," Roach says. "I wanted to make sure fellow distributors remembered the people-side of things; our purpose is to get water back to these folks in need, no matter what it takes.
For the first time, the plumbing industry was more desperately needed and essential than any other service in the city, and I don't know if everybody grasped the depth of that."

Prepare for the unexpected
Unfortunately, PHCP-PVF suppliers and pros have been facing supply chain disruption for a while. The COVID-19 pandemic coupled with shortages of many raw materials such as copper, resin-based materials and carbon steel have made for challenging conditions for more than a year now. The demand surge caused by the freeze has added yet another layer to the disruption. 
Patrick Maloney, vice president; director of sales for Coburn Supply Co. says that while getting certain materials in is a continuous struggle, the company was overall pretty well prepared for this weather event.
"Since we have such a broad coverage area around the country, we are used to seeing freezes, hurricanes, floods, etc." Maloney says. "We know what products will be in high demand following any of these disasters so we plan for them by ordering inventory a little heavy."
Maloney notes this event does stand out, though, because the affected areas were not prepared for this winter weather. 
"Since we have a central distribution center, we're able to disperse products to where they're needed, which helps us be prepared," he says.
The demand surge for certain repair parts and specific products like tankless water heaters and backflow prevention is still very much affecting the entire supply chain as of March; not just those in the south.
"The number of phone calls contractors are getting is unbelievable. We've always known plumbing is the heartbeat of what makes this country go around, and at least in Texas, people outside the industry now understand that too." - Patrick Maloney
"Even our locations nowhere near the freeze are affected," Maloney says. "Manufacturers are having a hard time getting materials for products like tankless heaters, there's already a strain on the supply chain, and the surge of demand from this Texas storm is affecting many of our locations' ability to get product."
Distributors have learned a lot about preparedness and adaptability over the past year. Roach explains moving forward, Winsupply plans to utilize social platforms to get the word out about industry needs.
"I learned a lot about our ability to react and get the word out better," he says. "Social media has been top-of-mind for a while, but not in practical application. But I saw how well it can work to reach people; I think almost 7,000 people have looked at the letter I put out, which is crazy and unexpected."
Roach adds that while distributors cannot be prepared for everything, it's a good idea to keep more repair parts on hand. "You can't order extra inventory for everything," he says. "We get repair requests all of the time, but nothing like this. So the main thing I think distributors can do to prepare for events like this in the future is be more prepared with repair inventory."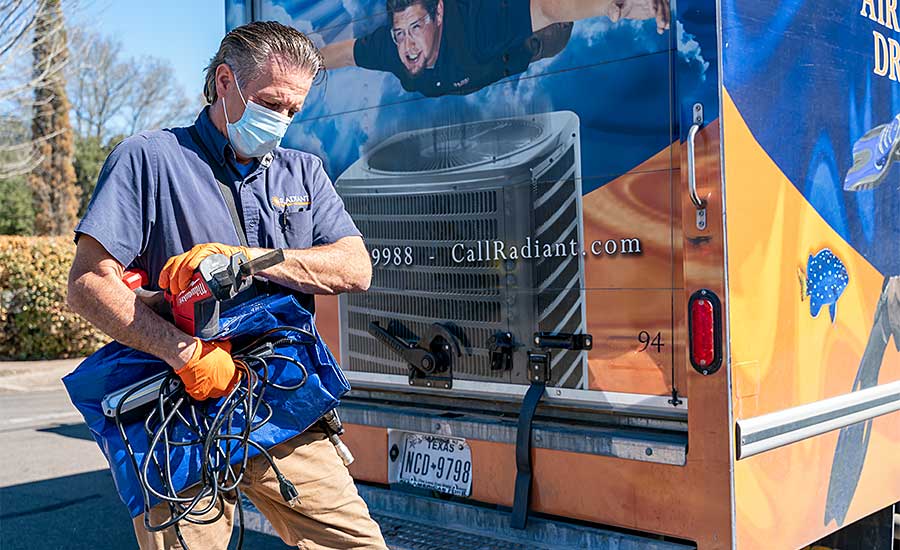 Texas-based contracting company Radiant Plumbing, had 1,300 people on a waitlist at one point and has been prioritizing the influx of calls by focusing on worst cases and just trying to restore running water for Austin residents. 

Following the pandemonium
After the initial shock, distributors and contractors explain the main goal at hand was to get safe, running water to the community, and short-term fixes were made to do so. 
"There are a lot of 'band aid' fixes out there that plumbers had to do in order to get water to people," Roach says. "We all had to be creative; as long as it was safe and to code, we would do whatever we could to make an immediate repair that once things calm down and the material is in, contractors will have to go back and make permanent fixes for."
Brad Casebier, owner of Austin, Texas-based contracting company Radiant Plumbing, had 1,300 people on a waitlist at one point. 
"It feels like almost everybody in town had pipes burst due to freezing," he says. "The exterior mounted tankless water heaters were all pretty much destroyed — and there are a lot of those in Austin. That's a ton of work we're unable to get to. We can do about 50 to 60 calls a day, and we're still booking 300% over our normal booking rates — we'll never catch up without outside help."
Radiant Plumbing has been prioritizing the influx of calls, focusing on worst cases and just trying to restore running water for Austin residents.
"We're trying to get them water, period, then hot water comes next," Casebier explains. "We're also finding there are just so many people in need that we're being really diligent trying to keep our guys in very tight geographic areas so that we're spending almost no time on the road. They're just going quickly from house to house, and getting as much effect out of each plumber we have that is possible." 
Casebier notes that as his techs are on the job in various neighborhoods, often two or three people will walk up to them and ask them to come take a look at their own homes.
"These people have been trying to get a plumber for weeks, and since we're in the neighborhood, we have bene getting a lot of walk-in customers — that's never happened before," he says.
Casebier notes most customers have experienced water damage, mostly because of the vast amount of water heaters in attics in central Texas.
"It was a construction standard here that was a really terrible idea, and so many of those water heaters froze in attics and then burst," he explains. "All that water comes down through the ceiling, onto the floor and floods the whole house. We've had a lot of those calls, unfortunately."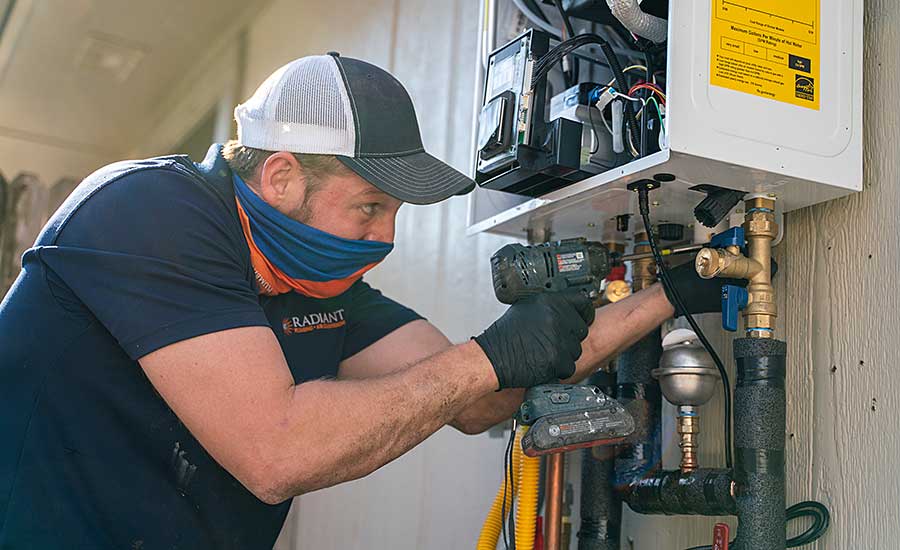 The exterior mounted tankless water heaters were all pretty much destroyed, and tankless water heaters remain one of the most in-demand and hard-to-come-by products following the storm in Texas.
"It's relentless," Maloney says. "The number of phone calls contractors are getting is unbelievable. We've always known plumbing contractors are the heartbeat of what makes this country go around, and at least in Texas, people outside the industry now understand that too."
To help with the influx of calls, Radiant Plumbing has put up videos on its Facebook page coaching homeowners on how to repair a single line with SharkBite products. 
 "We tell them how to cut the pipe and how to install the fitting and potentially restore their own water," he says. "Then we tell them we can come back when we have time and put all the pieces back together. A ton of Austinites are doing that — anybody who is handy is out helping because there are just too many people without water. I'm afraid that's going to lead to a bunch of terrible repairs, but locally, people just don't care. They just need to get up and running again so they can have a shower and get back to some kind of normal life." 
At the time of his discussion with Plumbing & Mechanical and Supply House Times, Casebier was doing OK on supplies; however he notes there was a real shortage of couplings and tankless water heaters. 
 "I don't know how long this will last or if there is an end in sight for material shortages," he says. "We had a delivery from California shipped to us of 130 tankless water heaters, but I currently have 420 calls on the board for tankless water heater replacements. They're all destroyed, and it's looking like that resource is being depleted, which will have other ramifications with new construction around the nation."
Casebier notes that while the news will eventually stop talking about what happened in Texas, the repair efforts will definitely be ongoing.
 "People are struggling, and they're going to continue struggling," he says. "And while we're handling these emergencies, we're not out normal service calls that keep our entire city busy. There's not enough plumbers in Austin when things are normal. We typically run with an overage of calls, and so now we have this backlog of all the normal service calls. It's going to take us a long time to get back to normal."
The backlog of people needing help from contractors will likely be around for some time. Maloney points out this has yet again proven the essentiality of the plumbing contractor.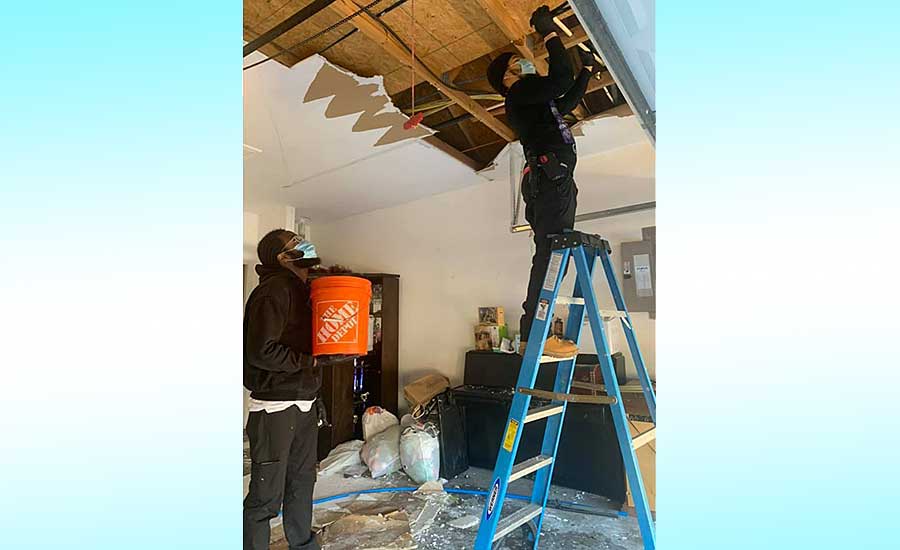 Mitchell's Plumbing & Heating, run by Andrew Mitchell and apprentice/brother-in-law, Isaiah Pinnock, made the journey South after hearing firsthand how devastating the aftermath of the storm was from a family member living in Houston.
Going the extra mile
When Andrew Mitchell, a New Jersey master plumber, and his brother-in-law Isiah Findley-Pinnock heard from relatives in Texas how they still had no running water following the storm, they packed up Mitchell's GMC truck with plumbing supplies along with Mitchell's wife Kisha Pinnock, his two-year-old son and drove 25 hours straight to help restore broken pipes and return running water to homes.
Mitchell is the owner of Mitchell's Plumbing & Heating, while Findley-Pinnock is his apprentice and business partner. 
 "Andrew is part of a few national plumbing groups on Facebook, and they were speaking about the plumber shortage and how they were just overwhelmed with calls — and not everybody could be reached," Findley-Pinnock says. "Our sister and brother-in-law live down there, and after connecting with them, hearing some people were without water for weeks and plumbers' schedules were booked for months out, we decided to help. Who would we be to stay up here with all these skills and materials when people are going without water down there? So we just decided to load up with some supplies at our local supply house and make the trip down."
The family has been working in Texas since Feb. 21, and at the time of this interview, had no firm return date. While their original goal was to help get their displaced family members back online, the situation spiraled. They began helping friends and coworkers of their relatives, all through word-of-mouth. They've helped restore running water to more than 100 homes. 
While Mitchell and Findley-Pinnock want to eventually get back to their operation in New Jersey, the calls keep pouring in. The family has since created a 501(c)(3) nonprofit called The Pinnock-Mitchel Texas Relief Foundation. The nonprofit is two-fold, to try and assist in bringing more plumbers down to Texas to help in the repair efforts, as well as pay for repairs for low-income families who may not be able to afford them.
 "Ever since we initially hopped in the car and started heading down to Texas, we were receiving a few small donations from our friends in Morristown, New Jersey," Findley-Pinnock says. "They would give us $5 here or $20 there for gas or food. Then, once the news networks started picking up our story, we started getting donations from all across the nation mailed to our house, or calling us up, asking what's the best way to donate. 
"We really just wanted to dedicate those funds to the relief effort," he continues. "And on top of that, we have run into people's houses where they had absolutely no money, and there was no way for them to get water. After seeing the financial straits people were in, we knew we need to help start the nonprofit foundation. It's been kind of history ever since."
"And you should see the faces of these people once we come in and tell them we're going to take care of their plumbing system — and do it the right way — and they don't have to pay a dime," Mitchell adds. 
"We actually had one woman we recently helped through the foundation," Findley-Pinnock notes. "She was living on a fixed income, and her insurance had lapsed, so she couldn't get any financial aid. She went 24 days without any water. She was collecting rain water from the gutters of her house to shower and flush her toilets. She was totally tapped out. For the first time in 24 days, she was able to take a hot shower, use the bathroom and cook food."
Mitchell notes they've been focusing on getting those low-income families the help they need.
 "I love plumbing," he says. "To be able to go into someone's house and know what the problem is, get it fix, then tell them the work and materials are free — it's such a good feeling."
Manufacturers rally to help
Manufacturers such as American Standard and Viega have partnered with Plumbers Without Borders, a database of plumbing and mechanical volunteers and humanitarian organizations working to increase safe water availability and Water Mission, a nonprofit organization building safe water solutions in disaster areas, by donating products and resources to contractors in Texas as they worked tirelessly to make repairs.  
Gene Barbato, leader, American Standard brand says the company wanted to use its platform to help spread the word about the need for more volunteers. 
"We wanted to get involved to help address the overwhelming and urgent need for more plumbers and supplies," Barbato says. "American Standard was already aware of the great work Plumbers Without Borders does, and we saw an opportunity to join relief efforts in Texas. There was an opportunity to lend support through a donation to help cover food, lodging and other expenses for plumbers so Water Mission and Plumbers Without Borders can focus their efforts on mobilizing skilled labor and supplies as quickly as possible."
According to Water Mission, everything from pipes and fittings to faucets and showerheads are needed to repair damages throughout the state. 
Barbato says one important way the industry can prepare for crises in the future is to continue working to bridge the skilled labor gap.
Also working with Plumbers without Borders, Viega donated 10 of its Pressgun Picco 6 tools, along with ProPress tools and PureFlow jaws to volunteering contractors. 
"Access to clean, flowing water is essential to life," says Sean Debnath, vice president of sales and marketing, Viega. "We're happy to put the Pressgun Picco 6 tools in the hands of contractors doing everything they can to restore water to affected Texans."
Additionally, Uponor North America announced in March that the company is donating $30,000 to the Texas relief efforts. The American Red Cross Central and South Texas Region along with Water Mission are each receiving $15,000 from Uponor to help support their efforts in providing resources, supplies and plumbing repairs.
"Our hearts go out to those in Texas impacted by the extreme weather and the damage caused to homes and," says Bill Gray, president, Uponor North America, in a news release. "We understand the importance of clean, healthy water and proudly stand behind the trade professionals who work hard every day to ensure our plumbing systems are delivering this life resource consistently and reliably. We are honored to financially support the American Red Cross and Water Mission as they help Texans in need and work to reestablish clean-water resources throughout the state."
ServiceTitan, a software solution for residential and service contractors, also stepped up to help coordinate volunteer assistance, supplies and relief efforts with its vast list of service professionals around the country.
"My boss reached out one day and asked if there was a way we could connect our customers who can offer help to those people who might be needing it in Texas," explains Amy Herman, senior manager of customer relations at ServiceTitan. "I said absolutely — we have a database of thousands and thousands of contractors across North America, plus a really engaged customer base who enjoy helping each other. So we could totally do that."
The company sent out several emails and made social media posts about the situation, as well as created outbound email campaigns. The team put together templates so contractors could quickly send and communicate with customers en masse. They were easily edited, and critical for effective emergency communication, Herman notes.
"People started taking matters into their own hands after that," Herman says. "They were figuring out how to ship supplies to places who needed them. And because of our product — we had someone up in Canada unable to enter the country to work, so she helped out on the phones to help with the overflow calls coming in. It was kind of an all-hands-on-deck situation for a week or so."
Herman notes many companies talk about their values and how their values change lives, but ServiceTitan holds itself to those values.
"Anytime we have an opportunity to do something — that for us was a very small action — to connect people and help them is a no-brainer," she says. "We've all seen the images that went viral — the little lady in her house with her pipes all frozen. That's a really scary thought, and our customers are the people who were simultaneously dealing with their own personal plumbing emergencies and also having to uphold their community. It's our responsibility to support them in their businesses. I mean, that's what ServiceTitan does, we make contractors successful. And sometimes that means wehelp them with a great marketing campaign, sometimes that means we provide a really great experience for technicians to do consistent service on the job, but in this case, it was making sure we could connect as many people as possible and make sure that they had the tools and the parts that they needed to do their job and to supplement the work that the Texas suppliers were already doing to try and get as many materials as possible to the people who need them.
"Years ago, without knowing this would ever happen in Texas — or even the various other natural disasters that have come up — we had a slogan: 'The trades show up,'" Herman adds. "It was really cool seeing that literally be lived out. It was great to see that our community is there for each other — watching contractors work to help make each other better and support each other when they've never even met. It's something that I'm really proud of, and that ServiceTitan is really proud of, too. These are people who will take time out of their days to help each other and move forward. I'm feeling really inspired by that."