PHCP-PVF manufacturing heavyweights RIDGID and Viega continue to collaborate on solutions aimed at helping professionals do their jobs more efficiently and cost-effectively, thus creating greater opportunities to win more business. BNP Media's Plumbing Group, which includes Plumbing & Mechanical and Supply House Times, sat down with Emerson-owned RIDGID and Viega officials earlier this year to talk about the partnership, which dates back to 1999, and what the future holds for it.
"We make premium-quality tools and Viega makes premium-quality products," RIDGID Vice President/General Manager Global Press Connection John Ruese says. "We work well together. These are two premium companies that work well together and do things the right way. There is a lot of benefit to that." 
During AHR Expo in Orlando, Florida in January, RIDGID showed off its new RP 350 pistol-grip press tool, which adds yet another key component to the tool manufacturer's press tool line.
But while RIDGID and Viega continue to up the pressing game, one obstacle that remains is gaining widespread acceptance in the contractor community for the labor-saving technology.
"We still see a lot of hesitation with pressing. How much pressing do we need? What tool do I want?" Viega Vice President of Market Innovations Christian Geisthoff says. "We still need to get more people pressing. Market-share-wise on the copper side, maybe it's 30% pressing now? If you look at our MegaPress side, the market potential definitely is there."
Ruese adds: "Viega has had great success with pressing in the U.S. It's a fantastic market for that, but it still is a very small percentage of connections that are actually made using press technology. That's our go-get moving forward. How do we educate more people, convert more people and start to make it a more reliable connection method for tradesmen around the world?"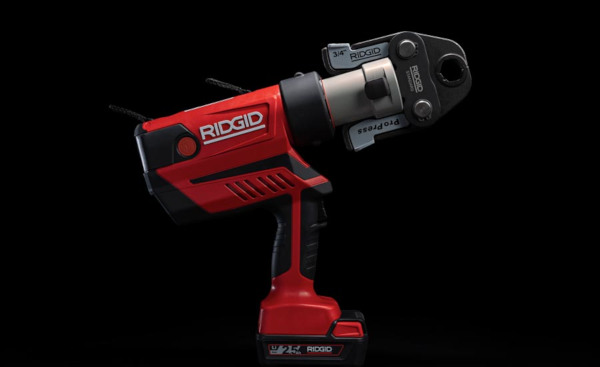 RIDGID's new RP 350 is 5% lighter and almost 3 inches shorter than its predecessor. Ideal for making connections on residential and commercial jobs, it's compatible with the full line of RIDGID jaws and rings, including: 1⁄2 – 4-inch ProPress for copper and stainless steel, 1⁄2 – 2-inch PureFlow for PEX, and 1⁄2 – 2-inch MegaPress for carbon steel.
Recent advancements with the pressing tool include the ability of end users and contracting firms to track the tool's usage. "We now have Bluetooth connectivity and apps that go along with that where you can see your cycles on the tool," RIDGID Product Manager, Tool Platforms Professional Tools Michael Provenzano says. "For a more basic model, we still want a reliable and durable tool, and make it something to where we have a solution where they can see how the tool comes back if you are sending it out on the job for the day. How much work did your guys do throughout the day as far as their connections? We can provide that data."
Geisthoff notes the RIDGID line of press tools may just be the solution that tips the scales for those pros on the fence about the technology.
"It's generations ahead of what is in the market right now as first- and second-generation tools," he says. "This is a proven platform that has worked really well for a lot of years, and again, it's RIDGID's cue to raise the bar. I think there now is an opportunity and a niche here where we can get a lot of people off the fence when it comes to pressing and then they ultimately are going to want to upgrade to these tools with more features and benefits to them."
Ruese adds another key push is educating on the long-term benefits involved in press tool investment. "I think a lot of entry-level people into pressing are still not quite sure," he says. "How much am I going to use this in my daily routine? What if I invest and I don't use it consistently throughout my day? We have tools that allow them to cut their teeth and show them that if I can press here, I can press there and then mature into a much more robust platform."
Both companies say the partnership will only continue to strengthen moving forward. "A lot of companies have partnerships," Ruese starts, "but the ones that last a long period of time are the ones that are aligned, not only in their common goals to put out a great product into the market, but in their values, and how they run their companies in terms of what they do for their employees and the industry. We feel the same values and our customers resonate with that."