Plumbing
Bath & Kitchen Trends
Industrial PVF
Showroom Trends
Robyn Brookhart has employee-owned Liberty Pumps on a continued path of success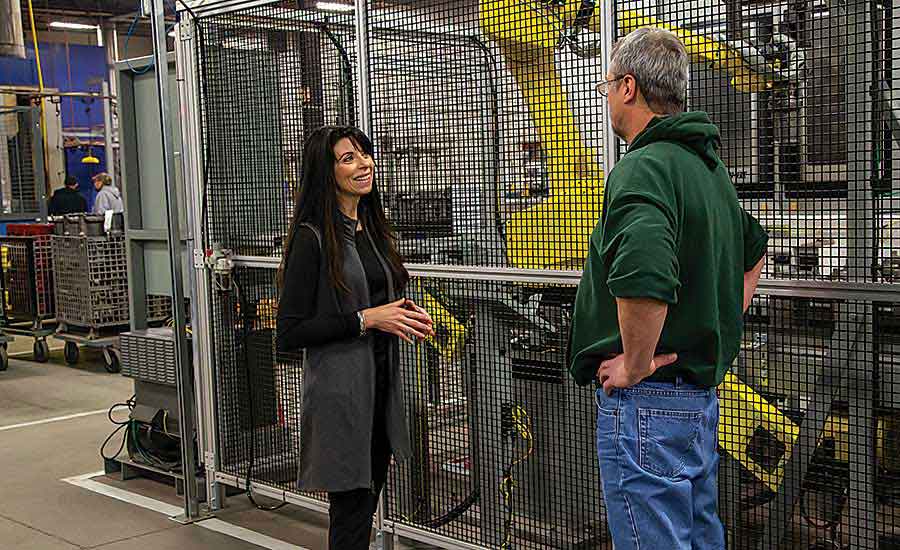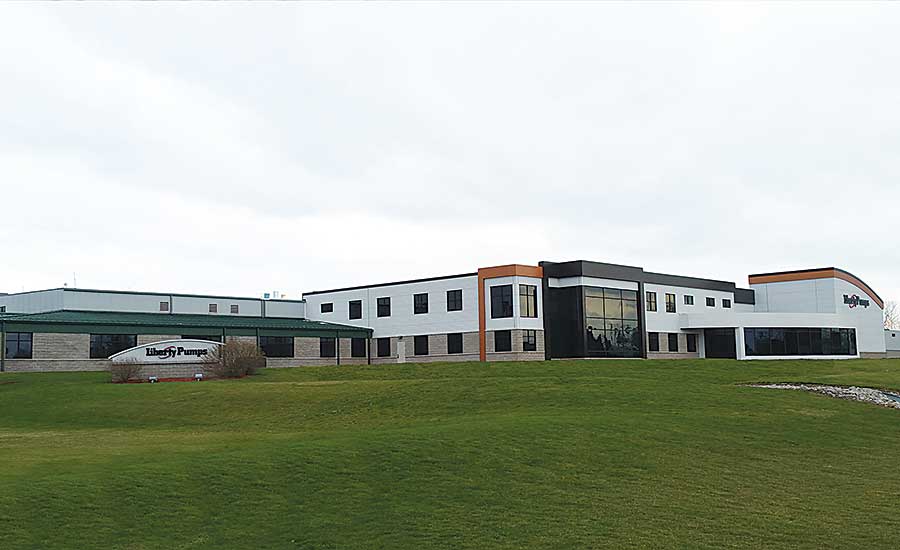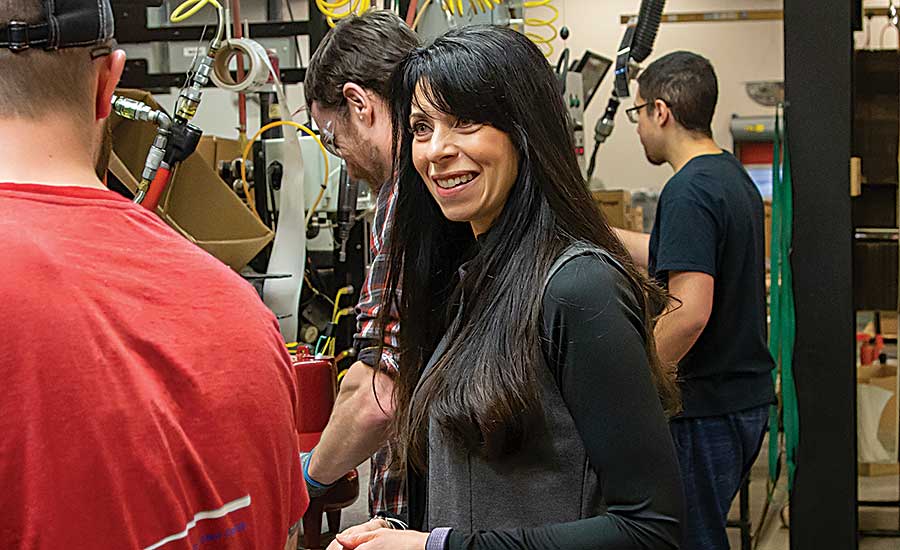 Robyn Brookhart's earliest memories of Bergen, New York-based pumps manufacturer Liberty Pumps dates back to when she was three.
"When Liberty was at its first location, I would ride to work with my dad on the weekends where I explored every nook in the factory and whatever I could climb," she says. "The smell of that old shop still stays with me — a mixture of oil, metal and a bit of grime. It wasn't long until we outgrew that building, and I fondly remember my dad's anticipation when we moved into a larger facility (Liberty's second, but not yet final location)."
As with the previous two, the current Liberty Pumps facility is located in upstate New York, where the company employees 262 people, led by Brookhart. Named president last summer, Brookhart represents the company's third generation. Her father, Charlie Cook, remains CEO and chairman of the board.
"It was at the second Liberty location that I began helping out and where I came to learn what it was to be a pump manufacturer," she says. "There was so much going on both out on the shop floor and in the office — a constant buzz of activity, and always something to do."

CAREER PATH
Brookhart, who graduated from SUNY Fredonia (undergrad degree in marketing) and Rochester Institute of Technology (MBA concentration in manufacturing), has worked at Liberty for 23 years, starting out in the marketing department. She later moved into customer service where she took technical calls and sized EPS systems for larger jobs. From there, it was on to project management, supervising the shipping area and then running the assembly department, before being named manufacturing manager, COO and then president.
"The aim has been to learn as much as I can about the company by submerging myself in the work throughout several areas of the company," says Brookhart, whose professional career started at Atlas Roofing Corp. "For years, my path has been to prepare me for my current position. It's been a gradual, steady process, so even though my title has changed, my daily responsibilities and the things I pay attention to have been aligned with this position for a long time."
Brookhart says the wisdom of her father has gone a long way in helping her develop personally and professionally. "My dad is an amazing man, who is regarded as a well-loved icon within our community and throughout the company," she says. "The first words that pop in my mind when I think of him are integrity, strong work ethic, unstoppable, and an unwavering belief in what others can achieve. He shows up by offering advice, lending a listening ear or just hanging back to play a supportive background role. One of the lessons I have learned from him is the importance of optimism, looking on the bright side, and seeing all that is good in every situation and with every person who crosses your path."
Brookhart says Cook imparted on her that there is value in not always, "playing it safe." "If there is something worth going after, figure out how to make it happen," she says. "I think we do that often here at Liberty and we do it well."
"Lastly," says Brookhart, "is to believe in what you can accomplish. Of course, this can take hard work and perseverance, but don't settle for less than what you're capable of. And whatever it is, have fun doing it."
Brookhart notes she does not take the presidency of one of the industry's most recognizable brand names lightly. "It means tremendous responsibility," she says. "I have a duty to the people who work here, our customers and to our local community all while remaining true to myself. It also means focusing on growth, meeting the needs of the market and ensuring the right amount of resources to make it all happen without adding unnecessary costs. The way I picture the transition in my head is in the form of a relay race where my dad has passed the baton. I'm now carrying our family legacy and everything that has come to make Liberty Pumps what it is today. And I know someone will be waiting to take the baton from me when that time comes."
WOMEN IN INDUSTRY
Brookhart doesn't shy away from the subject of women in the PHCP-PVF industry. "What I notice is there is not a lot of diversity within our industry," she explains. "I'm not just talking about the ratio of men/women in higher-level roles, but also ethnic diversity. I do think there's opportunity there.
"With that said, I believe the industry is making more of a conscious effort to help women move into higher-level roles and to be more visible."
Brookhart has nothing but high praise for the American Supply Association's Women in Industry division, which continues to see rapid growth in membership and will have more than 200 attendees at its ELEVATE2020 conference in April in Charleston, South Carolina.
"I see a huge benefit from and really appreciate ASA's Women in Industry group," she says. "I have met so many remarkable women through that organization, and I am grateful for the resources that are offered — the annual conference with amazing speakers, networking events and the opportunity to support each other. Women in Industry is a powerful force. We need women to be able to picture themselves working in what has historically been a male-dominated industry. There's no better way for that to happen than for women to see other women with rewarding, successful careers in PHCP and PVF, and, of course, making sure opportunities are available once that interest is sparked.
"Attendance at the annual conference has been increasing and we always come back with so much to talk about and new ideas to put in motion. From a corporate standpoint, the educational segments are top-notch. From a personal perspective, I enjoy connecting with such a fantastic group of women."
In terms of more women moving into C-suite positions within the industry, Brookhart says it starts with a simple question. "Just asking the question and having discussions around, 'How can that number increase even more?' is the place for companies to start," she says. "This is what we as leaders should be talking about and then taking action to develop women who have that potential or looking for those who already do."
Looking to the future, Brookhart says its full steam ahead for Liberty. "We always are thinking about and working toward 'the next level,'" she says. "That's one of the main deliverables of our annual strategic planning process. To prepare for what's coming and anticipated growth, we have started the analysis and planning process for another building expansion. The last one we did was in 2015. With the growth we're continuing to experience, we need to be ready when the time comes to increase our footprint again."
Brookhart says what sets Liberty apart is its "tight-knit workforce." She notes the company's quality auditor was her Brownie leader when she was in kindergarten; Liberty's director of engineering is someone Brookhart went to school with since age five; and the company's senior claims analyst taught her how to search for night crawlers back in the day. "When you've known each other for that long, it makes for a company with a unique culture that cannot be replicated," she says. "And, this is a place where we want the people who we care about to work here, too.
"With that said, we take special care in our hiring process to ensure we bring on board people who not only have the right skill sets, but who are also a good fit for our culture. Once hired, there's a formal onboarding process they go through to help them integrate and learn about various aspects of the company. Our open culture allows members to feel comfortable asking questions or speaking up about anything that might be on their minds. We have a robust suggestion program, conduct a thorough annual member survey (Liberty is certified as a Great Places to Work company), and encourage management to solicit feedback in how we're doing during one-on-one and team discussions."
Brookhart says Liberty sets its members up for success "by listening to what they need, making sure they have what they require to do their best work and offering excellent education and self-development benefits."
"We make ongoing learning a priority and have initiated a professional development program for members who are on a steeper growth trajectory," she explains. "Furthermore, we recognize the importance of building and maintaining personal connections, a key to inclusiveness and promoting a sense of belonging. We celebrate records, host fun events during the workday and spend time outside work together. What it boils down to is we value our members and we want to make sure their careers and time spent here are satisfying. Given that we're not only family-owned, but also an ESOP (employee-owned) and have a profit-sharing program, the results of Liberty being a fulfilling place to work are reflected in the value of the ESOP shares."
In the end, company personality is what Brookhart says makes Liberty Pumps unique. "You can almost feel this buzz of positive energy every day," she says. "We have a talented team that is creative and knows how to put ideas into motion. Liberty Pumps would certainly not be as successful as it is without our super-talented, well-aligned team."

I want to hear from you. Tell me how we can improve.