Ralph Porter Sr., the founder of Addison, Ill.-based Porter Pipe & Supply, died on Oct. 12, 2014.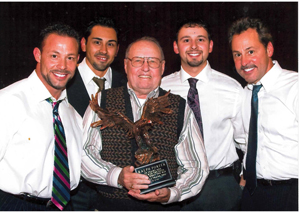 Porter Pipe & Supply founder Ralph Porter Sr. (middle, holding his Porter lifetime achievement award) died on Oct. 12. Pictured with Porter are, from left: Bud Porter (son), Nick Porter (grandson), Frank Porter (grandson) and Jim Porter (son). Photo courtesy of Porter Pipe & Supply.
In 1976 at the age of 50 and with eight children in Catholic school, Porter founded Porter Supply Co. in Addison as a hydronic/radiant wholesale supplier. Porter, who had an engineering and sales background, started the company with two employees — himself and son, Jim Porter, the company's current president and co-owner along with brother, Bud Porter (Ralph Jr.). The company now employs 130 people.
"Affectionately known by his employees as 'Mr. P,' he always was full of passion for life, his family and his life's work," the company said. "He routinely taught the importance of positive attitude, attention to detail, continuous learning and a desire for excellence. He has created an immeasurable legacy through his family and company. Our industry has been richly blessed by his life. The positive impact left by this wonderful man will be enjoyed by many people who will never know him. For those of us who did know him, we thank Mr. P for his sacrifice, dedication and passion."
Porter, a World War II veteran, was an active member and Grand Knight of the Knights of Columbus and supported many charitable causes. He is survived by his wife of 62 years, Lita, eight children, 30 grandchildren and seven great grandchildren.
---
HELPFUL LINKS: