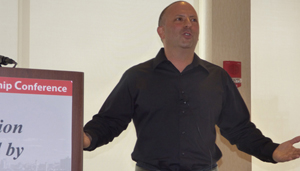 Louis Ferrante at the 2014 WANE Executive Leadership Conference.
Hats off to the Wholesalers Association of the North East (WANE) for its out-of-the-box thinking, as ASA Executive Director Chris Murin told the crowd at the group's mid-June Executive Leadership Conference in Cambridge, Mass.
WANE's capstone presentation at the well-attended event was given by author and television host/producer Louis Ferrante. Those who watch the Discovery Channel may have seen the Ferrante-hosted show "Inside the Gangsters' Code." He's also written a pair of books related to the subject of organized crime: "Unlocked" chronicles his time in prison and "Mob Rules" explains how the code of the mob and the values of that community can be a model for legitimate businesses.
Ferrante, you see, was a one-time mobster who spent eight years in prison (1994 to 2003) and managed to successfully appeal his conviction.
Today, he's an author, television personality and motivational speaker. He was brought to the podium of the Charles View Ballroom at the Hyatt Regency Cambridge to speak about the principles described in "Mob Rules."
Ferrante was open and honest about his past life, and detailed the string of events that led to him turning his life around. His stories about his nefarious activities in his younger days and prison life were both fascinating and chilling. For example, he told of how inmates in one of the prisons he was in were forced to put tissue paper in their ears at night so cockroaches would not crawl in their ear cavities.
His story about his journey to rehabilitation was equally fascinating. Ferrante noted he never read a single book until he was in prison. A call to a friend to bring him books to read while incarcerated started the ball rolling on his long journey to where he is today.
Ferrante's candidness about his past life and time in prison took up a good portion of his talk, but based on the amount of attendees who took time to talk to him after the event's conclusion and later that evening at the post-event reception, his story was an extremely powerful one.
In terms of parallels between the culture/code of organized crime and legitimate businesses, Ferrante noted there are several key lessons to be learned.
"When you strip away all the illegal conduct, the code of the mafia will teach you lessons that will last a lifetime," he said.
Ferrnate said stressing family values in business is right at the top of the list. "If one of your people shows up (poorly kept), that affects your company. The customer may never call your company again. I had problems with a phone company. They didn't treat me like they needed me. They don't have to do that, but they should. I try and avoid one airline because I get better treatment on other airlines," he explained.
Ferrante added that being proactive and seeking out opportunities is an important attribute that can be transferred over into everyday businesses. "They (the mafia) go out and sniff out opportunities," he said. "They are very pragmatic."
Ferrante suggested every business should have an ideas box somewhere in its office. "They (the mafia) could be playing cards and someone comes up with an idea," he said. "It's either, 'We just made $1 million or we go back to dealing the cards again.' It could be the worst idea, but it's an idea. Everybody should have a box for ideas. I don't care if it's the lowest guy in the company, people should submit ideas."
He also noted working out disagreements will help companies move forward. "If two guys have a beef, have them sit down and lay their feelings on the table," Ferrante said. "Sit-downs are respected."
Education is something that never goes out of style and the neat thing about it is you can pick up knowledge from many different places — even from a reformed mobster in a Boston-area banquet hall.
---
HELPFUL LINKS: